The de Vismes family in Britain:
The invention of a princely title
Contents
This page details the origin of the British de Vismes family, and how they came to claim the title of princes in the 19th century.
Sovereign count de Vismes?
The Daily Telegraph on Nov. 4, 2006 carried a death notice as follows:
"James Arnold Godfray Martin St Valery, Sovereign Count de Vismes, Ponthieu et St Valery" who died on 26 October 2006, aged 90.
This notice, posted to rec.heraldry, prompted my curiosity. What British family could claim such exalted French titles?
In short, the family in question descends from two brothers, French Huguenots who moved to London around 1714 and settled there. A century later, one of their grandsons imagined that he was a French count, and sought recognition both in France and the U.K., on the basis of forgeries and with the help of the founder of Burke's Peerage. At the next generation the claims inflated to "prince" and "royal highness". Although the descent is now extinct in male line, the false title has persisted, and may yet continue...
Personal note: Since I first posted about this in 2006, I have been asked why I took such an interest in this story. There are several reasons. I find the stories of the French Huguenots fascinating, and this is a typical example. I also find stories of impostures and false claims fascinating as well: I wonder how the falsehoods come about, and how they can be so easily accepted. I also want to correct the record when possible, and also give warning to others about the reliability of certain sources (in this case, John Burke). As it turns out, judging by the (slight) volume of email I have received over the years, this story is of interest to others as well.
The case is interesting because it highlights the role of the genealogist John Burke, founder of Burke's Peerage and other publications, in the invention of this fanciful claim. Burke served as de Vismes's agent in France, and later inserted a rather fanciful account of the de Vismes ancestry in his publications.
The British family of de Vismes
A genealogical sketch of the family follows.
The first century (1714 - 1815): 3 generations of DeVisme
1st generation: the immigrants Peter and Philippe
The family in question is issued from two French brothers, Pierre and Philippe de Visme, who probably arrived in London in the early 1700s (they seem unrelated to the numerous de Visme lineage in 17th c. Canterbury).
They were naturalized, Philippe on 23 Jan 1710 and Peter on 5 Jul 1717 by act of Parliament (private act 3 Geo I n. 33, "an Act to naturalize John Jacob Heldt, Theodore van Rheden and others"), and their marriages and descent can be readily traced through the registers of the French Protestant church at St. Martin Orgars, London. It is thus clear that they were French Protestants; I will return to their French origins below.
The lives of the two brothers are quite parallel. "Philipp DeVisme" first appears on the tax rolls in 1716 in St Lawrence Jewry precinct, Cheap Ward; later in St Mary Aldermary Lower Precinct (from 1729 to 1732, with his brother Peter) then on Broad Street (until 1754). <!_- while Peter lived on Bartholomew Lane, although both eventually retired to Clapham, Surrey.--> Peter and Philip were admitted the same day (22 Oct 1728) into the freedom of the City, among the haberdashers. They both married with French Huguenots, Philippe first in 1716 and his brother Peter in 1717. All their children were baptized at St. Martin Orgars. Both describe themselves as merchants in their wills; Peter is described in the Gentleman's Magazine at his death as a "Hamburg merchant", i.e., trading with that city. They are listed in The Universal Pocket Companion as "Devisme, Peter and Philip" on Throgmorton Street until 1745, when "Devisme Peter and son" set up in Bartholomew Lane, while "Philip and son" (which becomes "Devisme William" after Philip's death in 1756) continues on Throgmorton Street.
2d generation: prosperous merchants
The second generation continues mostly in the trading business.
Of Peter's surviving sons Pierre/Peter, Jean/John, and David are merchants (the last in Silesia), while his second son Philip moves to New York. Of Philip's surviving sons, the eldest Andrew (1718-79) and the youngest William (1729-81) were merchants in London like their father: William continuing in Throgmorton St while Andrew formed "Devisme and Courant" on Lothbury St., moving in 1767 to Cannon St and later back to Throgmorton. Later in life William becomes a director of the Royal Exchange Assurance Company. Of Philip's four other sons, Stephen worked for the East India Company in Canton, China (after his death in 1770, there was a family lawsuit over his will: Devisme v. Mello, 1 Brown Ch. Cases 537). Gerard became a merchant in Portugal (in the firm of Purry, Mellis and Devisme), made a fortune in the diamond trade with Brazil, and lived for a few years in the estate of Monserrate, Sintra before returning to England. Leo worked in the West Indies; and only Louis (1720-76) took a different route, training first for the clergy and then turning to diplomacy, starting as secretary to the British ambassadors in Florence, Madrid, and St. Petersburg and eventually minister to the German Diet in 1769 (see the entry in the Osford dictionary of National Biography).
In this second generation, those who marry still do so within the French Huguenot community and worship in the French Protestant church (Spitalfields), but by the time of their deaths they are integrating into the gentry, residing outside London, and styled Esquires.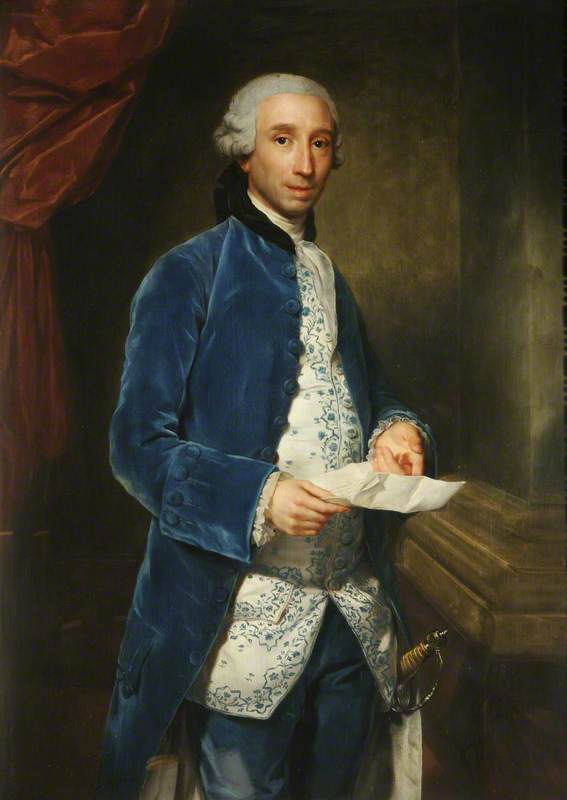 portrait of Louis de Visme, by Raphael Mengs (Christ Church, Oxford)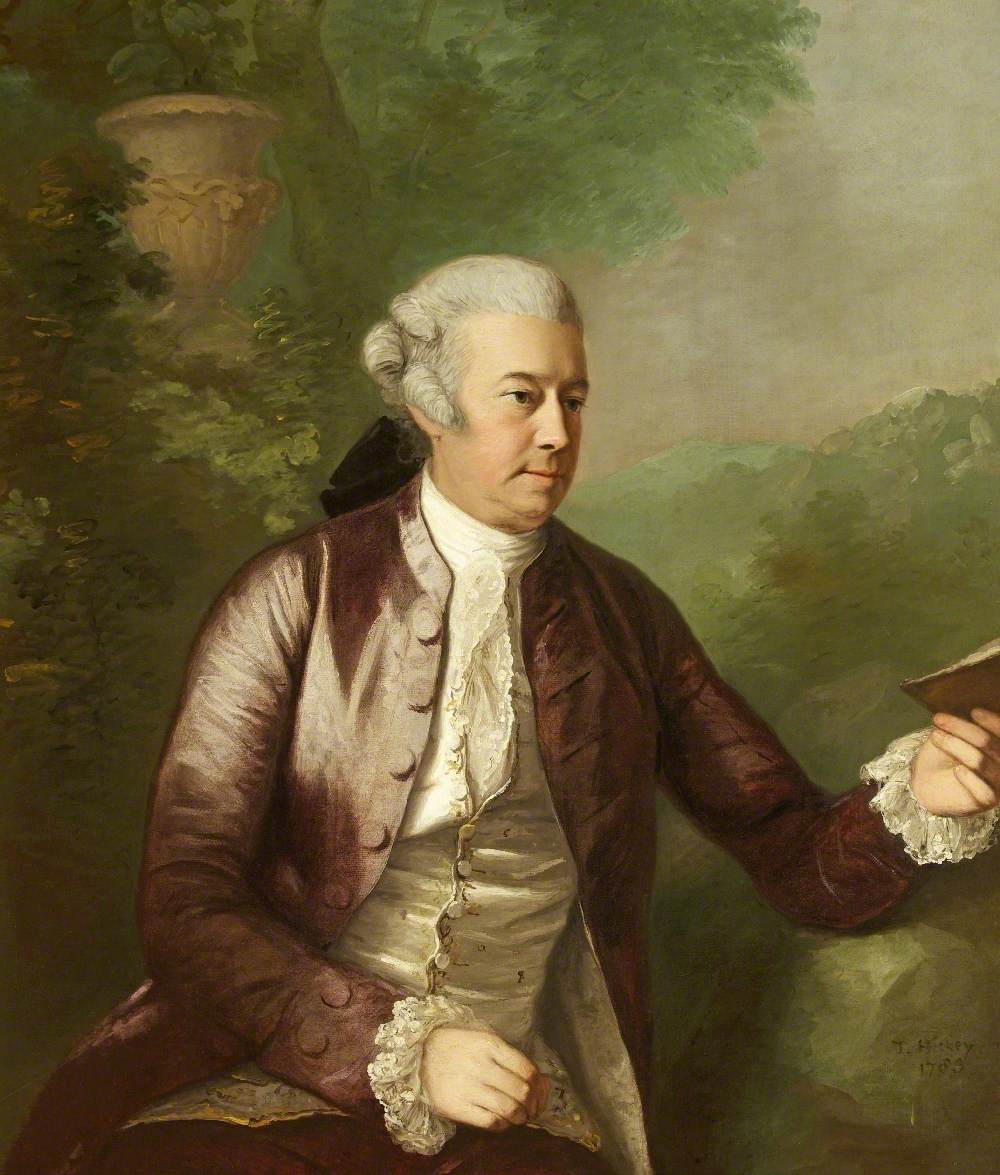 Portrait of Gerard de Visme, by Thomas Hickey (National Trust, Tyntesfield)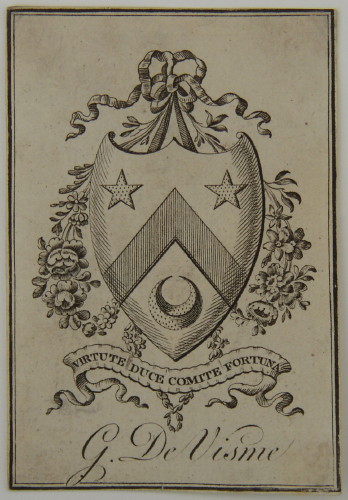 Gerard de Visme's bookplate, 1797 (source: jjhc.info)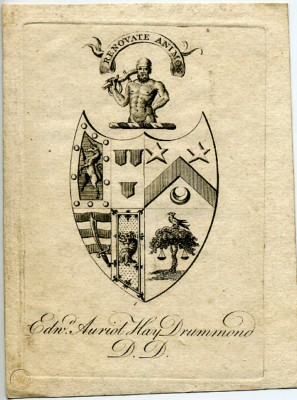 Bookplate of Revd Edward Auriol Hay Drummond, showing his arms impaling Visme (his first wife was Elizabeth, daughter of William (d. 1790) and sister of Elisha William) and Auriol (his second wife m. 1791 was Amelia Emily Auriol).
3d generation: the gentry
At the third generation Peter's male line dies out: the last being Samuel DeVisme, who died in 1793 in Barbados. The third generation descended from Philip also thins out considerably: Lewis the diplomat, Stephen the Canton merchant, and Leo the West Indies merchant died unmarried; Gerard the Portugal merchant had only one daughter. Only Andrew and William, the London marchants, left male issue: Andrew had Philip Nathaniel (1744-1817), and William had Elisha William (1758-1840) and James (1758-1826).
Philip Nathaniel continued as a merchant (in partnership with Henry Smith and his mother's relative John Spencer Webb, from 1784 with Smith alone, in Turnwheel Street); his two sons Philip (d. 1828) and Gerard (d. 1835) died without issue, and his daughter Louisa had issue. By the early 20th c. the senior descendant was Louisa Thomas, who had in her possessions the "relics" of the DeVisme family, including a portrait of Philip's wife Marianne de la Méjanelle. The de Visme ancestry was remembered in the given names of her children and grandchildren, but she was under no illusion about the "princely" origins of her family (see her correspondance with Henry Wagner, Huguenot Library, london).
William's two sons were Elisha William and Andrew, a barrister in Gloucestershire. The eldest, named after his maternal grandfather Élysée Auriol (a Huguenot originally from Castres in southern France), entered a military career in 1779. By the time of the French Revolutionary Wars he was an officer in the Coldstream Guards, saw action at the battle of Linselles in August 1793, and had reached the rank of lieutenant-colonel in 1794. His military career does not seem to go further. At the age of 44 he marries Jeanne Salt, sister of Henry Salt, the British consul in Egypt and an early collector of Egyptian antiquities (many now in the Louvre and the British Museum). He lives in Somerset and later in Devonshire, and has two sons, William and Henry, and a daughter Eliza Jane.
In the Regency period, then, the descendants of Peter and Philip DeVisme, after a century, have thoroughly assimilated: they are Anglicans, fully gentrified, marry well, and live in the country. None are merchants any more: most are quite well off, and regularly styled "Esq", though nothing more.
A few examples from Newent, Gloucestershire: "James De Visme Esq of New Court" on a slab in memory of his wife in the nave of the parish church, Andrew John De Visme "younger son of William De Visme of Beckenham in Kent Esq" in the churchyard.
Sometime in the 1820s Elisha William (E. W.) started styling himself as "count" (he later changed the spelling of his name from "DeVisme" or "De Visme" to "de Vismes"). When exactly is not clear: in the Literary Examiner of 15 Jun 1834, a review of a recent biography of Henry Salt mentioned that "his widow subsequently married Lieutenant-Colonel de Vismes, of the Guards, who having lately succeeded to a title, she is now la Comtesse de Vismes." This is the earliest appearance in print that I find; if we trust the documents provided by E. W. in support of his claims (see below), he began using the title in the 1820s. In newspapers his eldest son William is styled "vicomte de Visme" at his marriage in 1832 and at the birth of his sons in France in 1833 and 1835. His younger son is styled "baron de Visme" at the birth of his eldest son in 1835, then count de Vismes in 1837 Note that E. W. only became the senior male-line descendent of Philip de Visme in 1835, when the line of his uncle Andrew died out.
Then, in September 1838 the Morning Post mentions the "baron de Vismes" (presumably E. W.'s younger son Henry); then, in February 1839 a number of local newspapers in southwestern England (Bath Chronicle, Woolmer's Exeter and Plymouth Gazette, Salisbury and Winchester Journal) carry a notice that the title of count had been recently recognized by the French government for E. W. The substance of this statement would be repeated in Burke's Peerage for a hundred years, and Ruvigny's Titled Nobility of Europe (1914, p. 1528) stated "recognition of count de Vismes [F. mpr.] for Elisee William by French govt 1 Sep 1838".
As we shall see, things were rather more complex.
The 1838 petition in France
In February 1838, John Burke, the founder of Burke's Peerage, and Antoine Perpigna, a Parisian lawyer specialized in patent law, filed with the "Conseil du Sceau" at the French ministry of Justice (the bureau in charge of validating inheritances of titles) a request for the recognition of the title of "comte de Visme de Cayeu" on behalf of Elisha (Elysée) William de Vismes, colonel of the Coldstream Guards and grandson of Philippe de Vismes. The contents of the file are reproduced here.
It was explained that the petitioner was desirous formally to use his title of count in Britain, particularly during the upcoming coronation festivities (Victoria's coronation in June 1838), and he had been advised that, in order to obtain formal recognition in Britain, he needed a formal recognition from the country of origin, in this instance France. John Burke, who was already gaining notoriety for his genealogical writings and would soon publish the first edition of his Peerage, acted as de Vismes' attorney in France.
The initial papers filed included a petition to the French minister of justice signed "de Visme" in Southampton, Feb 13, 1838; a letter from Burke, and two genealogical notices by Saint-Alais and by Somerset Herald (James Cathrow Disney). Burke wrote again on Feb. 27 and March 7, asking for a swift answer. Then, on March 16, he asked to withdraw the supporting documentation to update and improve it. Finally, in March, he was told that his petition was incomplete and in any case needed to be filed by one of the accredited solicitors (référendaires du sceau). Burke chose a solicitor named Grossot Devercy, who signed the subsequent petition.
The petition from Grossot Devercy had five supporting documents:

a notice copied from d'Hozier's

Armorial général de France

on the Blocquel de Croix de Wismes family, through which the petitioner claimed connection to the "comtes de Vismes".
a pedigree drawn by Somerset Herald, in a certified translation; the pedigree merely asserted that Philippe de Vismes, the petitioner's grandfather, was "in direct descent of the comtes de Vismes, the great and noble house of Bloquel de Wismes", without any proof.
a comparison of the coat of arms of the petitioner with that of the Blocquel de Croix de Wismes (both having a chevron gules on a field argent, but with different accompanying charges),
a note from Lord Brougham (Henry Peter Brougham, 1778-1868), Lord Chancellor of Great Britain from 1830 to 1834, to the effect that the status of British subject was acquired by birth in the British dominions without any other procedure.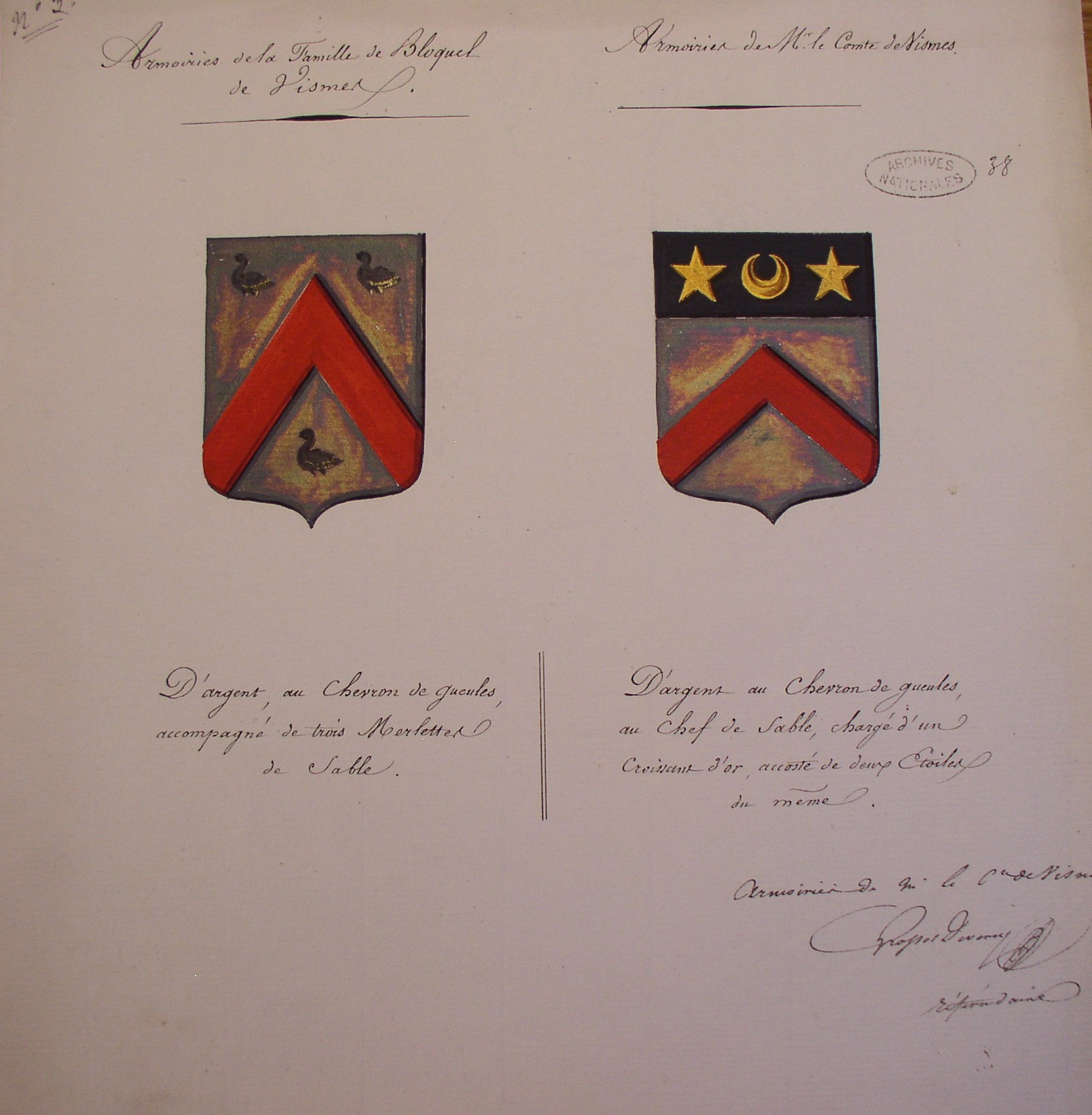 comparison of the Blocquel de Wismes and de Vismes arms

The petition is undated but was probably filed in April. At the same time, Lord Brougham who was in Paris, wrote a letter of introduction for Burke to the French minister of justice and stated that "many people" in Britain took an interest in the matter at hand. The file was still incomplete, though and in mid-May additional documents were produced:
a copy of the death registration of the petitioner's father (in 1781)
a copy of the inscription on the same's tomb
a copy of a tax bill for 1823 in the name of "comte de Vismes"
another tax bill dated 1831
the envelope of a letter sent by a British MP to the petitioner addressed to him as comte de Vismes.
The file contains additional documents, particularly:
a copy of a register of members of St. Martin Orgars Church, listing "Philip comte de Vismes" in 1716
a copy of the registers of Clapham parish, mentioning the burial of "Philip comte de Visme" in 1756.
On May 28 a letter was sent to Lord Brougham to assure him that the petition would soon be addressed.
The file in the French national archives contains the report on the petition, presented to the commission of the Seal on May 22. The reporter concluded that the petition should be rejected, for a variety of reasons. The pedigree of Somerset Herald was rejected as insufficient because it was not certified by six to eight gentlemen of the county of residence of the family (a procedure which was deemed necessary to make the document authentic). The documents provided did not fully prove the descent, nor did it prove that the petitioner was an eldest son and his father an eldest son.
The key point, however, was that it made no sense to ask the French authorities to establish the claim to a title on the basis of British documents. It was possible to establish a claim to a title by documenting that the title was lawfully used for three generations. But only British authorities could make that judgment. And it was illogical to ask the French authorities to recognize the title when the only purpose was to convince the British authorities to recognize the title.
The reporter then added a note: considering the recommendation from Lord Brougham, the minister might consider writing a careful letter to the petitioner, and proposed a draft of such a letter, stating that "I think one could not dispute him the right to continue to use a title that he would have thus received from his forebears". The chair of the commission approved the idea, and the minister endorsed it. A letter was written in those terms on June 5 to colonel de Vismes.
The 1838 petition in England and subsequent efforts
The colonel immediately applied for recognition of the title in Britain with the Home Office, and his solicitor withdrew the documents in English that had been submitted (certified translations remained in the file).
At about the same time, Elisee William de Vismes petitioned for a Royal Licence to bear the French title of count de Vismes. The petition, sent to the Home Office, was referred to the College of Arms, which stated that "there was no precedent for such a grant without the previous production of the original patent".
On August 7, the French minister of justice received a letter from his colleague at Foreign Affairs. The British authorities thought that the letter of June 5 was not official, and asked for an explicit statement as to the recognition of the title in France. This request must have created some embarrassment for the French officials, as the multiple drafts of a response suggest. In the end, the minister replied that the letter of June 5 contained the exact expression of his opinion on the matter, and reiterated the deliciously ambiguous phrasing that "one could not, in [the minister's] opinion, dispute a title that he held in such manner from his ancestors". Fearing perhaps that the phrasing was too subtle, a sentence was added to the letter: "furthermore the documents presented to me must be the same as those presented to the English government in support of his request, and that government can therefore assess them and form an opinion". This letter was sent to the French minister of Foreign Affairs on September 1, 1838 and forwarded to the British ambassador.
This letter clearly achieved its effect: in October Burke was again in Paris and transmitted a letter from Lord Brougham explaining how this last sentence had created additional difficulties for de Vismes with the Home Office, who now claimed that the French authorities were suggesting that the British authorities investigate the whole matter themselves. Surely this was not the French minister's intention, and a word to say so would dispel doubts raised only by the greed of British bureaucrats. A reply was sent to Burke on November 25, curtly referring him to the letters of June 5 and September 1 (an explicit sentence in a first draft: "the explanations you request would be more damaging than useful to your client" was removed from the final version). Burke chose not to insist.
In the end the Home Office declined to submit the application for consideration to the Queen.
In July 1840 his younger son Henry (1808-75) wrote again on behalf of his ill father to the Home Secretary (HO 44/52, fol. 585-587) pressing for recognition. The Home Secretary declined to reconsider the case, and the correspondence dragged on, the vicomte writing in vain several rambling (if not incoherent) letters in 1844 and 1846, without receiving replies (he also sent a petition to the Queen in April 1846). he claimed to have a letter dated 8 Oct 1838 informing him that the Queen had agreed to allow assumption of the foreign title. He finally asked for his correspondence to be returned to him, which was denied. His correspondence makes it clear that, as of 1844, the British de Vismes now considered themselves to be a collateral branch of the sovereign comtes de Ponthieu, though they only claimed the title of count.
Separately, E. W.'s older son William (1805-77) wrote in March 1843 to the Queen, breezily asking for an audience before departing for some years on the continent. He wrote again to Lord Aberdeen (Foreign Secretary) in April asking for an immediate audience; Lord Aberdeen declined.
In 1865 and 1867 the matter was taken up again by Henry's eldest son Henry Auriol Douglas (1835-93), then a captain in the Royal Artillery, asking for copies of the correspondence and for an explanation why the petition had been denied. He was told that a copy of the correspondence could not be provided. He also cited the letter of 8 Oct 1838, but there was no trace of such a letter in the Home Office. The notes in the file mention that "an offer was made to pay L1000 into the Privy Purse" and that the correspondance on this subject "extends over a period of many years"...
It seems that further efforts were made to secure a royal license for the title in Britain. In 1896, the College of Arms asked through the british ambassador in Paris from the French authorities a copy of the decree confering the title of count on Elisha William de Vismes, a decree they thought dated to 1832. Being told that there was none, they asked to look under "Vismes de Ponthieu", then to look under 1838. Finally, they were told that there was no such decree at any date, the only title conferred on anyone with the name of Vismes between 1808 and 1848 was that of baron in January 1814 to Valéry de Vismes, sous-préfet of Vervins. In 1899 the College of Arms, having obtained a copy of the September 1, 1838 letter, asked for a copy of the minute in the file where the "faithful expression of the opinion" of the minister of justice on the title and nobiliary status of de Vismes was expressed, and the French authorities simply sent back a copy of the letter of June 5 (which the letter of September 1 merely repeated!).
The de Vismes become princes
Burke's failure to secure a clear confirmation in 1838 did not deter him from including the de Vismes in the "foreign titles" section of his Peerage, but now abandoned the connection to the Blocquel de Croix de Wismes. Perhaps he had noticed that the Wismes in their case was located in Artois, not in Ponthieu, and spelled with a W rather than a V. Perhaps, more to the point, he learned that the family was not extinct at all (it is still extant). It seemed safer to postulate a connection to the house that first owned the barony of Vismes, before it passed by marriage to the Cayeux. This meant, of course, abandoning the title of "Vismes de Cayeux", but claiming that this family was a junior branch of the counts of Ponthieu allowed to adopt the title of "Vismes de Ponthieu".
A notice ran as follows in The Standard (26 Jan 1839):
Better yet, the title could be upgraded from "count" to "prince", and become available German-style to all members of the family, not just the first-born. Indeed E. W.'s eldest son William had begun using the style "comte de Vismes, prince de Ponthieu" as early as 1839 (Exeter Gazette, 27 Jul 1839, p. 3: "the Count W. de Vismes, Prince de Porthieu [sic]"; 18 Oct 1839, p. 3: "the Count W. de Vismes Prince de Ponthieu and her Highness the Countess W. de Vismes Princesse de Po nthieu and his relatives the Count Onesiphore de Vismes Prince de Ponthieu, Comte and Comtesse des Reyle"). The Bath Chronicle noticed the death of E. W. as "His Highness Colonel le Comte de Vismes, prince de Ponthieu".
There was some dissension between E. W.'s sons William and Henry. Judging from the following letters to the Morning Post (19 Dec 1840 and 5 Jan 1841), E. W. had disinherited his eldest son William and placed Henry in succession to his invented title of count.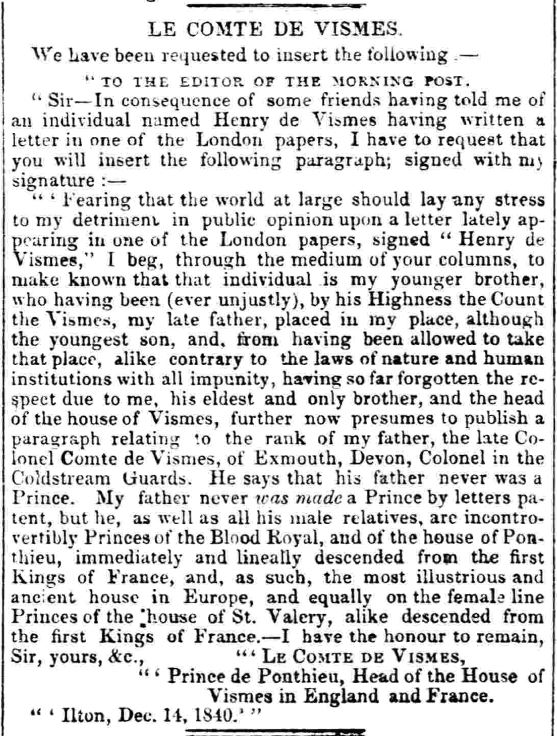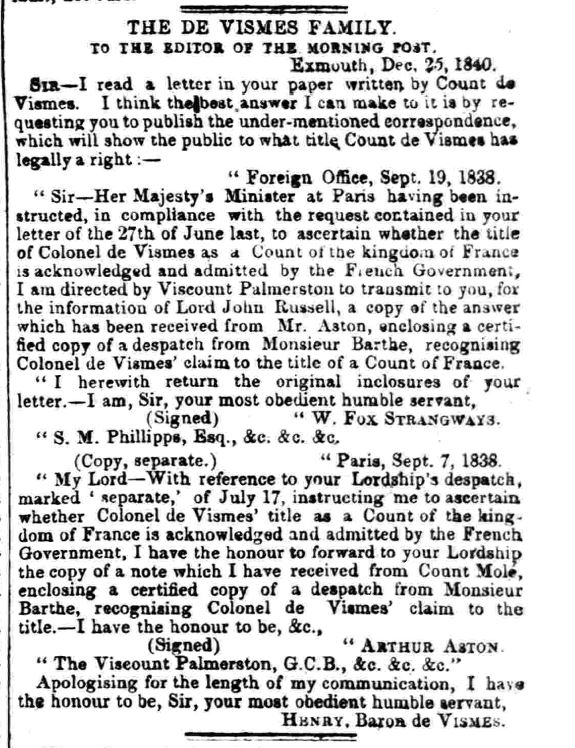 William gave his children born in 1833 and 1835 the names of Theobald Raoul William and Angilbert Valery, reminiscent of the names used by the Carolingian counts of Ponthieu. Meanwhile his younger brother Henry was styling himself "baron" and presented as such, both at the French court (29 Dec 1839) and British court (17 Apr 1839), though he later used the style of "vicomte de Vismes". The descendants of William's eldest son Theobald Raoul William used the name "de Vismes de Ponthieu" throughout, although the Army Lists never give them any title (his widow ceased using the style of countess some years before her death). And so we see in the Times that the wife of of Theobald is called "Princess Theobald de Vismes et de Ponthieu" in 1859 (as he was styled "Prince" at his marriage in St Helier, Jersey); that "HRH the Prince de Vismes et de Ponthieu &c &c &c" is on the committee of the Corinthian Club in 1870, and "HRH Prince de Vismes" on the committee of the Regent Club in 1872, etc.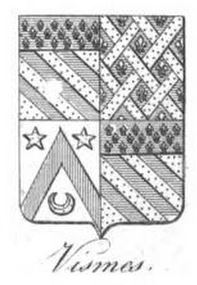 Annuaire de la Noblesse de France, 1865, planche BA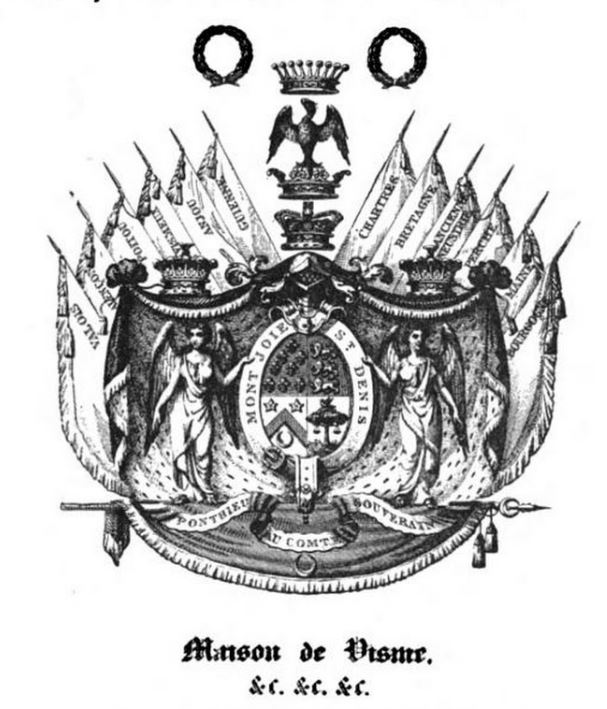 Bookplate of De Visme (Walter Hamilton: French Book-plates, 1896, p. 163)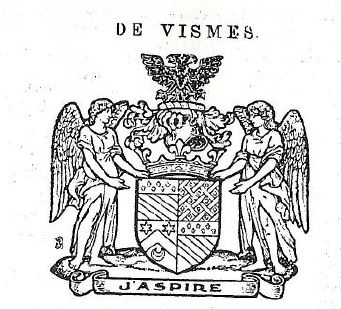 Burke's Peerage, 1938, p. 2701 (under "foreign titles of nobility")
Other members of the family were less formal. The descendants of Henry remained "de Vismes", while the issue of E.W.'s younger brother James mostly retained the spelling "de Visme" and eschewed the titles. The exception was James's grandson Julius Sullivan, who started calling himself prince in the 1860s (at his marriage in 1848 he still signs plainly "J. S. de Visme") and is styled in the 1871 British census "SAR le Prince Julius S V ch de Ponthieu" with rank of "noble of the Empire of France"; all his children are "SAR Prince/ss". This Julius Sullivan went bankrupt in Bridgwater where he lived, moved to Wales and later to Romsey where he died in 1876.
What remains of the family and title? As far as I can tell, E. W. had two sons William and Henry. William had two sons, only the eldest had issue, still extant today in male line. Henry had many sons but none had issue and the last died in 1921. E.W.'s only brother James had issue, extinct in male line with Robert Raoul St Valery de Visme (+1956).
What of the "prince" whose death in 2006 prompted my research? He descends from the only daughter of "Prince" Julius Sullivan (grandson of James, great-nephew of E.W.): Lilian Jane married Edwin Godfray and had two sons and two daughters. Neither son had sons but they had daughters, one of whom at least still has living issue. One of the daughters, Geraldine Irene Godfray, married John Martin, and their younger son is the James Arnold Godfray Martin who assumed the title of prince. Why he thought that he could do so while the male line of Elisha William is still extant is anyone's guess.
The validity of the titles
First, a note on the titles themselves.
Ponthieu, Saint-Valery, Vismes
The county of Ponthieu originates in a march created in the 8th century by the Frankish monarhy. Roughly speaking the county passed by inheritance to the kings of England from whom it was confiscated in 1336, 1360, and lastly in 1380. Thereafter it was given as apanage to various people, lastly the Angoulêmes, a legitimated line of Charles IX. The county was briefly (June-Sept 1710) part of the apanage of the duc de Berry. The last owner of the county was Charles, comte d'Artois, younger brother of Louis XVI, who received it as part of his apanage in 1773. He later became king of France in 1824 (at a time when feudal titles and apanages had been abolished) but after his overthrow in 1830 used the style of "comte de Ponthieu" as an incognito. Since Charles X's first port of call after his overthrow was the UK (from August 1830 to October 1832), with the comical implication that there may have been two comtes de Ponthieu at the same time in the same place.
The barony of Vismes (Somme, zip code 80140) was a fief within the county of Ponthieu. It passed from the family of Cayeux to the family of Monchy in the 14th century, and as late as Sept. 1665 it was still owned by the Monchy family (François de Monchy, son and heir of Charles de Monchy, baron of Vismes, gave homage).
The barony of Saint-Valéry-sur-Somme (Somme, zip code 80230), a fief in the county of Amiens, passed from the Melun family with Isabelle to the Artois comtes d'Eu, then to the house of Bourgogne-Nevers along with Eu and followed the county of Nevers through the houses of La Marck and Gonzaga until the mid-17th c., when it passed by sale to the house of Rouault de Gamaches which still owned it in 1737.
It's not a little puzzling to see someone claiming all three titles at the same time, given their very disparate histories.
The basis for E. W. de Visme's claims
As we saw, the first claim made by Elisha William de Visme was a relation to the French family Blocquel de La Croix de Wismes. In his initial submission to the French authorities, his solicitor admitted that the Bloquel were "perhaps less noteworthy than those of Cayeux and Monchy" but still of ancient nobility, and the documents he submitted proved, according to him, the descent of Elisha William from that family.
Of course the documents proved no such thing, and within a few months any putative connection with the Blocquel family was forgotten. What the documents did show, taken at face value, were that:
Elisha William had been called "comte" or "count" by some people,
that he was the son of William, who had been called "comte",
and that William had been the son of Philip, who had been called "comte";
which, taken at face value, meant that Elisha William and his ancestors has been called "comte" in Great Britain for three generations. As the French officials noted, this did not prove that there was a title of comte de Vismes, nor did it prove that Elisha William was entitled to it (it wasn't even clear that he was the senior heir to Philip, although he was after 1835).

But the documents can't be taken at face value: one of them is a patent forgery, namely the supposed copy of the burial register of Philip in 1756. The (original doesn't use the style of "comte" contrary to the statement of R. Gibbs, clerk of Clapham parish (who was no doubt compensated for the violence he did to his conscience). I have not yet seen the original list of members of St. Martin Orgars for 1716, nor the burial register for Beckenham Kent for 1781, but I doubt very much that they show a style of "count". As for the funeral monument of William de Visme in Beckenham, there seems to be no trace (see this 1922 description of monuments in St. George, Beckenham); it may well exist but is unlikely to show him a count, since the monument to his widow at St. Mary the Virgin (Stanton Drew, Somerset) describes her as "widow of the late William de Visme, of Beckenham in Kent, Esq.re" and not as a countess.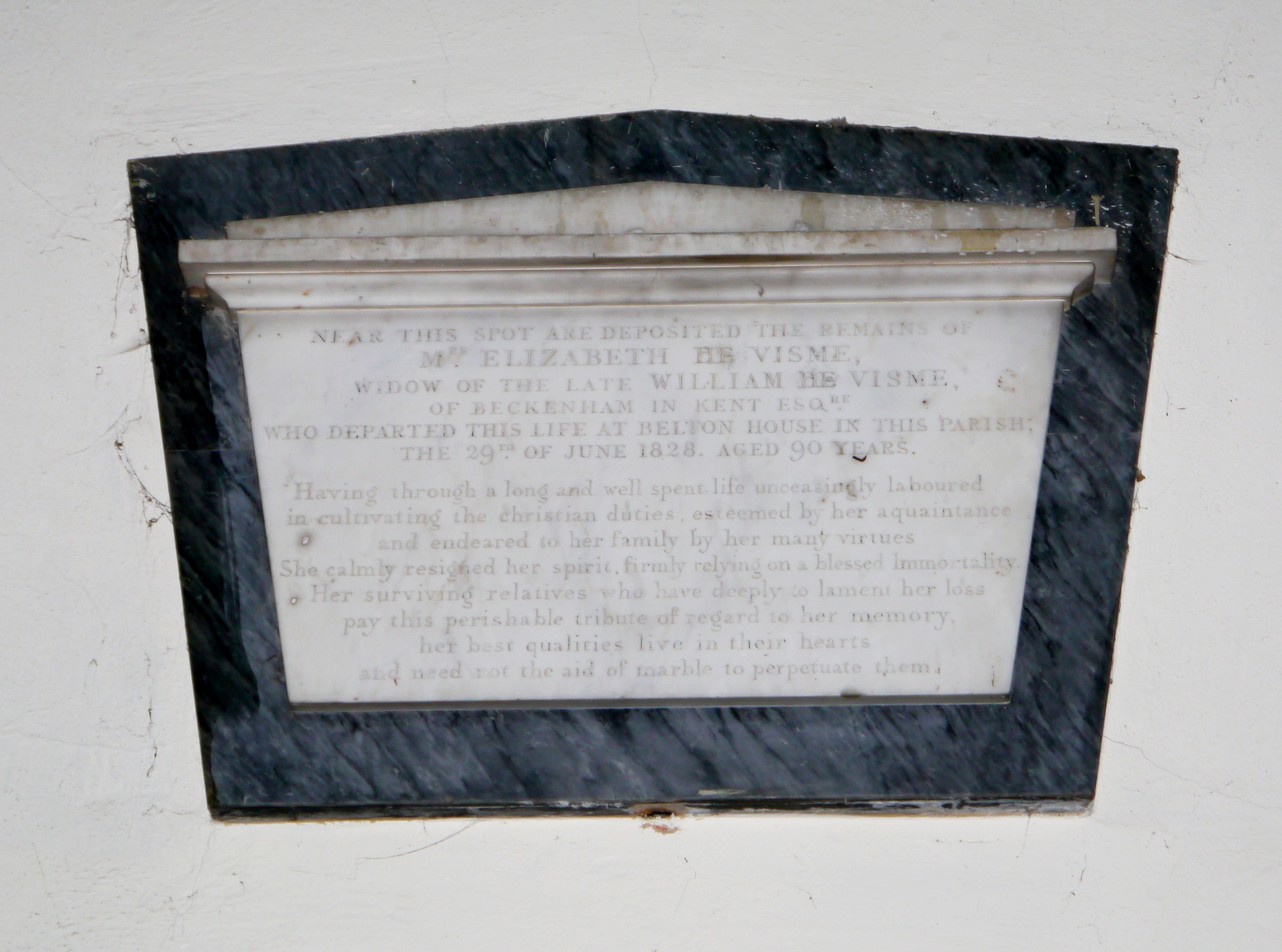 In short, the documents submitted that were authentic merely showed E. W.'s descent from Philip, the forgeries were designed to support the idea that they were called counts, and nowhere was anything shown regarding the origin of the brothers Peter and Philip in France.
The French officials were prepared to accept that three generations of de Visme had been called counts, because they took the documents at face value. Even then, they could not certify anything .
The The French origins
The one thread that connects the whole de Visme[s] family to France is the naturalization act of 1717, which lists "Peter Devisme, son of Peter Devisme, by Mary his wife, born at Gouy in Picardy" (see Commons Journal, 18:615; the name is often misspelled Couy in secondary sources). There were several Gouy in Picardy at the time, but the relevant one is undoubtedly Gouy-L'Hôpital, now part of Hornoy-le-Bourg, in the Somme. At the time it was a small village of less than 50 households, but consulting the parish registers (which begin in 1692) one finds several individuals named "Devisme", several of whom are recorded as abjuring Protestantism.
Nineteenth c. sources document the descendants of Jean de Visme, a "laboureur" (husbandman or plowman) in Gouy-l'Hôpital, remained mostly Protestant, and as such were increasingly the victims of persecution in the 17th and 18th centuries. A number of them emigrated to England, where their distant cousins were already established in Canterbury. From Jean the descent can be traced to Marin (b. 1604), Jean (1638-85), who left Pierre (1657-87) and Jean (c1662-after 1702). The latter Jean's great-great grandson Léon de Visme was sous-prefet under Napoleon I in 1814 and ex officio received the title of baron d'Empire. Pierre is said to have left three sons: André (1679-1726) whose descent still exists in France, Pierre (ca 1685-1768) and Philippe (15 Sep 1687-26 Oct 1763), both emigrating to England in the early 18th century. So, as it turns out, the authors of the British branch were younger brothers.
There is another Devisme or de Visme family in northern France, originating in Jean de Vismes, a local judge in the Quesnoy region (near Valenciennes, in French Flanders) in the mid-16th c., married to Annette Courchel. He is the ancestor of the de Visme of Amiens, Abbeville, and Paris, all Catholics. The Paris branch was represented in the 18th century by Pierre Martin de Vismes (1711-77), who became secretaire du Roi in 1757 and thus acquired hereditary nobility. He had made a fortune in the tax collection business, and two of his sons worked in the tax farms. His daughter, made "dame du lit" of Queen Marie Antoinette, married the court banker Laborde and later a member of the Rohan-Chabot family. His eldest son Joseph-Jacques-Martin (1741-95) was a military officer, his younger son Anne-Pierre-Jacques de Vismes de Valgay (1745-1819) was director of the Paris opera in the 1770s at the time of the composer Gluck's arrival; and the third son Alphonse-Denis-Marie de Vimes de St Alphonse (1746-1792) was a farmer general. The line became extinct in 1861. The Abbeville branch, also descended from Marin, is still extant.
British de Vismes family: a genealogy
The following genealogy of the descendants of Peter and Philip de Visme is based largely on original documents. I initially started from Burke's Peerage (1874, 1938: the last edition with a section on foreign titles), Annuaire de la Noblesse de France 1865 (p. 223-228, largely based on various editions of Burke's Peerage), Burke's Commoners (IV:321), Ruvigny's Titled Nobility (1914, p. 1528). But these secondary sources are not always reliable and I have corrected as much as possible, though errors may remain.
Pierre de Visme (+3 Feb 1768, probate 16 Feb 1768)
admitted into freedom of City of London (haberdasher) 22 Oct 1728)
Hamburg merchant; of Bartholomew Lane, later Clapham
~ (27 Jun 1717 London) Madelaine Beaufils (bur. St Bartholomew 10 Sep 1760)
all children baptized at St Martin Orgars
Pierre / Peter (10 Jun 1718 - 27 Mar 1771 Clapham, bur. St Bartholomew 4 Apr, probate 9 Apr 1771)
Philippe (21 Oct 1719-c1760)
~ (8 Dec 1751, Trinity Church, New York City) Anne Stilwell
widow of Theodosius Bartow of Shewsbury, NJ

Elisabeth Beaufils (1752-)
~ (31 Dec 1772, Mortlake, Surrey) Jean Duval, diamond merchant of Genevese origin
Pierre Anthony (1754-c1780) unm.

Samuel (1756-) unm. in Barbados (will proved 16 Nov 1793)

Catherine (1758-)
~ (2 Jul 1782, Paramus, NJ) Joseph Browne
Philip (b. 1760, NY) unm.


Elisabeth (b. 17 Oct 1720 - bur. 29 Apr 1723 St John at Hackney)
Marie Anne (b. 28 Sep 1721)
~ (24 Jul 1746, Lee, Kent) James Dalbiac

Elizabeth (2 Jul 1747, bap. Spitalfields French Prot. - )
James (11 Jul 1750, bap. Spitalfields French Prot. - )
Charles (1 Apr 1754, bap. Spitalfields French Prot. - )
John (3 Nov 1756, bap. Spitalfields French Prot. - )
Susan (5 Nov 1758, bap. Spitalfields French Prot. - )
Louise Sophia (17 Mar 1764, bap. Spitalfields French Prot. - )

Anne (b. 28 Feb 1722/3)
Elisabeth (b. 2 Jun 1724)
Elisabeth (27 oct 1725 - bur. 18 Jan 1726/7 St John at Hackney)
Jean (13 Feb 1726/7 - 15 Dec 1759, bur. 22 Dec St. Bartholomew) unm. will proved 2 Jan 1760
Hamburg merchant
Isaac (2 Jan 1727/8 - bur. 27 Dec 1741 St. Bartholomew)
Marie (23 Nov 1728-)
~ (2 Feb 1759, Spitalfields Christ Church, Stepney, London) Daniel Messman

Louise (7 Jul 1761, bap. Spitalfields French Prot. - )
Daniel (9 Oct 1762, bap. Spitalfields French Prot. - )
Charles (30 Oct 1764, bap. Spitalfields French Prot. - )

George (24 Nov 1729-)
Susanne (28 Oct 1730-)
~ Charles Dalbiac


Peter (9 Jan 1760, bap. Spitalfields French Prot. - )
Louise (3 Feb 1761, bap. Spitalfields French Prot. - )
Susan (22 Apr 1762, bap. Spitalfields French Prot. - )

Guillaume (25 Jul 1732 - bur. 23 Apr 1736 St Bartholomew)

David (13 Feb 1734/5- 6 Dec 1789, Great Missenden, Bucks)
merchant at Silesia and London; distributor of stamps for Middlesex
~ (Nov 1782) Philippa Sheriff

Elizabeth Sophia de Visme (bap 30 Jan 1775, Holy Trinity, Clapham)
~ (11 Feb 1801 St Marylebone, London) John Baillie


Elisabeth (24 Mar 1735/6 - bur. 15 Sep 1763 St. Bartholomew)
~ (1 Sep 1757, Holy Trinity, Clapham) William Sampson

Philippe (15 Sep 1687-buried 25 Oct 1756, Clapham, Surrey)
~ (26 Jul 1716, Spring Gardens Chapel, Charing Cross) Marianne de la Méjanelle (d. 16 Feb 1779)
all children baptized at St Martin Orgars
Philippe (4 May 1717, London)
André (b. 19 May 1718 - 10 Jul 1779, bur. All Hallows Staining), Esq
~(24 Aug 1742, clandestine) Ann Parker

Philip Nathaniel (5 Jan 1744 St Martin Orgars - Aug 1817, Kensington), Esq will proved 1817
~ (10 Jun 1771, Chislehurst, Kent) Jane Rush (bur. 3 Feb 1823, Kensington)


Philip (b. 23 Nov 1776 St Swithin) s.p. will proved 7 Aug 1828

Gerard (b. 20 Sep 1778 St Swithin+ Brighton, bur. 10 Jul 1835 Brightelmston, Sussex) will proved 22 Jul 1835
cornet, 1797; retires 1798
~ (2 May 1818 Kensington) Eliza Ella Torriano (bur. 27 Aug 1864)
Jane (b 18 Feb 1780 St Swithin - bur. 30 Oct 1819)
Louisa Boscawen (bap 14 Oct 1782 Bromley, Kent - 1862 Brighton)
~ (15 May 1809 Kensington) John Louis Goldsmid

Louis Davison (2 May 1811 - 21 Feb 1889 West Malling, Kent)
Eton, Oxford, Balliol College 1828 - curate at Brighton; changed surname from Goldsmid to De Visme
Louisa (10 Feb 1810, Dorking - 1911, Hollingbourn, Kent)
~ Richard Thomas

Ella de Visme
~ (15 Apr 1860 Hollingbourn, Kent) Robert John Shaw
Bertha Jardine (1845 Hollingbourn, Kent -1932)
~ 1873 Edward Delmar Morgan

Edward Lewis Delmar (bap 27 May 1875)
Bertha Woodline Delmar (bap 15 Dec 1876)
John Godfrey Yate Delmar (bap 17 May 1878)
Ella Mary Delmar (bap 11 Nov 1879)
Vera Caroline Delmar (bap 8 Dec 1880)

Mary Julia (c1847 Hollingbourn, Kent -)
Richard Gerard de Visme (c1849 Hollingbourn, Kent - 1900 Hollingbourn, Kent)
~ Augusta Emma Cartwright (d. 2 Feb 1949 Hollingbourn, Kent)

Richard Gerard de Visme (20 Mar 1888 Hollingbourn - 19 Mar 1958 Pembury, Kent)
Edward Stephen de Visme (12 Aug 1891 - )
Louisa Fanny de Visme

Harriet (b. 8 Apr 1785 Bromley, Kent - bur. 25 Jul 1823 Kensington)
~ (11 Feb 1815 St Mary Abbots, Kensington) Edward Goulburn

Louis (25 Sep 1720-4 Sep 1776) unm.; diplomat
see entry in Oxford Dictionary of National Biography
Etienne (18 May 1723-2 Nov 1770 Canton, China)
Gérard (6 Feb 1725/6- bur. 29 Oct 1797 Wimbledon) will proved 1798
factor in Lisbon where he made a fortune; builder of the Monserrate estate near Sintra

Emilie (b. 18 Mar 1787 Lisbon, Portugal - d. 23 Nov 1873)
~ (28 Jun 1810 St Marylebone, London) Sir Henry Murray


Susan Emily (1811 London - 1873)
Gertrude Louisa (1814 Brighton - 1904)
Henry Stormont (1812 - 1863)
Frederick Stormont (1813 - 1903)
Arthur Stormont (1820 - 1848)

Léon (14 Sep 1727-17 Aug 1766) s.p.
Guillaume (William) (6 Feb 1729, London - 16 Jun 1781, Beckenham, Kent)
one of the directors of the Royal Exchange Assurance
~ 1756 Elisabeth Auriol (c1738 [possibly Lyon 18 Feb 1738] - d. 29 Jun 1828, Stanton Drew, Somerset), d. of Elisée Auriol and Marguerite Fesquet

Elisha (Élisée) William, comte de Vismes (28 Jun 1758, bap French Ch. Savoy - 31 Oct 1840 St. Thomas, Devon)
ensign, 1779; lieutenant, 1789; lt-colonel Coldstream Guards, 1794
~ (20 Oct 1802 Lyme Regis) Jeanne Salt (d. Jan 25, 1856 Exmouth aged 85) widow of Dr Hall, sister of M. Salt, consul in Egypt

William (19 Jul 1805 Somerset - 7 Aug 1877 Cesson (St-Brieuc), France)
~ (18 Jul 1832 Broadway, Somerset) Eliza Carter Palmer (d. 27 Jan 1885 Cesson (St-Brieuc), France), d. of Rev. W. Palmer
note: styled "vicompte de Visme" in the marriage register

Theobald Raoul Guillaume [William] (28 Dec 1833, Orléans, France - 31 Oct 1878 Enge, Switzerland)
~(29 Jan 1859 St Helier, Jersey) Caroline Annie Musgrave (d. 21 Nov 1903 St Leonards-on-Sea)

Valery Theobald Guillaume (23d Nov 1859 Brussels (bap. St. George's, 12 Jan 1861)-5 Mar 1895 Tangier)
entered diplomatic service as interpreter, 1883; interpreter with rank of vice-consul in Tangier, 1890
~(12 Sep 1885 Constantinople) Angele, d. of late Skender Bey Fritsch, Constantinople

Alexander William Theobald (10 Sep 1888-14 Feb 1945, Granada Spain)
~ (13 Nov. 1917; div. 1927) Eileen Bede Dalley (+1968 Southwark)

William Valery (10 Feb 1919 - 5 May 1967 Marylebone, London)
~ (Dec 1945 Marylebone, London) Renee Soloman (25 Jan 1909 - Dec 2000 Kensington)


~ (Sep 1940 Madrid Chamberí) Rafaela Isabel Perez Rubio del Castillo (d. 18 Apr 1992 Madrid)

Rafael Luis (+ Jul 1994 Madrid)
~ María Teresa Sáez Canseco (d. 8 Jul 2003) <! -- daughter of Teofilo Miguel Saez Bernardino +6 Dec 1977) -->

Louis Auriol Robert Musgrave (30 Jan 1894 Tangier - 12 Apr 1971 London)
junior clerk in consulate, Constantinople, 1912; lieutenant, intelligence corps 1941; captain, 1944; retires 1947
Bertha Caroline Amelia (d. 25 Jan 1937, Bucharest, aged 51)
~(2 Jun 1904 Constantinople) baron Jean de Styrcea, master of ceremonies at the Romanian court

Victor (b. 30 Mar 1905, d. Dec 1990 Tunbridge Wells, Kent)
~ (1949 Kensington) Joan F. Robinson (b. 17 Sep 1918 d. Jun 1997 Tunbridge Wells, Kent)

Michael Edward David (b. 1954 - )

Valerie Alice Julia Gladys
~ 1912 Eduardo Félix Arnolds Aldenhoven (b. 19 Sep 1883 Valparaiso, Chile)

Raoul Guy Richard (6 Jan 1864 Louvain (bap. 19 Apr 1864 St. George's Brussels) -Jul 24, 1901, Pondichery)
Royal Military College; Northamptons R., 2d lt 1883; seconded to India Staff Corps, 1885; lt, 1887; capt., ?; consul in Pondichery, 1900
~ 1896 Beatrice Evelyn d. of William Hope Hall

Gerard Richard Musgrave (b. 22 Feb 1897, Aden Arabia - 2 Oct 1934 Bromley, Kent)
Alexandrina (b. 10 Oct 1898 at sea - )

Elise Caroline Julia Bertha ((bap. 24 Jan 1862 St. George's Brussels) - d. Feb 17, 1941 Torquay)
Bertha Marianne Adelaide Jeanne ((bap. 20 Nov 1862 Louvain)

Angilbert [Valery] (28 Jan 1835, Orléans, France - 31 Dec 1909 Nice) d.s.p.
~ (1859) Augusta Adelaide Musgrave (d. 17 Nov 1893 Nice), d. of Rev Richard Adolphus Musgrave

Henry (9 Dec 1808 Hatch Beauchamp, Somerset-2 Sep 1874, Bedford)
ensign 1826; lt 1829
~ (15 May 1834, ?) Caroline Sarah Sophia Jones, d. of vice-admiral Alexander Jones (Apr 6, 1811-Aug 5, 1877)

Henry Auriol Douglas (b. 17 Apr 1835 Orléans, France - 21 Nov 1893) s.p.
Cheltenham College, 1847-50; RMA Woolwich; 1st lieutenant 1854 [Crimean War Feb-Oct 1855]; 2nd captain R.A. 1861; resigns 1871
Alexander Montgomery (b. 17 Jul 1837 Exmouth, Devon - 15 Apr 1902 London) unm.
Exeter Gazette, 17 Jul 1837: "July 17, at the residence of her father, the Hon. A. Jones, on the Parade, Exmouth, the Countess Henry de Vismes, of a son."
clerk in the civil service
William Edward Robert St. Vallery (3 Jun 1839 St. Thomas, Devon - 23 Oct 1851, bur. 30 Oct St Peter, Bedford)
Philippe Charles Montreuil (12 May 1841 Le Havre - 9 Sep 1860)
midshipman RN, 1841; lost on HMS Camilla
Henry John Hugh (24 Feb 1843 France - 13 Jul 1921, London)
ensign, West India R., 1864; lieutenant 1865; resigns 1867; later capt. in Bedfordshire militia (resigns 1887); assistant manager to wine merchant, London (1891)
Charles Theobald (14 Apr 1854 Bedford - 20 Feb 1919) unm.
lieutenant, Bedford militia, 1876; resigns 1886
Sophia Jane Mary (c1838 Exmouth, Devon - 1 Jul 1919, Southampton)
nurse (1871)
Bertha Caroline (Jan 1846, Bideford, Devon - 12 Feb 1930 Marylebone, London)
Eleonor Alice Lydia (bap. 28 Apr 1848 Cheltenham, Glouc - Dec 20, 1926) unm.


Eliza Jane (d. 1853)
~ Joseph Kane (d. 1841)

William Francis de Vismes Kane (1840-1918)

James (bap. 2 Aug 1759 St. Bartholomew - 29 Oct 1826 Milbrook, Hamps)
barrister
"Died on Sunday last at Milbrook Manor House, at an advanced age, James De Vismes, Esq." Hampshire Telegraph, 30 Oct 1826
~ (14 Jul 1788) Elisabeth Bearcroft, d. of Edward Bearcroft (d. 13 Mar 1818, Newent)


James Edward (b. 4 Nov 1791, Newent, Glouc - 12 Nov 1859 Bath)
Gaius and Gonville College, 1810-15; ordained 1815; curate, St John's Hospital, Bath (1841-51); curate, Bathampton (1851-58)
~ (1820) Sophia Staines, d. of Sir William Staines
Francis (23 Dec 1793-18 Dec 1869 Jersey)
ensign, 1810; lt., 1813; capt. by purchase, Apr 1818; retires as lt-col., 80th Foot, 1854
~ (6 May 1824) Harriet Sullivan, d. of Sir Benjamin Sullivan

Francis Sulivan (18 Feb 1825-27 May 1828)

Julius Sulivan (11 Aug 1826-8 Jan 1876)
~(10 Aug 1848 Trinity Ch., Marylebone) Jane Scott Douglas Grimmond (+8 Dec 1855)

Philip Douglas (b. 13 Jun 1849 - bur. 5 Nov 1849 Chertsey)
Jane

~ (28 May 1857 St Saviour Jersey) Eliza Labey, widow of Isaac Banbury
her portrait in 1858

Julius Philip (b 23 Sep 1857 Quimper - Jan 23, 1928 Bel Royal, Jersey)
Nithard Raoul (21 Jul 1859- 12 Aug 1859 Jersey)
Robert Sulivan (31 Aug 1861 Grouville, Jersey - 11 Jun 1897)
Nithard Valery (d. 18 Aug 1862, Jersey, aged 3 weeks)
Lilian Jane (25 Jun 1863)
~ (17 Jan 1883 St. Helier, Jersey) Edwin Godfray (22 Sep 1852 Jersey - 27 Apr 1910)
son of Alfred Godfray, surgeon, and Henrietta A.

Beatrice Lilian (5 Nov 1883 Jersey - bur. 25 Jan 1961 Waltham Forest)
~(Jan 1910 Paddington) Thomas F. De Patterson
Geraldine Irene (21 Dec 1884 Jersey - )
~ (10 Oct 1908 Bombay) John Martin (b 1865 - )


John Leal de Vismes (Jul 1909 Lewisham, Kent - 29 Jul 1966)
Geraldine Mary Rose (1912 Lewisham, Kent - )
James Arnold Godfray [Martin St. Valery] (18 Sep 1916 - 2006)


Edwin de Vismes (4 May 1886 Jersey - 4 Jun 1917 Lancaster)
~ (5 Dec 1904 Greenwich) Margaret Frances Sprague

Lilian Madeleine de Vismes (16 Sep 1905 Lee, London - Apr 1994, Honiton, Devon)
~(Jun 1932 Paddington) Arthur Rickards Theweneti (1907 Godstone, Surrey - Jun 1938 Winchester, Hamp)

John E. (1933- Mar 1937 Surrey)
Ian Patrick G. (17 Mar 1938 Southampton - May 1999, Leeds)
~(Sep 1960, Ealing) Kathleen Davis

Maureen Irene de Vismes (12 Feb 1907 Lee, London - 29 Sep 1957, Ealing)
Brenda Poppy (26 Oct 1908 Montmorency, France - Jun 1970, Chelsea)

Reginald Valery de Vismes [R. de V.] (26 Jun 1887 Jersey - 3 Feb 1939 Ceylon)
departs for Ceylan 25 Sep 1915, works as a tea planter
~ Muriel N.

Emily Rozel (30 Jul 1866 St. Martin, Jersey - bur. 9 Oct 1866 Cossington, Somerset)
Nithard Harlowen Valery (29 Aug 1868 Bridgwater, Somerset - 13 Jul 1873 Romsey, Hamps)
Nithard died from an accidental fall at the family home, Abbey House; his father described himself at the coroner inquest as "Le Prince Julius de Vismes et de Ponthieu" (Hampshire Advertiser, 19 Jul 1873, p. 7)

George Robert Sullivan (bap 19 Oct 1830, Weybridge - 29 Oct 1878 St. Brelade, Jersey)
~ (12 Jun 1872, St Clement, Jersey) Anna Augusta Pond (+6 Dec 1914)

Robert Francis James (b. 3 May 1873 St. Brelade, Jersey - 15 Jun 1950, Jersey)
captain, Devon Regt (1901)
~ (11 Feb 1914 St Brelade, Jersey) Marguerite Jenkinson (d. 1940)


Robert Raoul St Valery (26 Sep 1916-1956)


Elizabeth Margaret (1827-1890)
~(29 Nov 1871 St Saviour, Jersey) James Bayly Pond (d. 1880)

Julia

Andrew Joseph (bap. 10 Aug 1797, Newent, Glouc - Worcester 1851) will proved 3 Apr 1851
~ (8 Feb 1842, West Bromwich, Staff) Martha Wagstaff

Andrew Joseph/Arthur (8 Nov 1847 Worcester - 5 May 1899 Ixelles, Belgium)
accountant
~ (31 Jan 1880 St Mary Lambeth) Henrietta Schallehn

Arthur Henry (12 Feb 1880 Chiswick - Mar 1951 Battersea)
clerk
~ (13 Mar 1903 St Paul, Clapham) Jane Catherine Trimlett

Constance Mary (1904-12)
Bertha Florence (1908-88)
~1929 Sidney G. Harlock


~1950 Annie Amelia Sweetland

Edward (9 Jan 1806, bap. 10 Sep Newent, Glouc - bur. 18 Aug 1880, Cheltenham)
ensign 1827, retires as lt 81st Foot 1830
~ (28 Aug 1842, St Helier, Jersey) Elisabeth Halford, d. of John Halford

Gerard Auriol (27 Apr 1845 Saint-Servan, France - 29 Jun 1880 Murree, Bengal, India)
captain, 84th hussars 1877
~ (9 Jul 1878 Cheltenham) Geraldine Mary Kyrle Money (c1856 India - 20 Oct 1908 Hampshire)
remarried 30 Apr 1890 to Robert Lewis Verity

Gerard Auriol (1 Jul 1880, Murree, Bengal, India - )

Mary Isabella (17 Sep 1848 Saint-Servan, France -)
~ (7 Jan 1874 Cheltenham) Robert William King (d. 24 Nov 1881 St. Leonard's on sea s.p.)

Marianne Clare (b 31 May 1789, b. 1 Jul 1789, St George Martyr, Queen Sq)
Philippa (bap. 28 Dec 1792 Newent - 21 Mar 1867 Weston, Somerset)
~ (27 May 1813 Newent) John Holder

Katherine (b c1820)
~ N. Martin
~ (27 Jun 1872 Weston, Somerset) Vesey Thomas Bunbury

Laetitia Jane (bap. 8 Jul 1795, Newent, Glouc)
Anne (b. 4 Sep 1798, Newent, Glouc - 17 Jun 1871 Llanuwchllyn, Merioneth)
~ (26 Jul 1824) Robert Stephenson Forth Cumberbatch Amiel
Sarah (b. 31 May 1803, Newent, Glouc)
Julia (bap. 27 Dec 1807 Newent - bur. 4 Jul 1887 St Brelade, Jersey)


~ (2 Mar 1819) Charlotte Chatfield, d. of Francis Chatfield

Charlotte (+31 Dec 1844)
Sophia (b. 1 Sep 1825, Milbrook, Hampshire)
Marguerite (7 Feb 1834)

Louis (19 Jan 1761 bap. 4 Feb Spitalfields Fr. Prot. - bur. 10 Feb 1761 St. Bartholomew)
Gerrard (bap. St Bartholomew 7 Feb 1761 - bur. St. Bartholomew4 Oct 1761)
Jean Pierre (b. 22 Dec 1765, London bap. Spitalfields Fr. Prot. -)
Etienne (25 Apr 1768 bap. Spitalfields Fr. Prot. - bur. 28 Feb 1770 St. Bartholomew)
Pierre (1 Jul 1771 bap. Fr. Chapel Savoy - bur. 23 Oct 1771 St . Bartholomew)
Andrew John (14 Nov 1778, Beckenham, Kent - bur. 7 Oct 1796, Newent, Glouc)
Amelie (b. 25 Jun 1764 bap. Spitalfields Fr. Prot. -)
Sophie Jeanne (b 29 Nov 1769 bap. Spitalfields Fr. Prot. - bur. 9 Jan 1774 St. Bartholomew)
Meriah (3 Sep 1775, Beckenham, Kent - bur. 1 Jan 1806 Newent, Glouc)
Elisabeth (29 Oct 1762 bap. Threadneedle St Fr. Prot. - d. 14 Feb 1790)
~ (12 Dec 1782) Rev. Edward Auriol Hay-Drummond

Henrietta Auriol Hay-Drummond (d. 1832)
Edward William Auriol Drummond-Hay (4 Apr 1785-Feb 1845)

Benjamin (b. 5 Mar 1729/30) unm.
Judith (b. 20 Sep 1719)
Marianne (b. 31 May 1722)
Emilie / Amelia (11 Jun 1732 London - )
~ (7 Sep 1765, Holy Trinity, Clapham) Jean-Emmanuel Castellard, baron de Bondeli
Marianne (b. 31 Jul 1733)
Susanne Louise (25 Jun 1738)
French de Vismes genealogy: a sketch
The de Visme of Gouy
This sketch is based on the pages of Philippe Roelly's pages on Protestant genealogy in Picardy. I can't vouch for the accuracy of the lineage. It seems plausible enough, but I would want to check in the original sources now that they are online: but Catholic registers for Gouy only start in 1692, and have lacunae (1712-1730s).

The account is substantially the same as the one that appeared in the Annuaire de la Noblesse de France 1883, p. 216, except that the Annuaire identifies Marin's brother Jean with the ancestor of the Abbeville branch above (Jean ~ Catherine Lebas).
Jehan (c1570<1622), laboureur
~ Jeanne Thiery

Jean (ca1600-1659)
receveur de la seigneurie
~ Anne Lucas

Marc
Marin
Isaac (b. 17 OCt 1624 Beaudéduit, Pr. bapt. 20 Oct 1624 - )
Jehan (b. 20 Sep 1629 Beaudéduit, Pr. bapt. 30 Sep 1629 Saouel - )
Étienne (b. 15 Mai 1633 Beaudéduit - )

David (1 Jul 1607 Gouy (Prot. bapt. Guignemicourt) - )
Marin (c1604 Gouy - )
~ Jacqueline de Haye (c1607 - )

Abraham (4 Apr 1627 Gouy - 4 Jan 1698 Canterbury, Kent)
~ Suzanne Leclerq

Anne (1649-)
André (1650-)
~ Judith Leroux

Judith (1701-)
André (1704-)

Jacques (1657-)
David (1652-)
Madeleine (1668-)

Isaac (1629-apr 1687)
~ Suzanne du Hamel

Madeleine (1655-)
Jean (1656-)
Pierre (1658-)
Isaac (Canterbury -)
~ Marie Frémaux

Marie (13 Oct 1689 Canterbury-)
Isaac (1692-)
Pierre (1698-)
Samuel (1702-)
Marie (1703-)
Judith (1709-)

Suzanne (Canterbury 1663)
Samuel (Canterbury 1665-)

Jean (4 Feb 1638 Gouy, bap. 14 Feb 1638 Salouel - 1685 Gouy )
~Judith Faquet

Madeleine (Oct 1655-)
~ André Leroy
Pierre (22 Dec 1657 Gouy - 1687)
~ 3 Nov 1676 Marie Leroy

André (1679-1726)
~ 1713 Marie Herondart

André (1725-92)
~ 1751 Marie Anne Malivoire

Jean (1760-1819)
~1790 Marie Thérèse Davaine (1767-1820)

Jonathan
~1826 Louise de Félice

André (1753-1829)
Philippe (1762-)
Jean-Louis (1766-1836)
~ 1793 Marie Cécile Elisabeth Bettembos

Philippe-Auguste (1801-69)

5 filles

Pierre (ca 1685-1768)
~ 1717 (London) Madeleine Beaufils
Philippe (15 Sep 1687 Gouy - 26 Oct 1763)
~ 26 Jul 1716 Marianne de la Méjanelle

Louis
~ 1700 (Canterbury) Suzanne de Fecques
Jeanne
~ 1686 Samuel Hérondart
Jean (c1662-ap1702)
~ 1684 Suzanne Bihet

Jean (1686-)
~ Anne Petit

Jean (1714-62)
~ Marie Marguerite Huillot

Valéry (1760-1844)
~ Marie Thérèse Pollet

Léon de Visme, baron d'Empire 1814

Anne (1690-)
Isabelle Elisabeth (1692-)
Louis (1695-)
Marie (1697-)

Pierre (b. 4 Jul 1643 Gouy - <1706)
~ Madeleine Gambier
This account comes from La Famille de Vismes by Philippe and Nicole Baudard de Fontaine (Éditions de Villiers 2005). It covers the descent from Jean de Vismes and Annette Courchel.
Jean de Vismes
~ Annette Courchel
Marin
sergent royal au bailliage d'Amiens, maître-priseur de biens (prov. 27 fév 1582)
~ ?

Antoine
clerc au greffe civil du bailliage d'Amiens
~ 1598 Jeanne Legrand
Marin (1604-)
~ 1631 Françoise Le Clerc

Antoine (1633-)
bourgeois d'Amiens
~ Jeanne Pillaguet

Jean (+ <1670)
bourgeois d'Amiens
~ Catherine Le Bas (+1670)

Jean (1629-94)
honorable homme, échevin d'Abbeville
~ Anne-Françoise Le Marchand


Edouard (1677-)
maître marchand de toiles

Edouard-Nicolas (1701-40)
Charles-Jean-Baptiste (1702-77)
vérificateur des comptes des aides


Louis-Vulfran (1682-1767)
notaire, échevin d'Abbeville
~ Marie-Anne de Ribeaucourt

François-Louis (1720-82)
notaire, échevin d'Abbeville
~ 1744 Marie-Marguerite Cocu


François-Bernard (1746-)
1774 Marguerite-Victoire de Quevaulliers (+1784)

Bernard-Alexandre (1779-1840)
apothicaire à Versailles
~ 1810 Marie-Joséphine Auze

Jules-Alexandre (1811-93)
~ Sophie-Ernestine de Vismes

Charles-Henry (1751-1808)
mercier, consul des marchands d'Abbeville
... posterity

Louis-François (1756-1832)
... posterity


Robert (1638-1711)
bourgeois d'Amiens, échevin
~ Jeanne Timbergue (+1683)
~ Marguerite Fanet (+1694)


Alexandre-Joseph (1670--1721)
trésorier de l'extraordinaire des guerees à Montmédy

Claude-Philippe (+1765
directeur des Etapes


Pierre (1671-<1757)
lieutenant de cavalerie, procureur du Roi à Amiens
~ 1711 Marie-Marguerite Masse

Pierre-Martin (1711-)
fermier général 1761-77, secrétaire du Roi (charge annoblissante) 1757
~ Marie-Louise Legendre

Alphonse-Denis-Marie de Vismes de Saint-Alphone (1746-92)
fermier général 1787-90


Anne-Pierre-Jacques de Vismes de Valgay (1745-1819)
sous-directeut des fermes, directeur de l'Opéra 1778-79
~ Jeanne-Hyppolye Moiroud
Adélaïde Suzanne (1759-1835)
~ Jean Benjamin de Laborde (1734-94)
~ duc de Rohan-Chabot


Louis-Jean-Baptiste
Gabriel-Louis-Marion
Louis-Armand

Nicolas
~1600 Anne Pignon
Adrien
~ 1600 Claudine Lamoury
Adrien, bap. 1603, living in 1628 in Paris
...

---
British Heraldry Page | Search Heraldica | Heraldic Glossary | Contact
---
François Velde
Last modified: Mar 11, 2021