The Arms of Christopher Columbus
On May 20, 1493 the Spanish monarchs granted Cristobal Colon a coat of arms, described as follows:
"el Castillo de color dorado en campo verde, en el cuadro del escudo de vuestras armas en lo alto a la mano derecha; y en el otro cuadro alto a la mano izquierda un Leon de purpura en campo blanco rampando de verde, y en el otro cuadrao bajo a la mano derecha unas islas doradas en ondas de mar, y en el otro cuadro bajo a la mano izquierda las armas vuestras que soliades tener, las cuales armas sean conocidas por vuestras, e de vuestros fijos e descendientes para siempre jamas."
This translates roughly into: quarterly, 1) Vert, a castle or; 2) Argent, a lion purpure langued vert; 3) islands or on waves of sea; 4) the arms that Colon used to bear. Note that 1 and 2 recall the royal arms of Castille and Leon, but with marks of difference.
As it turned out, the Admiral of the Ocean Sea decided to modify his arms; in 1502, he composed a manuscript compilation of official documents to support his various claims, called "the Book of Privileges" for his use and that of his descendants. The manuscript (of which several copies were made, one is in Paris) is decorated with a modified coat of arms, which remains the arms of the Colon family to this day.
The following description thereof comes from a Spanish Armorial called Elencos de Grandezas y Titulos Nobiliares Españoles, 1991:
Don Cristobal Colon de Carvajal y Gorosabel, duque de Veragua, duque de la Vega, Marquis de La Jamaica, Almirante de la Mar Oceana, etc (Grande de Espana)
escudo cuartelado: 1) en campo de gules, un castillo de oro 2) en campo de plata un leon rampante de gules, coronado de oro 3) en campo de azur unas islas de oro 4) en campo de azur cinco ancoras de oro, puestas en aspa. Entado en punta de oro con una banda de azur y el jefe de gules. Lema: A Castilla y a Leon Nuevo Mundo dio Colon.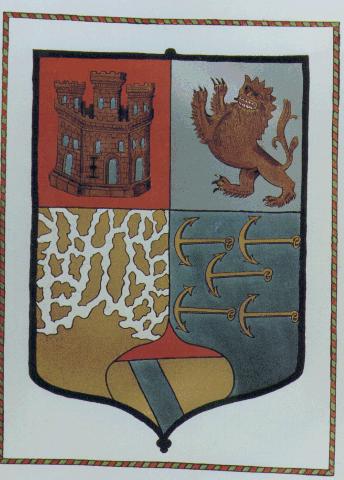 Roughly: 1) Gules a castle or; 2) Argent a lion gules crowned or; 3) Azure several islands or; 4) Azure five anchors fesswise or, the tip in dexter; enté in point, Or a bend Azure a chief gules.
The fourth quarter is Colon's 1502 addition. Moreover, in the manuscript depiction, the islands of the third quarter are placed above a piece of "mainland": but that does not enter into the official blazon. It can be surmised that Or a bend Azure, chief Gules were the arms that Colon had when he was still Colombo. Notice how the manuscript depiction is at variance with the official blazon for the field tinctures of the 2nd and 3d quarters.
As for the descendance/title issue: it appears that the descendant of Colon is called "Admiral of the Ocean Sea", the title bestowed on the discoverer, but that may be a curtesy title, and not denote any real rank in the Spanish navy. The title is apparently transmitted, along with other titles (duke of Veragua, created in 1537) from generation to generation. The current holder of the title descends from Cristobal's brother Diego, but not in male line (at least two female transmissions).
John Boyd Thacher: Christopher Colombus. 1903; New York, London; Puttnam's. vol. II, p.535 for the arms, vol. III for a genealogical table of the descendants (to 1903, of course).