An Armory of Famous Musicians
See also Musical Armigers by Duane L.C.M. Galles.
Composers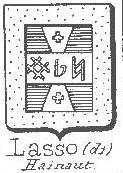 * Orlando di Lasso (Roland de Lattre, 1532-94):
        knighted 1570 by Emperor Maximilian II.
Arms: azure, a pile and a pile reversed argent, on each a crosslet or;
on a fess argent a sharp, flat and natural, over all a bordure or.
                        [Woodward, p. 387; Rietstap].

* Jean-Baptiste Lully (1632-1687), knighted in ?.
D'azur à une épée d'argent, garde et poigne d'or, pointe en bas, autour de
la lame est entortillé un serpent de sinople lampassé de gueules, tête en
bas, à la bande d'or chargée de 2 roses de gueules aux extremités brochant
sur le tout.
        [Durey de Noinville, Histoire de l'Opera, 1753.]
Also illustrated here.

* Michel-Richard Delalande (1657-1726), écuyer:
        Arms: Argent, a chevron between two larks gules and a bush vert in
base, on a chief azure a sun in his glory or.
        [D'Hozier Paris]

* Jean-Nicolas Francine (1660-1735)
        Son-in-law of Lully, director of the Paris Opera 1687-1728.
Arms: d'azur à la main gantée d'argent, mouvant de senestre, tenant une
pomme de pin d'or, surmontée d'une étoile du meme, accompagnée de 3 
fleurs-de-lys d'or. 
        [Durey de Noinville, Histoire de l'Opera, 1753.]

* Jean-Henri d'Anglebert (1628-91), harpsichordist:
Arms: Azure a mount of six hillocks or on a chief argent three lyres gules.
        [D'Hozier Paris]

* André Danican Philidor ():
Arms: Argent a lyre sable on a chief azure a sun in his glory or.
        [D'Hozier Paris]

* Jean-Féry Rebel (1666-1747): his son was ennobled, knighted (St-Michel)
 and given a coat of arms in 1760.  
Arms: Azure, a harp or, the top of the harp carved into the head of
a Genius, under a flame gules.
        [Jougla de Morenas; see Grove]

* François Couperin (1668-1733): registered 1696.  Knight of the Lateran 1703.
        Arms: azure, two tridents per saltire between two mullets 
        argent, a sun in his glory in chief and a lyre in base or.
        [D'Hozier Paris]

* Louis Marchand (1669-1732):
Arms: Azure a bundle of instruments, oboes, bassoons and violins per cross
and saltire, all argent, thereon an escutcheon vert three buckets (marcs)
or, in chief a sun in his glory of the last.
        [D'Hozier Paris, arms given to his brother Jean-Baptiste in 1696.]

* Jean-Philippe Rameau (1683-1764): ennobled Dec 1763, knighted in 1764 (Saint-Michel)
        Arms: Azure, a dove argent holding in its beak an olive branch or.  
(Canting arms: branch, in French, is "rameau")
        [Jougla de Morenas; his ennoblement reported in Mémoires secrets, 6 Dec 1763; arms granted in May, registered in Sept 1764 according to Laloy]

* John Dunstaple (15th c.): sable a chevron ermine between three staples argent.
        [A. Wagner]

* Henry Purcell (1659-95): barry wavy of 6 argent and azure, on a bend sable
three boar's heads bendwise or.
        [Burke's General Armory; according to Wagner, Purcell was using
        the arms of the Purcell of Onslow without proof of connection]

* Benjamin Britten, baron June 12, 1976 (died Dec. 1976: may not have
        registered arms).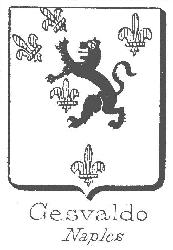 * Carlo Gesualdo, prince of Venosa (1560-1613): 
        Arms:  argent, a lion sable between 3 fleur-de-lys
in sinister chief, in dexter flank and in sinister base, and 2 fleur-de-lys
in dexter chief, arranged bendways in bend sinister, all gules (Gesualdo).

        [description from Rietstap; but see the arms on his tomb 
in the Chiesa del Gesu, Naples.]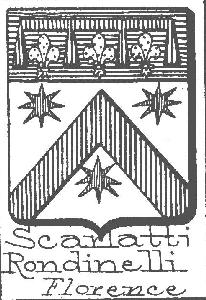 * Domenico Scarlatti (1685-1757): made knight of the Order of Santiago 1738.  
        Arms: argent, a chevron between three 8-pointed stars gules, on a chief 
        azure three fleur-de-lys or.
                [Kirpatrick's biography; the arms come from Rietstap, where
        they are attributed to a Florentine family; Kirkpatrick reproduces
        the arms on Scarlatti's tomb which are the same except for a label
        gules on the chief; the drawing does not give the tinctures.  The tombstone
        of Alessandro (Domenico's father) in the church of Montesanto in Naples
        is decorated with a label above the inscription.  Kirkpatrick mentions 
        that the musicians' family spuriously considered itself connected to the 
        Florentine family of the same name.]

Portrait of Alessandro Scarlatti. Notice the Order he is wearing.
* Heinrich Ignaz Franz von Biber ():
* Johann Sebastian Bach (1685-1750): some flowers. [Klaus K: Bach used a seal with three flowers on the crest but the escutcheon is impossible to decifer on the picture I saw]
* Georg Friedrich Händel (1685-1759):
illustration from his gravestone in Westminster Abbey


* Karl Maria von Weber (1786-1826):
        Barons, Dec 23 1622.  [It is doubtful that the composer belonged to the 
lineage,in spite of his claim.]
Per pale, Or a crescent decrescent with human face argent, Azure a 6-pointed
star or.  Crest: two wings reproducing the tinctures and charges of the shield.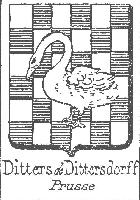 * Ditters von Dittersdorf (1739-99): chequy argent and azure, a swan of the first.
        [Rietstap; Ditters was made knight of the Golden Spur by the pope in 1770 and
             received a patent of nobility from the Empress on June 5, 1772, after which he
             added "von Dittersdorf" to his name..]

* Richard Wagner (1813-83): Azure, the Big Dipper argent. The stars are 
five-pointed, the constellation lies along the dexter side of the shield 
with the handle pointing downwards.
        [Klaus K]

* Franz Liszt: quarterly Gules a unicorn argent and azure three pallets argent 
on a fess gules a mullet of five points or
	[Arnaud Bunel; 
        knighted in Austria, Aug 1859; see Karl Semmelweis: 'Das Adelswappen
	Franz Liszts', Burgenländische Heimatblätter 31(1):43-5,
	1969.]

* Edvard Grieg (1843-1907): gules, a chevron between three hands, all argent.
        [Klaus K]

* Joaquín Rodrigo Vidré (1901-99): created marqués de Jardines
de Aranjuez on Dec. 30 1991 (in memory of his famous Concierto de Aranjuez for guitar):
argent a Spanish guitar proper over waves argent and azure, on a bordure or four roses
and four "claveles" gules alternating.

Knighthoods:

* Christoph Willibald Gluck (1714-87): knight of the Golden Spur (papal 
        order) in 1756, hence his use of the title Ritter or chevalier.  
        Mozart received the same distinction in 1770, as did Orlando di 
        Lasso and Ditters von Dittersdorf.  No grants of arms seemed to be 
        associated with it.

* Francoeur, knighted 1760 or 1764 (Saint-Michel).

* Vincent d'Indy (1851-1931): gules a lion crowned or.
         [Arnaud Bunel]
* Elton John:

Roger Forder writes:
According to the December 1988 issue of The Heraldry Gazette,
Elton John's shield is blazoned as follows:
     Per saltire gules and or, in fess two pellets pierced and 
     in pale as many plates also pierced, on a chief argent
     issuant in chief seven pallets retrait two three and two
     sable.
The arms were granted in 1986.  The chief indeed represents part
of a piano keyboard;  the pierced roundels no doubt represent
discs (i.e. records  -  vinyl and silver/platinum?);  red and
gold are apparently the colours of Watford Football Club of which
EJ is/was Chairman.


Performers
* Herbert von Karajan (1908-89)

Son of Ernst, MD, of Salzburg.  Family line: Joannes Karajoannes, from 
Kosani (Macedonia), cotton trader.  His two sons Georg (1743-1813) and 
Theodor were brought into the Reichsadelstand in 1792 by the Elector of 
Saxony; they were cotton traders and mill-owners in Chemnitz.  Georg retired 
in Vienna, where his son Theodor (1810-73) was confirmed in the Austrian
nobility in 1832 (Pra"valierung) and elevated to the Ritterstand when
he received the Leopoldorden in 1869; he was president of the Academy
of Sciences of Vienna.  His son Ludwig Maria was MD, his grandson
Ernst (1868-1951) moved to Salzburg, his great-grandson was the conductor.

Arms (1792): über schwarzen Schildesfuß, darin auf grünen 
Hügel ein natürlicher Kranich mit Stein in der erhobenen rechten, 
geviert und auf der Vierung mit einem roten Herzen belegt, 1 silber, 2 und 3 
grün, 4 gelb, alle ohne Bild.

Quarterly 1 argent, 2 and 3 vert, 4 or, over all a heart gules; on a base
point sable, a crane proper with its vigilance on a mount vert.

* Nikolaus Harnoncourt: de la Fontaine und d'Harnoncourt-Unverzagt
        family from Lorraine, where the arms were: Or, two pilgrim staffs
per saltire azure under an escallop gules (Jougla de Morenas).  Established
in Luxemburg (province of Belgium) where there is a village called 
Harnoncourt.  Counts of the HRGE 1627 by Ferdinand II for Paul-Bernard.
Bohemian nobility 1827.  Add the name of Unverzagt 1839.  Lineage:
        Hubert-Ludwig (1789-1846) ~ Sophie Henriette von Haugwitz
        Hubert-Heinrich (1827-1897) ~ Ludmilla von Berchtold
        Hubert-Karl-Sigismund-Franz (1850-?) ~ Juliane von Mittrowitz
        Johann Eberhard (1896-?) ~ ?
        Nikolaus (1921-)
Name simplified probably in 1919, when titles became illegal in Austria.

        Arms:
Per fess: A. per pale: I. quarterly, a. and d. quarterly per saltire 
Sable a lion's head gardant or, and Or a fleur-de-lys sable; b. and c.
gules a bend sinister argent; over all an escutcheon with an antique
crown, bearing: per bend-embattled
or and sable, on the or a beaver rampant [proper], the head, paws
and tail sable, collared gules, buckled and edged or; II. quarterly,
1. and 4. gules on a fess argent a lion gardant passant or, 2. an d 3.
azure a stag's head in profile proper, the head in 3 to sinister. 
B. quarterly: 1 and 4 or an eagle sable, armed, beaked and crowned of the 
field, issuant from the pale line; 2 and 3 bendy gules and argent.
Over all an escutcheon Or two pilgrims' staff per saltire azure under
an escallop gules; another escutcheon underneath, azure three eagles or,
the two in chief combattant.  6 crests.  
        [Gotha: Gräflisches Tagesbuch, 1908; see 1900 for full history;
        Jougla de Morenas]

* Andres Segovia (1893-1989):
        marques de Salobreña 24 Jun 1981 (hereditary).
Arms: en campo de azur sobre ondas de azur y plata, unas rocas de su color,
sumadas de una torre donjonada de oro, aclarada de azur.

Azure, rising from a base barry-wavy azure and argent, on a mount proper, 
a castle single-towered or, the port azure.
        [Elenco de Titulos Nobiliares]

* Christoph von Dohnányi (b. 1929)

Family: Karl Dohnáyi, professor of mathematics, Poszony, Hungary.  Son
Ernö D. (Ernst von D.) 1877-1960, pianist and composer. Son Hans (1902-45),
jurist, anti-Nazi resistant.  Two sons: Christoph and Klaus (b. 1928) mayor
of Hamburg.

* Sir Thomas Beecham (1877-1961)
        2nd Baronet.  Son of Joseph (1848-1916), created baronet 1914.
Arms: per fess gules and sable, a fess nebuly plain cotised, in chief
an escallop between two martlets and in base the like or. Motto: nil sine
labore.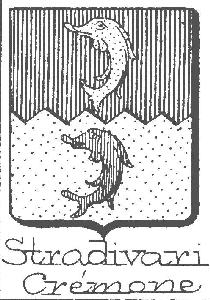 * Antonio Stradivari (1644-1737): famous violin-maker.
Arms: per fess indented gules and or, two dolphins counterchanged.


* José van Dam (b. 1940): 
barytone, received title of baron for life from the king of the Belgians, July 21, 1998; letters
patent 12 Apr 1999.
Arms: Azure chapé ployé argent, an 5-stringed antique lyre or.  Crest: a rose azure
boutonne or in the shape of a heart.  Supporters: two unicorns argent.  Motto: par amour. 


* Philippe Herreweghe (b. 1947): conductor, received the life title of knight from the king of the Belgians, 9 July 2000.
Arms: Or an olive tree on a terrasse vert, fructed sable. Crest: a 5-stringed antique lyre or
between two olive branches vert fructed sable. Motto: Per visibilia ad invisibilia.


* Sir Paul McCartney, Kt, MBE (b. 1942)
Arms: Or between two Flaunches fracted fesswise two Roundels Sable over all six Guitar 
Strings palewise throughout counterchanged.  Crest: On a Wreath of the Colours A Liver 
Bird calling Sable supporting with the dexter claws a Guitar Or stringed Sable. Motto:
Ecce Cor Meum.
illustration, College of Arms

See also a list of British knighthoods earned by musicians and composers.