The Bonapartes
Origins
The Bonaparte or Buonaparte family originally comes from Florence. In the 16th c., Francesco Buonaparte, from Sarzana in Tuscany, settled in Corsica which was then a Genoese possession. In 1768 the island was sold to France.
Carlo-Maria (Charles-Marie) Buonaparte (1746-85) was a minor official in the local courts. His nobility was confirmed in 177*. The arms of the Buonaparte family were: Gules two bends sinister between two stars or.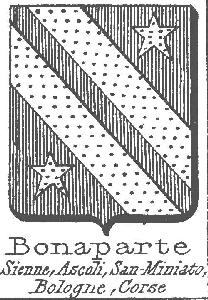 He married Laetizia Ramolino (1750-1836) in 1764 and by her had 8 surviving children, the second of whom was Napoleon Bonaparte.
In 1804 Napoleon changed the arms of his family to Azure an imperial eagle or. The family name became Napoleon. Were included in these changes all the members of his family which were officially part of the Imperial family, namely all his siblings except Lucien Bonaparte, as well as the child of Jérôme Bonaparte by his first (and unauthorized) marriage.
The current head of the family is the prince Napoleon (Charles, b. 1950), great-great-grandson of Jérôme by his second marriage; he has a son Jean (b. 1986) and a brother Jérôme (b. 1957), unmarried. There are no remaining descendants in male line from any other of Napoleon's brothers.
The Bonapartes of Baltimore
Jérôme Bonaparte (1784-1860), Napoleon's youngest brother, was a lieutenant in the French Navy in 1803, fighting in the Carribbean. To avoid capture by the British he was forced to land in the US: he arrived in New York, and then went to Baltimore to meet an American whom he befriended in the French Navy. There, he met Elizabeth Patterson (1785-1879), daughter of William, Irish immigrant, gun-runner during the Revolution and by then the wealthiest man in Maryland after Charles Carroll of Carrolton. They met at a party, fell in love, and within 2 months got married (he was 19, she was 18). The marriage took place on Christmas Eve 1803, in the Baltimore Cathedral, with the archbishop of Baltimore performing the ceremony.
Jerome's brother Napoleon (not yet emperor) was furious: he intended to marry off his family according to his political designs. He had the marriage annulled by the French courts, ordered his brother back without "the young person". Jerome went back, with Betsy: she was denied landing in continental Europe and had to go to London, where she gave birth to a son in 1805. Jerome gave in to his brother, returned to the French Navy and forgot about Betsy. He was subsequently made an Imperial Prince, married Frederica Catherine, daughter of the King of Württemberg in 1807, and became King of Westphalia (1807-13). Betsy returned to Baltimore with her son.
The said son had two sons, one became a colonel in his cousin Napoleon III's army, the other was Attorney General of the US from 1906 to 1909 and died in 1921. The colonel's only son died in 1945, thus ending the line. The current Imperial Pretender is a descendant of Jerome by his second marriage.
Jérôme Bonaparte (1784-1860), m. in 1803 Elizabeth Patterson (-1879) d. of William Patterson:

Jerome Napoleon (1805-70), m. in 1829 Susan May Williams (-1881), d. of Benjamin and Sarah Copeland Williams of Roxbury, MA:

Jerome Napoleon (1830-93). Studied at West Point 1848-52, was breveted 2nd lieutenant in the Mounted Rifles. Served in Texas 1853-54, resigned Aug. 1854. Became a 2nd lieutenant, 7th reg. Dragons, French Imperial Army in Sep. 1854. Served as staff officer to general Morris, 1st division Cavalry, at Balaklava, Inkerman, Tchernaia, and the siege of Sebastopol (1854-55). 1st lieutenant 1855. Order of Medjidie (Turkey), Legion of Honor (France), Crimean medal (Britain). Transferred to the 1st reg. Chasseurs d'Afrique, served in Algeria (1856-57). Captain 1859. Served in Italy: Montebello, Solferino (1859). Order of Military Valor (Sardinia). Transferred to 1st reg. Carabiniers 1860. Chef d'escadron (major) 1865. Transferred to Empress' Dragoons reg. 1867. Lieutenant-colonel 1870. Served in the siege of Paris 1870-71. Resigned from the French Army 1871, returned to the United States. Married in 1871 Caroline Le Roy Appleton Edgar, d. of Samuel and Julia Webster Appleton, widow of Newbold Edgar:

Louise-Eugénie (1873-1923), m. in 1896 Count Adam Gottlob Carl von Moltke-Huitfeld (1864-1944): they have several descendants.
Jerome Napoleon Charles (1878-1945), m. in 1914 Blanche Pierce Stnebeigh, d. of Edward and Emily Pierce of Newtonville, MA and former wife of Harold Stnebeigh of Hewlitt, NY: no issue.

Charles Joseph (1851-1921). Studied at Harvard (AB 1871, LLB 1874), admitted to Maryland bar 1874, practiced in Baltimore. Secretary of the Navy 1905-06, Attorney-General 1906-09. M. in 1875 Ellen Channing Day, d. of Thomas Mills and Ann Jones Day of Hartford, CT: no issue.
Interesting detail: Elizabeth Patterson's brother's widow remarried to the 1st Marquess Wellesley as his second wife. He was of course the elder brother of Arthur Duke of Wellington, making (by a stretch) Napoleon and Wellington brothers-in-law.
References
Didier, Eugene Lemoine: The Baltimore Bonapartes. New York, 1875.
Didier, Eugene Lemoine: The life and letters of Madame Bonaparte. New York : C. Scribner's Sons, 1879.
Goldman, Eric Frederick: Charles J. Bonaparte, patrician reformer; his earlier career. Baltimore, The Johns Hopkins press, 1943.
Mitchell, Sidney Alexander: A family lawsuit ; the story of Elisabeth Patterson and Jerome Bonaparte. New York, Farrar, Straus and Cudahy; 1958.
O'Donoghue, Elinor Mary: The Bonapartes in the new world , by E.M. Oddie [pseud.]. London, E. Mathews & Marrot ltd., 1932.
Saffell, William Thomas Roberts: The Bonaparte-Patterson marriage in 1803, and the secret correspondence on the subject never before made public. Philadelphia, The proprietor, 1873.
Other Bonapartes in America
In June 1815, after Waterloo, Joseph (1768-1844), one-time king of Spain, managed to hire an American ship in Rochefort, on the Atlantic Coast of France. He intended to sail to America with the Emperor, but Napoleon preferred to ask asylum from the British (ha!). Joseph sailed on, leaving Royan on July 25, and reaching New York, and later Philadelphia, to finally settle in Bordentown, NJ. Joseph also bought some land in the Adirondack mountains, in upstate New York, and there is still a lake up there, called lake Bonaparte. He lived in Bordentown until 1832, when he returned to Europe to follow the events more closely after the death of Napoleon's son, which made him the heir to the family's imperial claims. He returned briefly to the US in 1837-39 and then went to Italy where he died. He had two daughters, who both married cousins: Charlotte (1802-39) married Napoléon-Louis (1804-31), son of Louis Bonaparte and brother of Napoleon III, and left no children. The other daughter, Zénaïde (1801-54), married Charles-Lucien (1803-57), son of Lucien, prince of Canino in 1840. It seems that brains were hereditary in most of Lucien's branch. Charles-Lucien joined his father-in-law and uncle Joseph in New Jersey in 1822, and lived there until 1828, indulging in his passion: ornithology (he became a friend of Audubon, and published a 4 volume History of the Birds of America from 1825 to 1833). He went to Italy in 1828, then returned to France in 1849. His male descendance died out in 1899. Another son of Lucien, Louis-Lucien, was a philologist who published on English dialects and the Basque language. A grandson of Lucien, Roland (1858-1924), last male descendant of Lucien, published on glaciers: his only daughter Marie (1882-1962) was the psychoanalyst, married to prince George of Greece.
Another piece of the Bonaparte family came to the US: the two sons of Caroline, sister of the Emperor, and Joachim Murat, king of Naples. The eldest, Achille (1801-47), settled and died childless in Tallahassee, FL. The other, Napoléon-Lucien (1803-72) returned to France during the 2d Empire, after having married an American, Caroline Georgina Fraser, and his posterity still lives in France, bearing the title of prince Murat, and where they intermingle with other descendants of Napoleon's marshals (Ney, Berthier, Suchet, Mouton, etc). His Highness the Prince Louis Murat chairs the committee that organizes the mass in memory of Napoleon and his soldiers, every year on May 5, at Napoleon's tomb (an interesting event...).
---
French Heraldry Page | Search Heraldica | Heraldic Glossary | Contact
---
François Velde

Last modified: Jul 15, 2005