Orders of Chivalry in France
See also the page on Orders of Chivalry.

Other resources:
Contents
Introduction
Orders of chivalry come in roughly three flavors:
Military-monastic orders appears during the first Crusades: their members were usually monks who also served as soldiers or caretakers to protect pilgrims on their way to the Holy Land, or otherwise assist in the struggle against infidels. The most famous orders in this category are the Order of the Temple, the Order of Saint-John of Jerusalem (Malta), the Order of the Holy Sepulchre, the Order of Saint-Lazarus, all four originating in Palestine. These orders typically had chaplains, knights and sargents, mirroring the tripartite medieval society.
The orders in the Holy Land were often the recipients of many donations, often in the form of estates, in all of Europe. As a result, they had to create a structure to administer these estates locally (a commendator was originally a trustee of such an estate, word later corrupted into commander). Thus, orders such as Malta, Saint-Lazarus and others became by nature far-flung, with estates and their administrators in various European countries, and the Order itself in the Middle East.
After the final expulsion of the Franks from Palestine in 1291, these orders either found new bases and activities, or else fell into oblivion. Naturally, their vast estates represented tempting targets, either for outright confiscation (the Order of the Temple was abolished by the Pope in 1312 at the instigation of the French king just for that reason; likewise, Henry VIII confiscated the estates of Malta in England), or else simply subjection of the order to the local sovereign so that its estates could be used as a source of favors and pensions. This was in essence the fate of the Order of Saint-Lazarus. Only Malta managed to survive through the ages, although by the 20th century it had lost its estates everywhere except in Austria.
To the category of military-monastic can also be added the Teutonic Knights (Deutscher Orden) and the Orders in Spain (Calatrava, Alcantara, Santiago, Montesa), which represented analogs of the crusading spirit deployed in the colonization of Eastern Europe or the Reconquista of Spain on the Muslims.
The national orders are orders of chivalry, usually restricted to the nobility, with limited membership and only one class, which sovereigns created in order to find new ways of binding to their person the loyalty of an aristocracy whose feudal allegiance was waning. The model for these orders was that of the Knights of the Round Table around King Arthur. The most famous and one of the oldest ones is the Order of the Garter in England, created in 1348. These orders proliferated in the 15th and 16th centuries. From the 18th century to the present, sovereigns and governments have tended to create orders of merit, without nobiliary requirements and few if any knightly characteristics (such as ceremonies, oaths, duties).
Private orders are less well-known. A number of them were created for devotional or moral purposes by private citizens, who often sought the protection or approval of the Pope or of a sovereign. In fact, military-monastic orders often started as private orders, organized by an individual or group of individuals; they later gained papal recognition as Orders of the Church and acquired wealth and influence which placed them above ordinary private orders. In France, a number of orders were created by important lords, vassals of the king of France such as the dukes of Orléans, Burgundy or Bourbon. Some of these orders were similar in intent to the national orders, at a regional level so to speak; others were like private orders, for devotional purposes. I placed them in a separate category although I tend to think of them as private orders.
Whether Orders of Merit should be included as orders of chivalry is a complex question. I see them as distinct, because they usually have no nobiliary and religious requirements, and because they tend to reward past behavior rather than summon for future action. However, in many ways they extend the traditions of national orders of chivalry, particularly in the names of ranks, types of insignia, and in their general purpose of both rewarding meritorious subjects and binding their loyalty to the sovereign. In France, the order of Saint-Louis (1693) was the first of this kind, and became the prototype for the Legion of Honor.
Military-Monastic Orders in France
The famous Middle-Eastern orders had branches or priories in France since the Middle Ages. The following orders still maintain a presence in France: Malta, Holy Sepulchre, others?
On Malta, see the separate article on the Order of Malta. As far as France was concerned, three of the seven "Langues" of the order (Provence, Auvergne and France) were within the kingdom of France. Each langue was headed by a Pilier (pillar), the pillar of Provence was grand-commander, the pillar of Auvergne was grand-marshal, and the pillar of France grand-hospitaller. Each langue was divided in grand-priories and commanderies (89 in Provence, 40 in Auvergne, 134 in France). The nobiliary requirements in the French langues were four generations of nobility on both paternal and maternal side. The Maltese cross as worn by French knights had fleur-de-lis between the branches, and the ribbon was black.
The case of the Ordre de Saint-Lazare is particular. After leaving Palestine, the order survived in obscurity in several places, including Italy and France. In 1572 the order was placed under the protection of the duke of Savoie and merged with that house's Order of Saint-Maurice, and became one of the dynastic orders of Savoie and later Italy, bestowed to this day by the head of the house of Savoie. The French branch, however, refused to obey the Papal bull and continued in existence. It was amalgamated in 1608 with the newly created order of Notre-Dame du Mont-Carmel (founded by Henri IV in 1604 to publicize his conversion to Catholicism) with the Pope's approval in 1668. Louis XIV merged into this order the order of Saint-Esprit de Montpellier (1711), and the fraternities of the Saint-Sépulcre (founded in 1317 by Louis de Bourbon) and Saint-Antoine. The Order of Saint-Lazare et Notre-Dame du Mont-Carmel was placed in 1757 under the French king's protection, who made himself sovereign head, and made his 3-year old grandson the duc de Berry (future Louis XVI) grandmaster; later, in 1773. another grandson, the comte de Provence (future Louis XVIII) became grandmaster at the ripe age of 16. Under French kings, the order was mainly used as a source of appointments to plum positions, much as abbés-commenditaires who were abbots only in name and in collecting the revenues of their abbeys. Both orders ceased to be bestowed after they were abolished on July 30, 1791 and their estates nationalized.
Elsewhere I discuss the 20th century revival of the Order of Saint-Lazarus.
As a French order (1608-1791), the insignia of the united order was as follows. The ribbon of Saint-Lazare was purple (amaranth) and the Maltese cross or. For Carmel, the ribbon was brown and the cross purple. The arms of the the combined orders were Argent a cross quarterly vert (Saint-Lazare) and purpure (Mont-Carmel).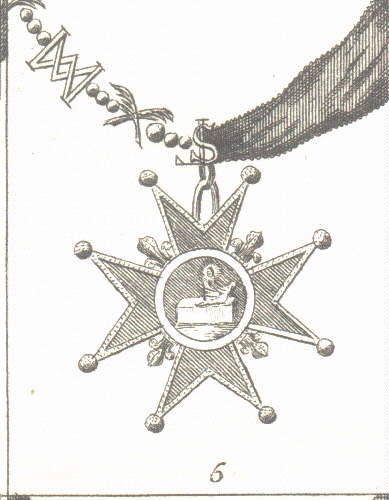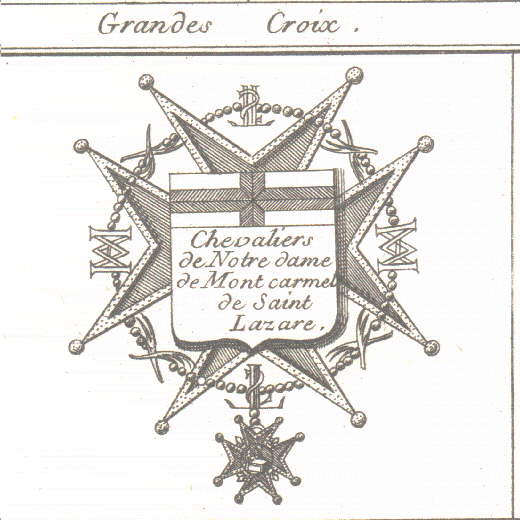 Arms of a knight grand-cross of Saint-Lazare and Notre-Dame du Mont-Carmel. Notice the chief argent bears a cross quarterly vert and purpure. The cross behind the shield is vert fimbriated or, as is the insignia hanging from the collar.
There is more information on the Order of Saint-Lazarus.
The Ordre du Saint-Esprit de Montpellier was founded in 1195 and given a religious, hospitaller and military status in 1198. It was suppressed by Louis XIV in 1672, then recreated in 1693 and finally merged with Saint-Lazare in 1711.
National Orders
Ordre de l'Étoile
The newly-created Order of the Garter probably influenced Jean II's decision to create the Ordre de l'Étoile in 1351. The existence of the order is known (a miniature shows a meeting of the order, with knights in red robes lined with vair bearing black stars of 8 points on their cloaks; the motto was monstrant regibus astra viam), but it seems that most knights, who had sworn never to cede in battle, were killed at the battle of Poitiers in 1356, and the order did not survive Jean II's years as a prisoner in London and the hectic times that followed. Charles VI is known to have created an Ordre de la Cosse de Genêt, but little else is known.
See a miniature from the Bibliotheque Nationale in Paris representing the foundation of the Order by Jean II. The large badges, in the form of 8-point stars, are visible pinned to the red mantles of the knights.
Ordres du Roi
On August 1, 1469, Louis XI created the Ordre de Saint-Michel, a saint for whom he had a peculiar devotion, and which could serve as a good emblem for the recent expulsion of the English out of France. The collar consists of SSS with escallops (called "coquilles de Saint-Michel" in distinction to the "coquilles de Saint-Jacques"), from which hangs a medallion showing the archangel slaying the dragon (as it appears in a 17th century example). The motto was Immensi tremor Oceani. The order's membership was initially limited to 36, but prestige soon declined, however, because admission standards became very lax. Louis XIV reduced membership to 100 in 1665.
See more information on Saint-Michel on Guy Sainty's Web site.

Portrait of François Ier by Jean Clouet. Notice the collar of Saint-Michel.
On December 31, 1578, Henri III created the Ordre du Saint-Esprit (Order of the Holy Ghost), in memory of his accession to the throne of Poland (1573) and France (1574) both on Whitsunday. The order had strict nobiliary requirements and a membership limited at 100 (for French nationals). Four cardinals and four other prelates were members and were called commandeurs, the other members were called chevaliers. There were no other ranks or distinctions among members. The order also had a number of officers (treasurer, chaplain, etc) who were not subject to the nobiliary requirements. The insignia consisted of a collar of alternating crowned Hs, trophies, and flaming heraldic flints, from which hung a Maltese cross azure lined argent, on which a dove descending from Heaven argent was shown. Fleurs-de-lys appear between the arms of the crosses, and pearls are placed on the tips of the cross. The sash was blue (hence the expression "cordon bleu" to mean something of first class). The motto was Duce et auspice.

Portrait of Etienne François, duc de Choiseul (1719 - 1785), by Alexander Roslin.

Portrait of the cardinal de Richelieu (Philippe de Champaigne).
The insignia were shown surrounding the coat of arms of a knight. Knights wore a breast plaque and a blue ribbon (clerics wore the cross hanging from a collar ribbon as shown above).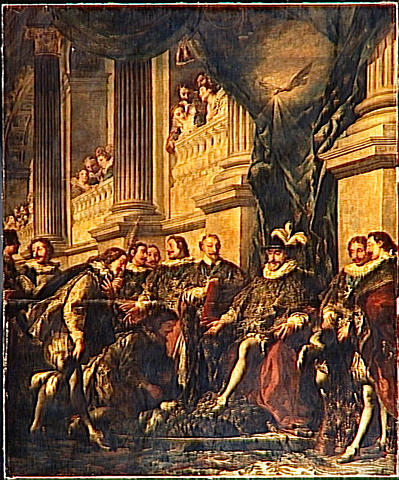 Henri IV holding the first chapter of the Order of the Saint-Esprit in the church of the Grands Augustins, 1595. (Painting by Jean-François de Troy. source: France, Ministère de la Culture.)

Conferral ceremony of the Saint-Esprit in 1724, in the royal chapel at Versailles (by Nicolas Lancret).
From that date, the Saint-Esprit was always conferred with the Saint-Michel (both called "les Ordres du Roi"), although Saint-Michel continued to be conferred alone, especially to artists and writers. The orders were abolished by decree of June 20, 1790. Louis XVIII awarded both orders while in exile (although, according to the statutes of the Saint-Esprit, he could not do so until after his coronation, which never took place). Both orders were reestablished in 1814 upon the Restoration of the monarchy without the nobiliary requirement, and abolished again in 1830 by Louis-Philippe.
Some pretenders continued to bestow the Saint-Esprit. The comte de Chambord, grandson of Charles X, wore the cross. The duc d'Orléans (†1926) wore the cross and awarded it to a few people: his cousin Ferdinand I of Bulgaria (1861-1948), his brother the duc de Montpensier, his cousin the duc de Vendôme, his cousin Manuel II of Portugal (1889-1932). The comte de Paris refuses to bestow the order, considering that it can only be done by a ruling monarch. Among the Spanish Bourbons, various pretenders have considered themselves to be grandmasters of the Saint-Esprit, and have bestowed the order to various people: Don Carlos duke of Madrid (1847-1919) who inherited the insignia of the comte de Chambord, his son Don Jaime duke of Madrid (1870-1931) to Prince Paul of Yugoslavia and to Xavier of Bourbon-Parma in 1927, the eldest son of Alphonse XIII, don Jaime, duke of Segovia (1908-75) to the duc de Bauffremont, the duc de Polignac, and his son Don Alfonso duke of Anjou (1936-89) to the present duke of Anjou among others.
See Arnaud Bunel's Armorial des Chevaliers du Saint-Esprit, a complete listing of knights from 1578 to 1789, with depictions of their arms.
Ordre du Pavillon
"L'ordre du Pavillon a esté institué depuis peu par sa Majesté pour les jeunes Seigneurs qui lui font la Cour: les Croix sont d'or émaillées: Sur le milieu, on voit d'un côté un Pavillon, et de l'autre, c'est un anneau tournant qui est le jeu du Roy. Le Cordon auquel est attaché la Croix est rayé de blanc et de bleu; SM le porte Elle-même sous le Cordon bleu." Source: Nouveau Mercure, nov 1717, p. 187.

Mythical orders were supposedly created by earlier kings; all of the following are poorly documented if not fanciful.
Charles Martel created the Ordre de la Genette in 732 after defeating the Arabs at Poitiers, supposedly because many furs of this animal were found in the loot. The genet is a small carnivore of the civet family (gen. Genetta, fam. Viverridae), whose fur was used in the Middle Ages (cf. Ducange's Glossarium, vol. 4 p. 54, s.v. geneta, citing a 1244 manuscript describing the cloak of a countess as "fouranda et orla de geneta"; see also Godefroy's Dictionnaire de l'ancien français, vol. 4, page 258).

Laroque, in his Traité de la Noblesse, p. 372, calls it Ordre de la Côte de Geneste citing François La Louette (Histoire de Coucy) and Pierre de Beloy (De l'origine et institution des divers ordres de chevalerie, 1604). He also cites Pierre de Saint-Julien (De l'Origine des Bourguignons et Antiquités des Estats de Bourgogne, Paris, 1581; chap. 28) according to whom the collar was "d'or à trois chaines entrelacées de roses émaillées de rouge, où pendoit une Geneste émaillée de noir et de rouge, et que ces chevaliers portoient un anneau d'or auquel estoit gravée l'effigie d'une Geneste". (There may be some confusion with the Ordre de la Cosse de Genêt.)

Charlemagne created the Ordre de la Couronne-Royale
Robert II founded the Ordre de l'Étoile in 1022, that order was then revived by Jean II. This legend is typical of 17th c. creations of orders by sovereigns, who often preferred to claim that they were reviving an ancient order.
Saint-Louis founded the Ordre du Navire (or Navire et Croissant or Deux-Croissants) before embarking for Tunis in 1269 (Joseph Micheli, Thesauro Militari, cited by Laroque, op. cit.).
A rumour circulated in August 2000 that the French pretender, the comte de Paris, planned to revive this order.

This order is often mentioned in the 17th c. literature. The mythical version is that Saint Louis founded it in 1234 (alias 1238) upon the occasion of his marriage with Marguerite de Provence. Diderot's Encyclopédie (s.v. "cosse de geneste") states that its collar was made of "cosses de genestes" (fruit of the broom plant) intertwined with fleurs-de-lys, and its badge was a cross flory; and that its motto was "exaltat humiles". It is said to have subsisted until the late 14th c. Pierre Luyt, in Le plus illustre ornement de la noblesse (Troyes, 1661), states that it was founded on the day of the coronation of his wife, that the collar was made of "branches ou cosses de genêt, émaillées au naturel, entrelacées de fleurs de lys do'r encloses dans des losanges cléchées, c'est-à-dire percées à jour, émaillées de blanc et enchaînées ensemble, d'où pendait au bas une croix florencée d'or", that members wore a white coat with a purple hood, and gives the same motto. Citing Pierre de Saint-Julien (op. cit., 1581), he says that St. Louis conferred it on Robert d'Artois the day after the latter's wedding to Mahaut of Brabant in Sainte-Cornille de Compiègne; and also on his eldest son Philippe, his nephew Robert d'Artois, and several other noblemen on Whitsunday 1267 in Paris.

Firm evidence of a decoration by that name and design only exists for the period 1380-1422, the reign of Charles VI. D'Arcy Boulton (The Knights of the Crown) explains the origin and meaning of the decoration:

Charles V and his grandson Charles VI developed an alternative system of cementing the patrono-cliental relationship between themselves and their most eminent subjects based on the unlimited distribution of badges and livery uniforms ? a system that persisted untuil the death of Charles VII, the son of Charles VI, in 1461. Colette Beaune (Note: ?Costume et pouvoir en France à la fin du Moyen Âge: les devises royals vers 1400?, in Revue des Sciences Humaines, 183 (1981), pp. 125-146) has recently demonstrated that, although distinctive livery badges and colors had first been introduced into France from England in the reign of Jean II himself,[Note: The Company or Society of Our Lady of the Noble House, commonly called the Company of the Star was the only true Monarchical Collar Order in France before that of Saint Michael, founded by Jean II in 1352 (its genesis, however, lay in a plan by Jean that never came to fruition, in 1344). Unfortunately, it died with its founder and there is no evidence at all thatit survived him, despite claims by a variety of later historians to the contrary.] it was only after the accession of Charles V in 1364 that they were used extensively in the royal court. She has further shown that, after what seems to have been a period of experimentation (in which the badge of the defunct Company of the Swan was treated as sort of pseudo-Order), a truly revolutionary system was finally introduced by Charles VUI in 1382, under which all members of the compagnie du roy from the king and the princes of the blood royal down to the humblest servants were constantly dressed in costumes of particular colors and bearing particular devices.

Through most of the long reign of Charles VI (which lasted until 1422), the king and his councilors decided at some point in every year what colors and devices would be worn by the court, and had hundreds of vestments in those colors and bearing those devices, their material, decoration, and cut varying according to the rank of the recipient, distributed to the courtiers. An appearance of equality an fraternity was thus imposed upon the members of the king's retinue, similar to that which had been imposed (supposedly) by Arthur on the knights of the Round table, and by the founders of the monarchical orders upon their 'companions', but based solely upon their common clientship to the king rather than upon their common status of knight. Indeed, one of the advantages of the new system was that it was not restricted to knights, or even to members of the male sex.

Most of the devices adopted by Charles VI to serve as livery badges were employed for a short period of time, and reflected the current preoccupations of the king or dominance of one or another of the political factions of the greater nobility, but certain devices (for reasons that are from clear) were distributed and displayed over a long period of time, and came to be recognized as standard symbols of royal authority and favor. Most important among these were the geneste, or broom-plant, adopted by Charles V as a badge towards the end of his reign,[Three patents conferring the collar exist in 18th century copies preserved in the Bibliotheque nationale.] and inherited by his son, and the winged white stag, a modified version of the very similar device of Duke Louis of Bourbon, chosen by Charles VI himself at some time before 1388. The former device, little used during Charles' minority, was apparently brought to the fore by the return of the co-called 'Marmousettes' in 1388, and was displayed thereafter in a variety of forms, including flowers and branches as well as the more familiar pods (cosses). At about the same time Charles seems to have decided to distribute a collar composed of paired broom-pods, with a similar pair as a pendant, [Several representations of this collar survive. One is perhaps that worn by Richard II in the Wilton diptych (London, National Gallery, one of the few examples of English renaissance art to survive the Reformation), and in several miniatures, although often with other devices worn also. ] to certain selected members of his entourage, as a sign of his special favor, and although no corporate statutes are known to have been associated with it at any time, this collar was referred to as that of the ?Order? of the Broom-Pod. It was perhaps the first honorific pseudo-order deliberately founded as such. An average of twenty persons a year received the collar in the four years for which records have been preserved (1388, 1390, 1399, and 1400), and when this is compared with to the 491 houppelandes embroidered with interlaced sprigs of broom and may that were distributed to the court as a whole in the last of these years, its honorable character is clear. In fact, unlike the bestowal of ordinary badges, the bestowal of this collar was normally accompanied by a royal letter by granting the recipient the right to wear it thenceforth as a sign of royal favor.

The collar of broom-pods, which was worn by the king himself and distributed on occasion to other kings and princes as well as to simple squires of his household ? seems to have served the purely honorific functions of the monarchical orders until Charles' death in 1422, when the country was temporarily divided between Henry VI of England, the son of his adoptive heir, and his only surviving son Charles, recognized in the southern half of the kingdom as Charles VII. In his much-reduced court at Bourges, Charles VII continued to wear livery-colors and badges much as his father ha done, but he rarely distributed livery-uniforms except to members of his household proper and of his armed forces. Although he retained the winged stag as a device throughout his reign, I have found no unequivocal evidence for his use of the broom-pod either as a simple device or as the badge of a pseudo-order, and he may well have abandoned it altogether, either immediately after his accession or at some later date.

There is firm evidence of the order's existence under Charles VI. The texts of three patents (cited by Boulton above) are found in 17th c. copies in the Bibliothèque Nationale, manuscripts, Fr3886, fol. 94. Two of them (dated 1378 and 1406) are copied from André Favyn (Le Théâtre d'honneur et de chevalerie; Paris : R. Foüet, 1620; reprint 1720; English translation 1623) and Pierre de Saint-Julien (De l'Origine des Bourgongnons, et antiquité des Estats de Bourgogne; Paris, N. Chesneau, 1581). The first is reprinted in Douet d'Arcq: Choix de pièces inédites relatives au règne de Charles VI, Paris, 1863-4; vol. 1, p. 287). The original of the second patent, dated 1391, is said to have been in Ypres; Laroque (op. cit.) had seen the text and cites it. A copy of a fourth grant, dated 1412 to Pierre de Févin or Fénin, is in Fr 16166, fol. 103.

"Charles par la grace de Dieu Roy de France, a tous ceux qui ces presentes lettres verront salut. Scavoir faisons que pour la bone relation qui faite nous a este de Geoffroy de Belleville notre feal Chambellan, et de sa bone et noble generation, nous luy avons done et octroye de grace speciale qu'il puisse & luy loise en toutes festes et compagnies porter le collier de la cosse de geneste sans quil en puisse estre repris en aucune maniere. Done a Tours sous nostre scel le sixiesme jour de juillet lan mil trois cent soixante et dixhuict, et de notre regne le quatorzieme.

Cette piece est raportee par Andre Favyn en son theatre d'honneur et de chevallerie page 586. Il doit (?) avoir dans l'original "le collier de nostre ordre de la cosse de la geneste".

Charles pas la grace de Dieu Roy de France, a tous ceux qui ces presentes verront salut, scavoir faisons que nous pour le bon rapport et grand temoignage qui fait nous a este par aucuns gentilhomes de nostre hostel dignes de foy de la personne de Victor de Lichtereielve [sic; recte Liestervelde] escuyer du pays de Flandres, et de la bone et noble generation dont il est issu et procree, nous de notre certaine science et grace especiale par ces presentes luy avons done congie et license que doresnavant il puisse porter nostre ordre et collier des cosses genestes et par tous les lieux, places ou festes et compagnies qu'il ira de bon luy semblera sans quil en soit ou puisse estre repris en aucune maniere. Donne sous nostre scel du secret a Paris le 17e de decembre lan de grace mil trois cent nonante huict, et de nostre regne le dixhuitiesme. Par le Roy, signe Ferron.

L'original de cette piece est a Ypre en Flandres.

Charles etc. Scavoir faisons que nous a plein informes de la bone et noble generation dont nostre ame sergent d'armes Robert de Mauny ecuyer est issu et procree, a iceluy avons done et octroye, donons et octroyons de grace especiale par ces presentes conge et license que doresnavant il puisse et luy loise porter le collier de nostre ordre de la cosse de geneste en touts lieux et par toutes places, festes et compagnies quil luy plaira et bon luy semblera. En tesmoin de ce nous avons fait mettre nostre scel secret a ces presentes. Done a Paris en nostre hostel de St Paul le 17e de mars lan de grace mil quatre cent et cinq, et le 26eme de nostre regne, signe par le Roy Ponhieu (?)

Cette piece est rapportee par M de St Julien de Balleure en ses memoires de l'origine des Bourguignons p. 152."

Luyt also mentions conferral on Louis II d'Anjou and Charles, prince of Tarento (d. 1404), in Saint-Denis in 1389 on the day of the arrival in Paris of queen Isabeau. (This is questionable since neither is mentioned by Froissart as having attended the ceremony. They arrived in Paris in April 1388 and stayed until October 1389. It is known that Charles VI knighted Charles on 2 May 1389 in Saint-Denis; see the tables to Froissart's Chroniques, in Oeuvres, 1867-77, 23:186).

There appears to have been decorative elements in medieval jewelry (cf. the Inventaires et documents relatifs aux joyaux et tapisseries des princes d'Orléans-Valois, p. 40, 43, 50, 53): "gosses", "cosses", "cosses de geneste", "fleurs de geneste" are mentioned as elements of belts, chains, "hoppelandes", some weighing 7g and enameled, others weighing 1.5g. Cf. this citation from Barante's Histoire des Ducs de Bourgogne (1854; p. 38), describing the costume of the duke of Burgundy in : "Les boutonnières étaient faites d'une broderie courante en genêt, dont les cosses étaient aussi de perles et de saphirs. C'était un souvenir de cet ancien ordre de la cosse de genêt, qu'avaient institué les rois de France, et qu'ils donnaient encore parfois en récompense à leurs loyaux serviteurs." (The notion of a badge for servants and retainers is consistent with the motto.)
Chevaliers de la Sainte-Ampoule
Another curious order is the Ordre des Chevaliers Porte-Dais de la Sainte-Ampoule. This order was supposedly created by Clovis on the occasion of his baptism, during which a miraculous dove from Heaven brought a flask containing the oil to anoint him. The modern origins of the order are unclear, but it is a fact that these knights make an appearance in 17th and 18th century coronations of French kings. The Sainte-Ampoule was a flask containing the Chrême or holy ointment used in the sacrament of the kings (in French, the ceremony was a "sacre" foremost, and the coronation was secondary). The Ampoule was kept in the abbey of Saint-Rémi. On the day of the coronation, it was taken thence to the cathedral in a procession. Four knights held the four posts of the "dais", or baldachin, over the Sainte-Ampoule, and it is said that the charge of holding the baldachin belonged to the possessors of the baronnies of Bellestre, Louvercy or Neuvizy, Souastre and Terrier, all vassal fiefs of the abbey of Saint-Remi (the owners of the baronnies had to be gentlemen-nobles; the bailli of the abbey could substitute for any missing knight). They seemed to have performed that function in the coronations of Louis XIII, Louis XIV, Louis XV and Louis XVI. At Louis XV's coronation on October 25 1722, the knights were de Romanie, Godet and de Sainte-Catherine; the fourth knight being replaced by Clognet, bailli of the abbey (Buvat: Journal de la Régence, 1875, 2:421). At Louis XVI's coronation on June 11 1775, they were Charles Deslaires de Gernicourt, baron de Souastre; Louis-Alexandre d'Auger, baron de Neuvizy, Pierre-Alexandre d'Auger, baron de Bellestre, and Jean-Charles de Romanie, baron de Terrier.
The knights were clothed in white satin with black coats, with the cross of the Sainte-Ampoule (a white Maltese cross with the dove flying downwards bearing the flask) embroidered on the coat, and also a cross hanging from a black ribbon around their necks. (Reference: Le Sacre et Couronnement de Louis XVI, 1775, fac-simile edition 1989).
Orders founded by Vassals of the King of France
These orders fall in-between categories. They were created by various dukes who were vassals of France, mostly members of the French royal family. Although their founders were not sovereigns, some of them were created with the same intention as national orders, that is, to personally bind vassals to their lord (the best example being the Golden Fleece). But their founders and grand-masters were not sovereigns, since they were in turn the vassals of the king of France. And some orders, such as those founded by the duc de Bourbon, clearly had a religious and devotional purpose, very close to that of the private orders. For these reasons, I am inclined to view them as a variety of private orders.
(See the page on orders of chivalry for a more detailed discussion of the different types of orders and confraternities in the Middle Ages.)
Ordre du Croissant: said to have been created in 1272 by Charles d'Anjou, brother of Saint-Louis and king of Naples; the Order was revived on 11 Aug 1464 by René d'Anjou of the second house of Anjou, and placed under the patronage of Saint Maurice; it disappeared soon after his death in 1481. The collar is reported to have consisted of a gold chain intertwined with a ribbon of black silk, and the pendant, a silver crescent inscribed with the motto "Los en croissant". (Laroque cites Philippe Moreau, Traitté, p. 271; Louis de Sainte-Marthe, Histoire de la Maison Royale, vol. 1).
Ordre de Sainte-Catherine: created in 1335 by Humbert II, Dauphin de Viennois, who was not a royal prince. He left his dominions to the eldest son of the king of France at his death in 1349 and the order did not survive.
Ordre de l'Écu d'Or: created in 1364 (alias Candlemas 1369 in Moulins) by Louis II duc de Bourbon for 26 knights; it disappeared after his death in 1410.
Ordre du Bourdon or de Notre-Dame du Chardon: created by the same in Moulins, 1370 (alias 1368). A thistle was the emblem. It numbered 25 noblemen and the grandmaster, the duke himself. The motto was "espérance". This may be the same as the previous order. (Laroque cites Philippe Moreau on the latter).
Ordre du Porc-Épic: created in 1393 by the duc d'Orléans, brother of Charles VI; the order disappeared after his grandson became king as Louis XII in 1498, although he made a last promotion of knights upon his accession. The order's motto was "cominus et eminus". It numbered 24 knights with four proven degrees of nobility and the duke as grand-master. The porcupine was the family badge of Orléans with the motto "qui s'y frotte s'y pique". (cited in Joannes Camerarius, de emblematibus).
Ordre du Fer d'Or: created on 1 Jan 1415 (o.s.) by Jean duc de Bourbon in Paris (see the full text of the document creating this "emprise" in Douet d'Arcq: Choix de pièces inédites relatives au règne de Charles VI, Paris, 1863-4; vol. 1, p. 370). Eight knights and eight squires bore a prisoner's irons on the left leg. The order disappeared with its founder in 1434.
Ordre de l'Hermine: created in 1381 by Jean IV, duc de Bretagne, or by François II in 1450. The ermine was the badge of the duke of Brittany, an allusion to his arms (ermine plain). The motto was "À ma vie!". It disappeared when Brittany became part of France in the late 15th century.
Ordre de la Toison d'Or (Golden Fleece): created in 1429 by Philippe duc de Bourgogne, on the occasion of his marriage to Isabelle of Portugal. This order later passed through his grand-daughter Marguerite de Bourgogne to her husband Maximilian of Habsburg and their descendants. The order remained in the Spanish branch of the Habsburgs until 1700. After Louis XIV's grandson became king of Spain, the Austrian branch claimed that the order had passed to them (alleging that the former Burgundian territories of the Low Countries had passed to Austria in 1713; although the loss of those territories in 1797 did not prevent the Austrians from keeping the order). From that date, there have been two orders of the Golden Fleece. The Spanish order is not an order of chivalry anymore since the 19th century, it is awarded by the Spanish king as an order of merit to Spaniards and foreigners. The Austrian order is now held by Otto Habsburg who still awards it on the basis of the original criteria to Catholic nobles. Also, the duke of Segovia, eldest son of Alfonso XIII of Spain and head of the house of Bourbon, declared himself grandmaster in 1963 and awarded the order to various people, including the ducs de Bauffremont and Polignac.


Portrait of Philip the Good, duke of Burgundy, founder of the Golden Fleece (after Rogier van der Weyden).


Portrait of Philip the Fair, archduke of Austria (anon.).


Portrait of Charles V (after Barend van Orley).
Private Orders
Just as monastic orders (and some of the most famous ones) were created by private individuals of their own initiative, so were a number of orders of chivalry. In fact, that is how the orders of Saint-John and the Holy Sepulchre came to be. But such initiatives were usually short-lived, unless they found a royal or papal patron.
Many of the following examples are, as usual, hard to characterise for lack of documentation. Some, like Boucicaut's "order", have the hallmarks of an "emprise", an association of noblemen committing to a particular goal for a particular period of time. Badges might be worn by members as outward sign of their commitment. Others seem to have been, or evolved into, local nobiliary associations, which were surprisingly common in 18th century France (St. Hubert de Bar, St. Georges de Franche-Comté).
Around 1380 a group of noblemen from Poitou and Saintonge, among them the vicomte de Thouars, created the Corps et Ordre du Tiercelet as a means of mutual assistance and moral improvement. In the late 14th century, Jean II Le Maingre, called Boucicaut, founded the Ordre de la Dame Blanche à l'Écu Vert, which disappeared with its founder in 1421. Boucicaut was a marshal of Charles VI, who fought against the English, then with the Teutonic knights in Poland; he joined the 1396 Crusade and was captured at Adrianopolis. He took over Genoa in the name of the king of France and ruled it from 1401 to 1409, starting another crusade in 1403 and reaching Beyrut. He was captured at Agincourt and died in London. He was one of the most famous knights of his time.
Around 1431, Philippe de Molans, squire of the duke of Burgundy, founded an order of Chivalry, the Ordre de Saint-Georges de Franche-Comté, after having brought back relics of Saint George from a pilgrimage in Holy Land. The members had to be from Franche-Comté and have 16 degrees of nobility. Also, in May 1416, Louis I, duke of Bar and cardinal, founded the Ordre de la Fidélité, with a gold greyhound as emblem. The name was changed to Ordre de Saint-Hubert de Bar in 1423. It similarly survived, perhaps as a local nobiliary association, and was abolished in 1824 when a royal ordinance regulated the badges and orders that could be worn (see more details in the history of the St. Lazarus order).
According to Jean Jovet (Histoire du château de Coucy, Paris, 1984, p. 37-8), Enguerrand de Coucy founded ca. 1378 the Ordre de la Couronne, whose badge was an upside-down crown. The badge is shown on a seal of Enguerrand in 1379. The existence of the order is mentioned in the charter founded the Celestine convent in Soissons. It had knights and squires as well as dames and damsels. Supposedly, a seal of Charles d'Orléans, nephew of Charles VI, displays the badge of the order beneath his right arm (he owned the lordship of Coucy).
There is a curious example of the Ordre de la Madeleine, created in 1614 by Jean Lechesne, sieur de La Charonniere Breton, to combat duelling. It met with royal approval but never created much of a following and soon disappeared (Andrç Favyn: Thçatre d'honneur et de chevalerie, 1620).
Other orders that I have seen mentioned without having any idea of what they are (some are probably not orders of chivalry):
Ordre de Fous (1380),
Ordre de Saint-Jacques du Haut-Pas (1400; probably Altopascio in Italy, where an important hospital existed),
Ordre des Dames de la Cordelière (founded in 1498 by Anne de Bretagne, for noble ladies),
Ordre de la Charité Chrétienne (founded in 1589 by Henri III for invalid soldiers),
Ordre du Ruban Jaune (1606),
Ordre du Collier Celeste et du Rosaire (1645),
Ordre de la Loyauté (1770),
Ordre d'Albrac,
Ordre de Constance,
Ordre du Coq,
Ordre de la Paix,
Ordre du Chien founded by the barons of Montmorency (Laroque, citing Philippe Moreau and André du Chesne),
Ordre de la Vache of the counts of Foix,
Ordre du Lion of the barons of Coucy,
Ordre des Chevaliers de la Table-Ronde in Bourges (1486; citing Jean Chenu);
two orders cited in a royal edict of Dec 1671, Sainte-Christine de Somport and Saint-Louis de Bochereaumont.
Orders of Merit
Orders of Merit can be distinguished from orders of chivalry in that they are designed to reward past behavior, their membership requirements are not nobiliary, they have mild or inexistent religious associations, they require no oaths, allegiance or ritual ceremonies, and impose no specific duties on their members. However, they extend the traditions of national orders, borrowing the names of ranks and the shapes and forms of insignia from them (or even from military-monastic orders such as Malta), and also serving a similar purpose: by rewarding and honoring good service, the sovereign found a way to bind more closely to him the loyalty of his non-noble subjects. The idea of the order of merit was a clever adaptation to modern times, and it proved extremely successful. It is now widely used throughout the world.
Saint-Louis
The first such order in France was created by Louis XIV in 1693 and dedicated to Saint-Louis. It was reserved for French Catholic officers having served at least 10 years in the army. They were not required to be noble. There were three ranks: chevalier (unlimited), commandeur (limited to 24) and grand-croix (limited to 8; the limits were later raised). The king was Grand Master, the Dauphin or heir presumptive was automatically a member.
The badge was a gold Malta cross edged in white, with large fleurs-de-lys between the arms. On the obverse, a medallion with the effigy of Saint-Louis on a field gules, in armor gold and wearing a royal ermine-lined mantle, holding a laurel crown in his left hand and the crown of thorns on the other, surrounded by a bordure azure with the legend "Ludovicus Magnus Instituit 1693". On the reverse, a sword upright with flaming blade through a laurel wreath, tied with a white scarf, on a bordure azure the motto bellicae virtutis praemium, the reward of warring valor. The cross was worn hanging from a short red ribbon on trhe breast for knights, from a red neck ribbon for commanders, from a large red sash and accompanied by a metal or embroidered breast-star for grand-cross. In heraldry, a grand-cross placed a Maltese cross or ("croix d'or à huit pointes boutonnée par les bouts")behind his shield and placed a red riband around the shield, inscribed with the order's motto "Bellicae virtutis praemium", from which the badge was shown suspended. The commander was entitled to the riband around the shield with the badge, while the chevalier placed the badge hanging from a short red ribbon beneath the shield (Edict of March 1694).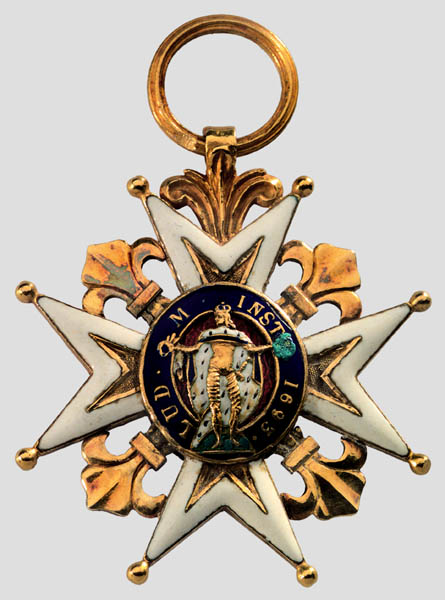 In 1750, it was decided that three successive generations of recipients would confer nobility under certain conditions ( Edict of November 1750). The conditions were for the 1st and 2d generation of officers to serve at least 30 continuous years, of which at least 20 in the rank of captain, or 18 in the rank of lieutenant-colonel, or 16 in the rank of colonel, or 14 in the rank of brigadier (art. 4 and 6); the duration conditions were waived for those in the rank of captain or above killed or maimed in service (art. 8). The 3d generation had to be born in wedlock, and either received the Order, or served the prescribed times, or reached the rank of captain and be killed or maimed in service (art. 10). The nobility was transmitted to all legitimate children of the 3d individual, even those born before he fulfilled the conditions (art. 11).
The order's name was changed to Décoration militaire in July 1791, and abolished on October 15, 1792. It was reestablished in 1814, abolished in 1830, although recipients were allowed to wear it into the 1860s. In 1814, the conditions for hereditary transmission of nobility with the title of chevalier were modified and aligned with those of the Legion of Honor (see more details).

Portrait of Jean-François de Mignac (anon.).

Portrait of Louis XV by Carle Van Loo; he wears the insignia of the Saint-Esprit (blue sash and breast plaque), Saint-Louis (red sash), Toison d'Or (badge hanging from red ribbon).
A Protestant version, called the Mérite militaire, was instituted in 1759. It did not have a grandmaster, but had the same ranks, a similar cross with a dark blue ribbon. It was reserved for foreign officers of Protestant religion serving in the French army (Swiss, Germans, Swedes). In 1814, it was extended to Muslims and to French Protestants. Its fate was that of the order of Saint-Louis.
This order was a novelty in France (and indeed in Europe), having no nobiliary requirements and being military in nature. It was explicitly designed as an order of merit, yet it was called an order of chivalry and even its lowest rank was called "chevalier". The names of its ranks and the design of its insignia were directly imitated from the Order of Malta. It was to be the inspiration for the Legion of Honor and a number of other European orders of merit.
The following, besides chronicling the history of the order, contains a complete listing of its members with biographical information:
Mazas, Alexandre: Histoire de l'ordre royal et Militaire de Saint-Louis depuis son institution en 1693 jusqu'en 1830 (completeed by Théodore Anne). Paris: Firmin Didot, 1860-61. (3 volumes).
The names of 3099 members up to 1817 have been transcribed online.
Another book contains the names from 1693 up to the Revolution. It is available in PDF format online:
The Légion d'Honneur was created on May 19, 1802 by Bonaparte, First Consul of the French Republic. Bonaparte himself was head of the Legion (chef de la Légion) and President of the Council of the Legion, and members were called légionnaires. The ranks were, in decreasing order: grand-officier, commandant, officier and légionnaire. The badge was the well-known five-branch star, worn from a red ribbon. It was gold for the first two ranks and silver for the other two. The Legion was conceived as a military institution, as the names of the ranks indicate; members were organized in cohorts which were distributed geographically. This elite group would serve as a cadre for the civil society.
With the Empire, the nature of the institution began to change. On Jan. 30, 1805 a new rank was created above the other: it was called "la grande décoration de la Légion-d'Honneur", later called grand-cordon (from the red sash) or grand-aigle (from the badge which hung from the bottom of the sash, and the breast plaque). It was limited to 60 members and conferred only to grand officers, not counting members of the imperial family and foreigners who could receive it without being members of the Legion. This rank was created in imitation of that of grand-cross in other orders; Napoleon wanted to be able to award it to foreign sovereigns and their highest officials, so as to receive in exchange the grand-cross of various national orders of Austria, Prussia, Spain, etc.
At the Bourbon restoration in 1814, Louis XVIII made clear early on that he intended to maintain the institution: an explicit promise to that effect was contained in the Charte of June 1814, and an ordinance of July 19, 1814 confirmed it, while making the king its "sovereign head and grand-master" (chef souverain et grand-maitre). Later, by an ordinance of March 26, 1816, the Legion took the name of Royal Order of the Legion of Honor. The rank of grand-aigle was changed to grand-croix, that of commandant to commandeur, and légionnaires were henceforth known as chevaliers. The badges and decorations were altered to their present status.
Ranks
The Order has a grand-maître. From lowest to highest, it has three ranks: chevalier, officier, commandeur ; and two dignities, grand-officier and grand-croix. The insignia consists of a five-arm cross with (currently) the profile of the French Republic surrounded by a wreath of oak and laurel. The motto is Honneur et Patrie.
Knights and officers wear the cross hanging from a red ribbon, commanders from a red ribbon around the collar, grand-officers and grand-cross from a red sash with a breast plaque. On business suits, the ranks are represented by small threads and/or a button woven into the lapel next to the button-hole. Chevalier is indicated by a red thread, officier by a red button, commandeur by a red button on a silver thread, grand-officier by a red button on a silver and gold thread, and grand-croix by a red button on a gold thread.
The term grand-croix, borrowed from the Order of Saint-Louis, itself imitating Malta, originally designated the insignia, but has come to mean the rank and the holder of the rank as well. In modern French, it is not an adjective, and it is invariable. In imitation of the Order of Saint-Louis, a decree of 1810 conferred the hereditary title of chevalier de l'Empire to the third generation of recipients in male line; this provision was confirmed as an ennoblement by ordinance of October 8, 1814. The decree has never been rescinded, but since 1875 the French government does not grant the necessary letters patent. There exists a private association of individuals who meet the criteria for the "honneurs héréditaires", 295 families in all. (See also an anonymous but accurate article on this topic.)
As can be seen, Napoleon's creation, as amended by Louis XVIII, was closely modeled on the order of Saint-Louis, including the style of the cross, the names of the ranks, the color of the ribbon and the hereditary honors. The five rays of the star was the only major break with other orders of Merit. The Legion of Honor, however, survived every change in regime. Successive heads of state have acted as grandmasters. Currently, the French president is grandmaster upon inauguration (and also becomes grand-cross automatically). To this day, the Legion of Honor is the most prestigious civil or military award in France.
Nominations to the rank of knight are made by presidential decree from lists proposed by the various ministers: the honors are announced every year on January 1 and July 14, and the usual number of nominations is about 2900 annually. Twenty years of public service or 25 years of professional activity are normally required, as well as passing an enquiry of good moral standing. Promotion to the rank of officer requires a minimum of 8 years as knight, and additional meritorious achievements; 5 years are required to become commander, 3 years to become grand-officer and 3 years to become grand-cross. Jumping ranks is not allowed, except for the French president upon inauguration as noted, but the time requirements can be waived, and promotions through all the ranks within the same day have occurred (in 1873).
Numbers
When Charles de Gaulle became president and Grand Master of the Order, its membership had risen to 300,000. He decided to reduce its numbers and bring it down to 125,000 by the end of the 20th century, an objective that has been reached.
The following numbers are for French nationals only. They come from the annual reports on the Legion of Honor found in annexes of the annual budgetary laws (see the National Assembly's web site).
Membership by grades (Dec. 31)

| | 1997 | 1998 | 1999 | 2000 | 2001 | 2002 |
| --- | --- | --- | --- | --- | --- | --- |
| Grand'croix | 59 | 60 | 61 | 60 | 63 | 56 |
| Grands officiers | 338 | 323 | 322 | 321 | 322 | 329 |
| Commandeurs | 3,772 | 3,686 | 3,664 | 3,610 | 3,479 | 3,508 |
| Officiers | 23,381 | 22,631 | 22,702 | 22,330 | 21,468 | 21,849 |
| Chevaliers | 88,868 | 86,852 | 87,426 | 87,058 | 85,029 | 87,161 |
| Total | 116,418 | 113,552 | 114,175 | 113,379 | 110,351 | 112,903 |
Note that, until 1998 or so, the numbers are over-estimated because the chancery did not have the means to accurately check which members were still alive.
Two thirds of the members are military (active or retired). Among the civilians, 30% are from the public sector and 25% from the business sector. Local elected officials represent 10%, medical and social work account for 13%, sports and entertainment 8%.
Annual appointments and promotions

| | 1992 | 1993 | 1994 | 1995 | 1996 | 1997 | 1998 | 1999 | 2000 | 2001 | 2002 |
| --- | --- | --- | --- | --- | --- | --- | --- | --- | --- | --- | --- |
| Grand'croix | 4 | 6 | 4 | 5 | 4 | 5 | 4 | 4 | 5 | 7 | 6 |
| Grands officiers | 13 | 18 | 18 | 16 | 16 | 21 | 18 | 18 | 20 | 26 | 33 |
| Commandeurs | 131 | 124 | 131 | 138 | 188 | 156 | 159 | 136 | 151 | 128 | 152 |
| Officiers | 639 | 605 | 702 | 658 | 698 | 655 | 667 | 735 | 638 | 642 | 708 |
| Chevaliers | 2058 | 2007 | 2111 | 3335 | 2964 | 2901 | 3027 | 3058 | 3007 | 2956 | 3,159 |
| Total | 2845 | 2760 | 2966 | 4167 | 3870 | 3737 | 3875 | 3951 | 3821 | 3759 | 4,058 |
In 2002, the 4058 nominations and promotions consisted of 2051 civilians, 1151 military on active duty, 499 retired military, and 170 veterans.
The president of the Republic sets annual quota for nominations and promotions by decree, every three years. The quota are not exactly enforced, as the following table shows.
| | | | | | |
| --- | --- | --- | --- | --- | --- |
| GC | 4 | 4 | 4 | 6 | 6 |
| GO | 16 | 16 | 16 | 24 | 24 |
| C | 129 | 129 | 133 | 144 | 144 |
| O | 690 | 690 | 730 | 730 | 730 |
| Ch | 1940 | 1940 | 2910 | 2910 | 2910 |
| GC | | 5 | 4 | 6 | |
| GO | | 17 | 18 | 23 | |
| C | | 152 | 150 | 140 | |
| O | | 686 | 686 | 640 | |
| Ch | | 2803 | 2995 | 2982 | |
The quota are currently equally split between civilian and military for the three top grades; officiers are split between 384 civilians and 346 military, while chevaliers are split between 1710 civilians and 1200 military.
Foreigners can be appointed, to any rank, and they are not subject to any of the time requirements. A few Americans who received the order in the 19th century: Thomas A. Edison (commander in 1889), Alexander Graham Bell (officer in 1881), the astronomer Simon Newcomb (officer in 1896), the sculptor Augustus Saint Gaudens (officer in 1901), the painter John Singer Sargent (knight in 1889, later promoted officer). The quota of foreigners for each grade is also set by decree of the President, but the quota do not apply to conferrals to foreign heads of state, their aides and to members of the diplomatic corps (article R131 of the code). The quota are as follows, in annual numbers per period of three years:
| | | | | |
| --- | --- | --- | --- | --- |
| grand'croix | 3 | 3 | 2 | 2 |
| grands officiersj | 15 | 15 | 7 | 7 |
| commandeurs | 81 | 96 | 37 | 40 |
| officiers | 198 | 213 | 91 | 101 |
| chevaliers | 333 | 429 | 213 | 233 |
Only a few women have made it to grand-officers: the writers Louise Weiss and Colette, the wives of the marechal Lyautey and the general André. The World War II flyer Maryse Bastié was the first woman promoted commandeur for actions in combat. Until recently, no woman aside from foreign queens had been made grand-cross; Pamela Harriman (1925-97), US ambassador to France, was made grand-cross (posthumously, although the president had already informed her of his decision shortly before her death). The first French woman to be made grand-croix was Geneviève de Gaulle-Anthonioz, founder of ATD-Quart Monde, a humanitarian NGO, in 1998; she was followed by Germaine Tillion, a member of the WWII Resistance, in 1999. In 2000, general Valérie André became the first woman military to receive the grand-croix.
The Order has been awarded to moral entities. A large number of cities have received it. A number of undergraduate schools and colleges have also received it, as has the French Red-Cross, the abbey of Notre-Dame des Dombes, and the French railway company SNCF. In the army, regiments have received it since 1859. They wear it, along with any other decorations, hung from a "cravate" attached to the mast of the regimental flag, and members of the unit wear a red "fourragère" (lanyard or shoulder-braid). The Code of 1962 does not mention the possibility of awarding the Order to moral entities (such a possibility was never mentioned in legislative texts either) and it is understood that the practice has ceased.
The Order is managed by a Chancery and a Council of the Order; they are situated in Paris:
Chancellerie de la Légion d'Honneur
1, rue de Solférino
Paris 75007
At the same address is the Museum of the Order, in the Hotel de Salm (a beautiful private mansion from the 1780s in unusual neo-classical style, whose floor plan was copied by the Museum of the Legion of Honor in San Francisco's Lincoln Park). It is a delightful museum for anyone interested in orders and decorations (including pre-1789 orders).
Please do not ask me to look up your ancestors' names to find out if they were awarded the Legion of Honor. Write to the Chancery at the above address, or use the brand new on-line database for any name prior to 1954.
The Council also manages protocol questions regarding French and foreign orders and decorations. A French citizen needs to be authorized by presidential decree to receive or wear a foreign order, except for the Order of Malta and the Order of the Holy Sepulchre which are recognized by France. Foreign decorations not awarded by a sovereign power cannot be worn. Decorations or insignia which are similar to French orders and decorations are also illegal (see further details).
For more information on the order and its composition, you can read (in French) the Report on the Order in annex of the Budget law of 2004.
Other French Orders of Merit
There are other orders of merit in France: by order of precedence, they are:
the Croix de la Libération (created in 1940 by de Gaulle, no new members since 1946, 147 members in Sep 2000; single rank of compagnon),
Médaille militaire (created by Napoleon III in 1852 (purely military award, not an order, it has no rank; 200,000 members and 3500 awards annually),
Ordre National du Mérite (created by de Gaulle in 1963 to replace seventeen ministerial orders of merit created under the 3d and 4th Republics, it has the same organization as the Legion of Honor with five grades, its badge is a 6-pointed cross hanging from a deep blue ribbon, and it has currently about 190,000 members, with about 4700 new members each year),
various military awards (starting with the Croix de Guerre),
the remaining "ministerial orders" (Palmes académiques, Mérite agricole, Mérite maritime, Ordre des Arts et des Lettres),
The order of precedence continues with various commemorative medals in the order of their creation, and then authorized foreign orders and decorations.
References
16th-18th c. references
Information on French orders, especially the mythical and dubious ones, comes largely from articles by Gastelier de La Tour in Diderot's Encyclopédie, which were later copied uncritically in 19th c. encyclopaedias. He cites a number of works, primarily:
Beloy, Pierre de : De l'origine et institution des divers ordres de chevalerie, tant ecclésiastiques que profanes; Montauban: Denis Haultin, 1604 (the author was a magistrate in the parlement of Toulouse; cf. Bayle's Dictionnaire)
Caramuel, Juan: theologia regularis : videlicet, in Sanctorum Benedicti, Basilii, Augustini & Francisci regulas commentarii historici, scholastici, morales, iudiciales, politici; Lyon: Laurent Anisson, 1665 (4th ed.; contains the rule of the order of the Templars, but there are modern editions)
Favyn, André: Théâtre d'honneur et de chevalerie, ou l'Histoire des ordres militaires des roys et princes... de l'institution des armes et blasons... duels, joustes et tournois et de tout ce qui concerne le faict du chevalier de l'ordre; Paris: R. Foüet, 1620 (translated in 1623 into English)
Geliot, Louvan : Indice Armorial, ou, sommaire explication des mots usitez au blason des armoiries; Paris: P. Billaine, 1635 (expanded into La vraye et parfaite science des armoiries by Pierre Palliot, Paris, 1660)
Giustiniani, Bernardo: Historie cronologiche dell'origine degl' ordini militari e di tvtte le religione cavalleresche; Venice, 1692;
Le Mire, Aubert : Origines equestrium sive militarium ordinum; Antwerp: Martin, 1609
Mendo, Andrés, SJ: de Ordinibus militaribus disquisitiones canonicae, theologicae, morales et historicae pro foro interno et externo; Lyon: Boissat, 1668 (2d ed.)
Menestrier, François : De la Chevalerie ancienne et moderne (reprinted in Collection des meilleurs dissertations, notices et traités particuliers relatifs à l'histoire de France, vol. 12, Paris 1838);
Mennens, François : Deliciae equestrium sive militarium ordinum et eorundem origines, statuta, symbola et insignia; Cologne: J. Kinck, 1613 (2d. ed. 1638)
Michieli: Trésor militaire,
Sainte-Marie, Honoré de (1651-1729): Dissertations historiques et critiques sur la chevalerie ancienne et moderne, seculière et regulière; Paris: Pepie et Moreau, 1718
Modern references
See also the references in the general essay on orders of chivalry.
Cardinale, Hyginus Eugene: Orders of knighthood, awards, and the Holy See, ed. and rev. by Peter Bander van Duren. Gerrards Cross, Buckinghamshire, 1985 : Van Duren.
This book was reedited a couple times by Van Duren, who considerably altered the sections on the Order of St. Lazarus (of which he is a member).
Colleville, Ludovic, comte de, and François Saint-Christo: Les ordres du roi; répertoire général contenant les noms et qualités de tous les chevaliers des ordres royaux militaires et chevaleresques avant existé en France de 1099 a 1830 ... Avec une histoire des Ordres du Saint-Esprit, de Saint-Michel, de Saint-Louis, etc. Paris, Chez Jouve [1924]. 2 v. (xxxviii,711 p.)
Contains a complete list of members of the ordres du Roi and Saint-Louis. For genealogies of the members of the Saint-Esprit, consult Père Anselme: Histoire généalogique et chronologique de la maison royale de France... Paris: 1733, 9 volumes, and the continuation by Pol Potier de Courcy, Paris: 1884-1890. both reprinted by the Editions du Palais-Royal in 1967.
Favier, Jean: Dictionnaire de la France médiévale. Paris, 1993; Fayard.
Excellent general reference on medieval France, with bibliographical information in each entry.
Ordres de chevalerie et récompenses nationales. Paris, 1956; Administration des monnaies et medailles.
Catalogue of an exhibit, with many illustrations.
Pinoteau, Hervé: Études sur les ordres de chevalerie du roi de France : et tout spécialement sur les ordres de Saint-Michel et du Saint-Esprit. Paris: Léopard d'Or, 1995.
Very solid work. For the state of the orders in 1830 and their "survival" under the legitimist pretenders, see by the same author Etat de l'Ordre du Saint-Esprit en 1830 ; et, La survivance des ordres du roi; Paris : Nouvelles Editions latines, 1983.
Popoff, Michel: Armorial de l'Ordre du Saint-Esprit. Paris: Léopard d'Or, 1995.
Listing of the knights of the order up to 1789, with their coats of arms.
D'Hozier, Jean-François: Recueil historique des chevaliers de l'Ordre de Saint-Michel . Paris: Léopard d'Or, 1998 (vol. 1: 1469-1560).
Listing of the knights with coats of arms and brief notices, based on an 18th c. manuscript by a French king of arms.
Herman, Charles Wendell: Knights and Kings in Early Modern France: Royal Orders of Knighthood, 1469-1715. Dissertation, University of Minnesota.
---
French Heraldry Page | Search Heraldica | Heraldic Glossary | Contact
---
François Velde

Last modified: Apr 22, 2010