Jewish Heraldry
Contents
Introduction
Jews in Europe used heraldry, like everyone else. Indeed, it is a striking counter-example to the misconception that heraldry was ever the preserve of the nobility or the knights, that Jews have been using coats of arms as far back as the 14th century, not only privately but also in their official dealings with Gentiles (e.g., seals on legal documents).
This page does not describe "Jewish heraldry" as some distinct species of heraldry: although there are charges, such as stars of David, Jew's hats and menorahs which specifically refer to the Jewishness of the bearer, Jews used heraldry the same way others did. They used it in their homes, on their belongings, on their tombs. They used canting devices. They used lions, eagles, ordinaries, and all sorts of charges. They occasionally adopted or modified some famous Gentile family's coat, either as a mark of allegiance, or to claim a connection. Over time, Jews started entering the ranks of the European nobility, as early as the 17th century. Thus, this page is an illustration of how heraldry came to be adopted by Jews, and enriched their cultural tradition: thus the lion of Judah often takes the appearance of a heraldic lion rampant.
In the Middle Ages
That Jews in the Middle Ages used heraldic emblems can be ascertained from the study of their seals (Friedenberg 1987). Most show emblems which could be interpreted as heraldic, and a few show proper arms, that is, heraldic designs on shields. One example is found in early 14th century Narbonne (France), where Kalonymos bar Todros, nasi or head of the Jewish community, used a lion rampant. His presumed son Todros bar Kalynomos uses the same device. The seal of Benoît, Jew of Dôle (France), was placed on a loan document at the request of the borrowing knight in 1286 (the seal shows a lion contourné). A manuscript of 1383 shows the arms of Samuel, son of Doctor Samuel of Venice, per fess a lion issuant and a fess wavy. A number of Jewish or converted Jewish families used three Jews' hats on their arms, either arranged two and one or in pairle conjoined by their straps. One amusing example is the seal of Byfegin, from Koblenz (1397) which bears a lion rampant "crowned" with a Jew's hat. Nostradamus, the famous 16th c. astrologer who settled in France, bore: Gules, a wheel broken between each spoke or. Since the color of the charge was too clear a reminder of the bearer's origins, a descendant had the arms changed to quarterly, 1 and 4 Argent a wheel sable; 2 and 3 Argent an eagle's head erased sable (Mathieu 1946, p. 41).
Several seals were those of the Jewish community of a city: early 13th century examples in France show that the Jews of Paris used an eagle rising on a semis of fleurs-de-lys. Jewish communities also had flags which they used in processions; the synagogue in Prague has a 16th c. example, showing a Jew's hat within a star of David.
Several Hungarian Jews were mintmasters in the 13th centuries and issued coins on behalf of the king with their Hebrew initial letter on the reverse. Some of them are also known in official documents as "counts of the treasury", and seem to have formed part of the Hungarian nobility. They disappear in the last quarter of the 13th century (Friedenberg 1987).
In medieval Italy, Jews were not allowed to graduate with the title of doctor, although they were allowed to take courses in medicine, pass the exams, earn the degree of "Master" and practice as physicians. But the restrictions were relaxed in the 15th and 16th centuries. In 1406 three Roman Jews, among them Elia di Sabbato who was physician to Pope Boniface IX, were authorized to earn a doctorate. Several Jews (in Milan, 1487, Florence, Perugia, Napoli in the 2nd half of the 15th c.) were qualified "doctor et miles", doctor and knight (Bascapè and Del Piazzo 1983).
The trend accelerated in the 16th century, and several Jews actually obtained chairs at universities (Perugia, Ferrara, Bologna in 1528, Rome in 1539), which in some cases carried with them personal nobility and the title of count palatine. One Jew of Bologna received a knighthood from Charles V (the Golden Spur). But the Counter-Reformation brought this trend to a halt, and even in Piedmont, a 1603 decision to open the doctorate to all Jews was rescinded.
Jews did like everyone else: they assumed arms or were granted arms. The earliest known example in Italy is from Forli in 1383: per fess a lion issuant and barry of six or and azure, with a helmet and crest of a lion issuant (on a manuscript in the British Museum, which had belonged to Daniele di Samuele). A manuscript of Exodus from the mid-15th c. shows per fess gules two stars argent and vert 1 star of the second, another manuscript from 1475 shows per fess vert two stars, and purpure 1 star, with a crest of the lion of Juda holding a pennant. A manuscript of 1494 belonging to Menahem di Salomone of Terracina shows per pale a branch and azure a rooster sable; a Pentateuch of the 15th c. was marked in 1585 with the arms of its owner Giacob di Mose Gutierrez: per pale, lozangy argent and sable, gules a lion rampant or holding a palm and a lamp in dexter, in chief a sun and a moon or. A 15th c. manuscript Mahzor in the Biblioteca Ambrosiana in Milan shows a collection of arms: gules two fishes argent in pale, Or a double-headed eagle displayed sable, chequy azure and argent, argent three Jew's caps, gules a fleur-de-lys argent, or a lion sable, some of which are likely to be arms of the owners of the manuscript. The Rothschild Mahzor (Jewish Museum, New York), made in Florence in 1492, displays in ten places the arms of the prominent Jewish family of Norsa: or, on a fess azure between three maiden's busts proper a crescent between two mullets of the first.
Modern Times
Italy
Cecil Roth, in an article Stemmi di famiglie ebraiche italiane, in Scritti in memoria di Leone Carpi, Jerusalem, 1967, discusses and illustrates a number of Jewish coats of arms from the 17th and 18th centuries: Acciaioli, Ambron, Ascarelli, Fattorini, Foà, Gallico, Avigdor, Basevi, Conigliano, Luzzatto, Mieli, Meshullam, Modigliani, Montalbotti, Montefiore, Marpurgo, Orsi, De Paz, De Pomis, Portaleone, Porto Coen Rapa, Sarfatti, di Segni, Soave. A number of them incorporate traditional Jewish emblems, such as the star of David (Acciajoli, Foà, Meshullam, Montalbotti, Soave; the menorah (di Segni), the two hands of the Levis (Porto Coen Rapa), the palm tree (Foà: held by two lions rampant and on it a star of David), and the lion of Judah (e.g. Acciajoli shows a lion rampant holding a star of David, di Segni shows a menorah held by two lions rampant, etc). A number of the arms are canting (Mieli shows three bees and a barrel of honey, Montalbotti has a mound of three hillocks).
The mid-18th c. marriage contract of Menahem Modigliani and Stella daughter of Abramo Isacco Costantini shows the arms of the two families impaled: on a mound of three hillocks a rooster holding a palm in its beak and a star in dexter chief for Modigliani, a lion rampant crowned and holding a sword for Costantini. The arms of Modigliani are actually differenced (another instance shows no mound and a crescent next to the star). The motto in Hebrew is: the Lord's name is a tower.
France
Blumenkranz (1972, p.256) reproduces a page from a document in a Bayonne museum entitled "Jewish Armory". It contains 20 coats of arms of Jewish families in 18th century Southwest France, where Marranos from Spain and Portugal had been tolerated since the 16th century.
When parts of the German empire were annexed by France (the three bishoprics of Metz, Toul, Verdun in 1558; Alsace from 1648 to 1683) the Jews living there were allowed to remain. Some show up in the Armorial Général drawn up in 1696 in Alsace: Abraham Bronsvich (Gules six plates 3, 2, and 1), Alexander Rottembourg (Azure a girl proper vested or holding in her dexter hand a lilly and in her sinister hand a crown of laurels all or), Lipmann Weil (Azure two twins standing side by side argent). The illustrations can be found on fol. 195 and ? of the illustrated Armorial on Gallica.
England
The seal of Aaron of York, a prominent 13th century English Jew, has not survived, but was said to display a human head. Jews were expelled in 1290 and do not reappear in England until the 16th c., when Marranos fleeing the Iberic peninsula settled and were tolerated. A newly converted family by the name of Anes was granted arms in 1568. In 1657, Cromwell officially granted Jews permission to settle in England, and the practice of their religion was allowed in 1673, although they were not fully emancipated until the 1830s. The first grant of arms to practising Jews was in 1723, for the Da Costa: Gules six broken shin-bones two two and two barwise and the joints almost meeting each other in pale argent. In 1732 Anthony Mendes, eldest son of Fernando Mendes (d. 1724) physician to queen Catherine of Braganca, was granted the same arms differenced by a canton ermine (the Encyclopaedia Judaica, s.v. "bookplates", shows the bookplate of his brother Isaac, 1746). His nephew Moses married Anna Gabriella Head, and their grandson Francis B. Head was made baronet in 1838 (but with the arms of Head). Arms were registered in the 18th c. for the Jewish families of Aguilar, Castello, Salvador (vert a lion between three fleurs-de-lys or). Sir Morris Ximenes was granted arms in 1807 (or two bars gules over all a pale counterchanged within a bordure azure) on the basis of a rather doubtful connection to cardinal Ximenes. In 1760, the arms of Jacob Franco were registered, "his ancestors having used for their armorial ensigns in a landscape field a fountain thereout issuing a palm tree all proper represented on a marble monument in the synagogue of the Jewish nation in the city of Leghorn (Italy)". Sir Moses Montefiore registered his arms in 1819 (Argent a cedar-tree rising from rocks proper, on a chief azure a dagger erect proper pommel and hilt or of the first between two mullets of six points of the last), based on the family badge embroidered on an Ark curtain presented to the synagogue of Ancona by an ancestor in 1635. In 1831 he was allowed to add to the crest a banner inscribed with the word Jerusalem in Hebrew, to commemorate a pilgrimage. In 1841, he was granted the privilege of supporters by Queen Victoria, although he was still only a knight bachelor. The supporters were a lion guardant or and a stag proper, each supporting a flagstaff thereon hoisted a pennon forked with the word Jerusalem in Hebrew. He became a baronet in 1846 and died in 1885.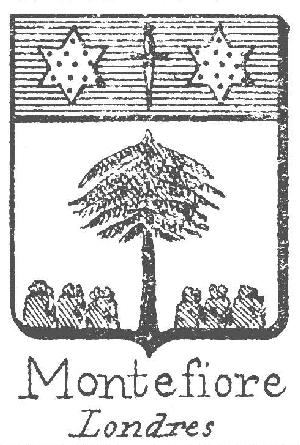 Occasionally the arms contain Jewish elements, such as the Mocatta family which is per chevron two quintefoils in chief and a menorah in base. The mullets of six points or in Montefiore's arms may also be a reminder of his Jewish heritage.
Noble Jews
In modern times, there are several examples of Jews inducted into the nobility of some countries (England, Austria, Russia, Italy). The earliest known example in modern times is Joseph da Fano, who was made marquis of Villimpenta in Mantua (Italy) at the end of the 16th c. Another example is Jacob Bassevi: a Prague Jew, he helped finance the Emperor during the Thirty Years War and was granted arms in 1622 as Bassevi von Treuenfeld: Sable, on a bend argent between two lions passant bendwise or, three eight-pointed stars gules. One of the reasons for this development was the emergence of the "Court Jew" in Central and Northern Europe. Kings and sovereigns of the numerous German states found it to their advantage to attach to their service one prominent Jewish banker or trader who could quickly marshal money and equipment in war-time. The first court Jews appear in the late 16th century. A number of them were Marranos, Spanish Jews who had officially converted but were known to keep the Jewish faith. Isaac Lopes Suasso was made baron of Avernas de Gras by Carlos II of Spain on July 3, 1676 (arms: Or a lion gules, armed tongued and crowned azure). Isaac Nunez Belmonte was made count Palatine by the emperor Leopold III in 1693. One famous Court Jew (known in his time as the Judenkaiser) was Samuel Oppenheimer (1630-1703): Court Jew of the Emperor, who provided critical help at the time of the Turkish siege of Vienna in 1683 (when Oppenheimer died, the Emperor refused to pay his debts). Contemporary portraits show Oppenheimer bearing azure a crawfish in bend argent. The most famous example is perhaps the Rotschilds: Amscher Rothschild began as banker to the landgrave of Hesse-Kassel. His children made the transition to modern banking, and entered the highest society of several European countries.
The Rothschilds
The name Rothschild comes from the red shield on their house in the Frankfurt ghetto; their name in the 16th century was N. zum Roten Schild. When they moved out of the house they kept the name. In the 18th century, Amschel Rothschild founded the banking house. He had 5 sons: Amschel, Salomon, Nathan, Carl and James, who founded branches in Vienna, London, Naples and Paris. They all provided great financial services to the enemies of Napoleon, and were consequently rewarded after Waterloo. The Austrian minister of finance, count Stodion, proposed that they be ennobled as a way to get better interest rates on a loan. Metternich approved and, while the Frankfurt Jews still did not enjoy full civil rights, four of the brothers were granted German hereditary nobility (Sep. 25 and Oct. 21, 1816). Nathan was not included because he was a foreign subject (in London). The Rothschilds were asked to submit a coat of arms, which Solomon did: it consisted in quarterly: 1) or an eagle sable surcharged in dexter by a field gules, 2) gules a leopard passant proper, 3) a lion rampant, 4) azure, an arm bearing 5 arrows; in center a shield of gules. The supporters were a greyhound and a stork, the crest a coronet with a lion issuant.
The Austrian Herald's College was very nitpicky. They said that, as untitled nobility, the R. could have a helmet but not a coronet. The eagle alluded to Austria, the lion to Hesse-Kassel, and the leopard to England: the College said it was not in its power to use charges from other sovereign countries' arms. The 5 arrows symbolize the 5 brothers: but since Nathan was excluded they could only have 4 arrows. The supporters were rejected, as well as the shield in center, as the privilege of the titled nobility. All of these excuses seem pretty lame, and I suspect that these were all intended slights. A patent for the modified arms was finally granted on March 25, 1817.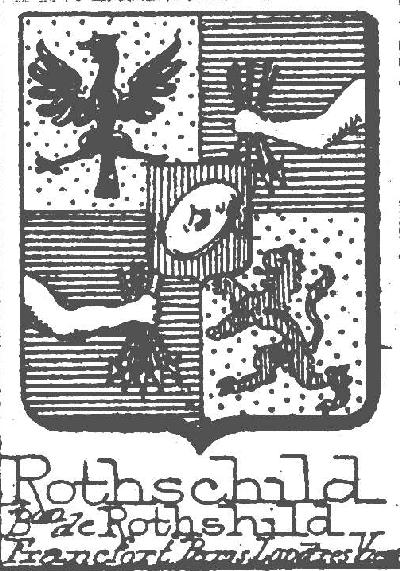 Five years and many loans later, the Austrian emperor made all 5 brothers hereditary barons (for them and all legitimate descendants through either sex), on Sep. 29, 1822. A revised coat of arms was registered, the one I blazoned in my previous post, with the lion and the 5 arrows restored, and the escutcheon in center, gules with oval target argent per bend sinister. The full blazon is as follows (this is the entry in Rietstap):
Quarterly: 1) Or, an eagle displayed sable. 2) Azure, an arm issuing from the sinister flank proper, holding five arrows points downward argent. 3) As in 2), the arm issuing from dexter. 4) Or, a lion gules. Over all an escutcheon: gules, an oval target with pointed center argent per bend-sinister. 3 crests: 1) a mullet or enhanced or between two horns per fess alternately or and sable, sable and or; 2) an eagle disp. sable; 3) 3 ostrich feathers, one argent and two azure. Motto: concordia, integritas, industria.
Nathan was authorized in 1838 to bear his Austrian title in England. His elder son Lionel was offered a British baronetcy in 1847, but he turned it down: it went to his brother Anthony. In 1885, the 2d baronet was made baron Rothschild of Tring, the first Jew in the House of Peers.
Other Titled Jews in Britain
William III had knighted Solomon de Medina (died 1730), a Dutch banker who had helped him finance his campaigns. It took another century before honors were again bestowed on Jews in England.
The first Jewish baronet was Isaac Lyon Goldsmid on Oct 15, 1841 (per saltire ermine and erminois, on a chief gules a goldfinch proper between two roses or: a bookplate with his arms appears in the Cyber Journal of Heraldic Bookplates). He had received his title for his charitable work (he had been instrumental in the founding of University College, London). In 1846, he was made baron de Goldsmid and de Palmeira in Portugal, and was authorized to use his titles in Great Britain the same year. His arms were augmented with overall on an inescutcheon gules tower or, ensigned by a coronet of a baron of Portugal (Huxford 1984). The baronetcy became extinct in 1896. The second Jewish baronet in Great Britain was Sir Moses Montefiore (1784-1885) on July 23, 1846. After his death without heirs, a new baronetcy was created on Feb. 16,1886 for his nephew Francis Abraham, with the same arms and the privilege of supporters (the title became extinct in at his death in 1935). Anthony Rothschild was the third Jewish baronet in 1847.
As noted above, Sir Nathaniel Rothschild was the first Jewish peer in 1885. Later peers include Rufus Isaacs (baron 1914, viscount 1916, marquis of Reading 1926), Samuel (viscount Bearsted in 1925), Herbert Samuel (viscount Samuel 1937), Montagu Samuel-Montagu (baron Swaythling in 1907), Jessel (baron Jessel in 1924), Mond (baron Melchett in 1928), Samuel (baron Mancroft in 1937), Nathan (baron Nathan in 1940), Silkin (baron Silkin in 1950). Their coats of arms sometimes contain allusions to their origins: the supporters of lord Swaythling are "soldiers of ancient Judea", the crest of viscount Bearsted is "a dexter arm embowed proper grasping a battle-axe argent, the head charged with two triangles interlaced sable" (i.e., the star of David).
Other ennobled Jews in Europe
The blazons and dates of titles come from Rietstap.
Stieglitz in Russia (by czar Nicholas I).
Moses Lopez Pereira (1699-1759) a Marrano from Spain, reverted to Judaism in Vienna, was made baron d'Aguilar in 1726, later moved to London (Gules an eagle or beneath a plate, on a chief argent three hillocks vert on each a pear or slipped vert).
Josef von Arnstein, who had converted, was made a baron in Austria in 1783 (Quarterly Or an eagle issuant sable, Azure an anchor argent, Azure a battle-axe proper the handle or, Or a tree on a terrasse vert).
Ritter von Eskeles: Bernhard Eskeles (1753-1839) was ennobled in Austria on Nov 6, 1797, made a knight on March 12, 1810 and a baron on Sept. 29, 1822. The titles became extinct in 1876. Arms: Quarterly: 1 and 4: Or, a demi-eagle sable beaked and armed of the field, issuing from the partition line; 2 and 3 Azure, two winged serpents interlaced and affrontes argent; over all an escutcheon: Argent, a vine redorte proper, leaved vert, fruited azure. Supporters: two storks proper. Motto: Patriae suisque.
Isaac Loew Hoffmann, knighted on July 18, 1835 in Austria as Hoffmann Edle von Hoffmannsthal (his son converted; his grandson was Hugo von Hoffmannsthal, the poet). Arms: Quarterly: 1, Or an eagle in profile perched on a rock all proper, holding in its sinister claw raised a bundle of 6 arrows argent; 2, Azure an altar argent, 3, Azure a book bound gules, the leaves or, supporting the tables of the Law argent; 4, Or a mulberry leaf vert in bend thereon a silkworm proper.
Parente in Austria (1847).
Morpurgo in Austria (1867).
Maurice Koenigswarter ennobled in Austria in 1860 and made baron in 1870; his brother Maximilien-Jules (1817-78), naturalized French in 1848, baron in 1870: Quarterly: 1,Or five arrows sable in a bundle bound gules; 2 and 3, Azure a lion or tongued argent; 4, Or a dove proper holding in its beak an olive branch vert. Over all Azure a beehive or, its base argent, on a mound vert, and five bees of the second in orle. Motto: Candide Secure.
Achille Fould (1800-67), minister of Finance of Napoleon III: Per bend azure a lion argent and vert a lion or, over all a bend ermine, on a chief sable three mullets or.
Levi in Italy (1864): created barons by Vittorio Emanuele II.
Cohn in Anhalt: barons on Feb 21, 1869. Arms: Gules a winged wheel or thereon a stork with its vigilance argent, on a chief azure a sun or rising from a mound vert.
Bleichröder, banker to Bismarck, ennobled in Prussia on March 8, 1872: Chequy of nine gules and sable fimbriated argent.
A Grant of Arms to a Canadian congregation
The Congregation Machzikei Hadas in Ottawa, Ontario was granted arms by the Canadian heraldic authority in 1994. Robert Watt, head of the Canadian Heraldic Authority mentions in his preamble that Machzikei Hadas was the first synagogue in the Commonwealth to be granted a Coat of Arms (Shaar Shamoyim in Montreal recently became the second) but that a synagogue in France was granted arms in the late seventeenth century by Louis XIV. (I have been unable to confirm that fact.)
The design uses some central colors and symbols of Judaism: the five scrolls symbolize the five parts of the Torah. The bordure azure represents the walls of the sanctuary. The crest shows a tree whose leaves are Maple Leaves and Shields of David intermingled. The motto is from Proverbs 3:18, and means" It [the Torah] is a tree of life to they who uphold it, and they who support it are praiseworthy"; the phrase is found on the doors to the Holy Ark of the sanctuary, and the name of the synagogue (Upholders of the Faith) recalls this verse.
Picture of the arms of Congregation Machzikei Hadas, Ottawa, Canada.
A book describes the arms and the circumstances in greater detail. For more information, write to Congregation Machzikei Hadas (attention: Mrs. Osterer), 2310 Virginia Drive, Ottawa, Ontario Canada K1H 6P4.
See also the arms of Congregation Shaar Hashomayim in Montreal. The arms are unique because the helm is modelled after helmets used by References
Bascapè and Del Piazzo: Insegne e Simboli, Araldica Pubblica e Privata Medievale e Moderna. Rome, 1983.
Blumenkranz, Bernhard: Histoire des juifs en France. Toulouse, 1972. Privat.
Daniel Friedenberg: Medieval Jewish Seals from Europe. Wayne State University Press, 1987.
J.F. Huxford: Honour and Arms: the story of some augmentations of honour. London : Buckland Publications, 1984.
R. Mathieu: Le Système Héraldique Français. Paris, 1946.
The New Jewish encyclopedia. New York, 1976. Behrman House (s.v. Heraldry and Titles of Nobility).
<! Date: 19 Mar 1993 16:19:54 -0500>
---
From: sbloch@silver.cs.umanitoba.ca(Stephen Bloch)
As I mentioned in another post a few minutes ago, the Jewish community in a city of Christian Europe typically had a contract binding them personally to the local ruler. The Jewish community was the ruler's "property" in almost the same sense as his personal servants were. As such, it makes sense for them to claim that bond heraldically.
I have seen the flag of the Jewish community of Prague (the flag currently hanging in the synagogue dates from the 16th century), which apparently was used whenever the community processed to the castle to renew their contract with the King, to ask him a boon as a group, or anything like that. (Pause while I go dig out the slide I took of it....) This flag (or the part of it I can see in the slide without using a projector) doesn't have any obvious symbols of Prague, just a Jew's hat within a Star of David within a bordure of Hebrew script. (Background maroon, charges and script gold.)
I think the main reason "Jews didn't usually have a heraldic device of their own" is that very few of them were of noble families. Jewish communities, and trade guilds with significant Jewish membership, certainly had group heraldic symbols (which we would call "badges" in SCA heraldry).
---
From: mittle@watson.ibm.com(Arval Benicoeur)
Stephen, I know your learning in this field, but I believe you are over-generalizing. The belief that Stacy mentioned in widespread, but inaccurate. I had the pleasure of editing an excellent article on Jewish heraldry in the Middle Ages, written for publication in the proceedings of the Known World Heraldic Symposium (of the SCA) by Lord Eleazar ha-Levi. He found extensive evidence of Jewish nobility, Jewish knights, and Jewish armigers. His article appears in the 1989 proceedings, which are in print and available from Free Trumpet Press.
---
From: nusbache@epas.utoronto.ca(Aryk Nusbacher)
I saw a purse in a museum that was labelled as having been owned by the MAHARAL -- the famous mystical rabbi of Prague best known for being a golem-maker -- which was decorated with a version of the arms of Bohemia. It was not, I am convinced, that the MAHARAL felt such a strong affection for the Bohemian state that he wished to display their arms on his purse. The Bohemian lion appears, rather, as a pun on the MAHARAL's surname: Loewy.
Jewish heraldry is a very complicated subject, and varies widely by country of origin. In Italy it parallels the development of bourgeois heraldry, in Germany it owes a great deal to shop-signs; and as we've seen the MAHARAL likely treated it as a joke.
---

Heraldry Topics | Search Heraldica | Heraldic Glossary | Contact
---
François Velde