The Enamel Plaque of Geoffroy Plantagenêt (Le Mans)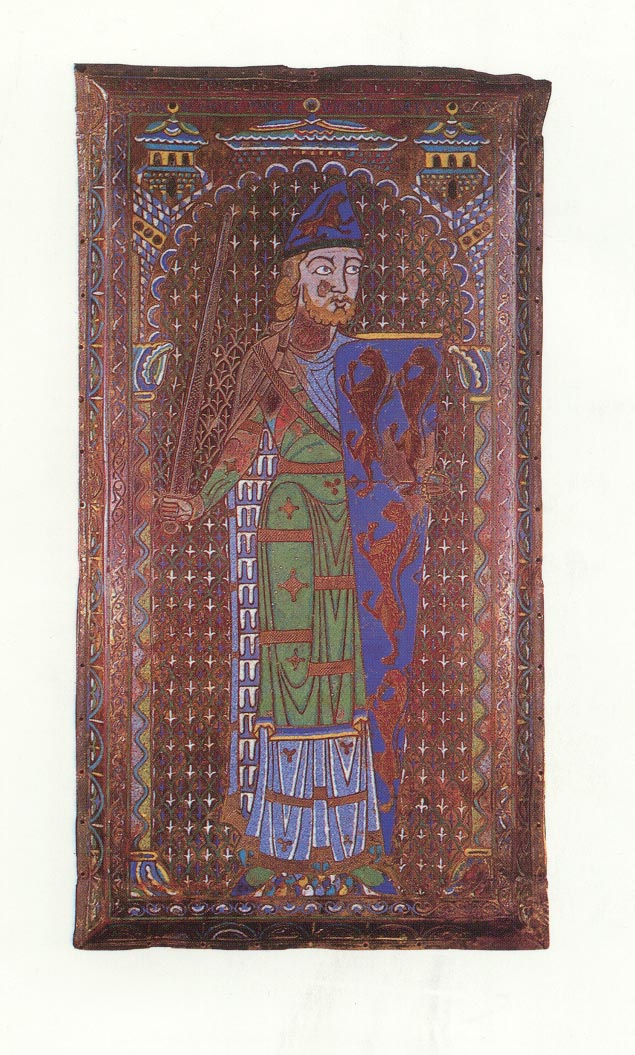 This funerary plaque, 25''×13'', is made of enamel on gilt copper. The technique, known as Limoges enamel, originates around 1100 near Limoges, and consists of a copper plaque into which compartments have been gouged out and filled with ground glass of various colors, which is then heated to fuse the glass into enamel, and finally polished.
This specimen, located in the Tessé museum in Le Mans, western France, comes originally from the cathedral of Saint-Julien. It was a component of the funerary monument of Geoffroy Plantagenêt, comte d'Anjou and du Maine (1113-51) and father of Henry II, king of England. The tomb is known to have been erected soon after his death, before 1155. It is not certain where the plaque was placed in the monument, the best guess is that it was hung on a wall above the tomb itself. The plaque, on stylistic grounds, can be dated to the period of the tomb, ca 1150-55.
Geoffroy Plantagenêt's arms are not known from any other contemporary source. His only surviving seal (1149) shows no armory. We know that at that date, a number of his contemporaries were showing armorial bearings on the depictions of themselves on their seals: Waleran, count of Meulan and Lord of Worcester (c.1136), Ralph count of Vermandois (c.1135), Clare (c.1141), Amadeus III of Savoy (1143), Henry the Lion duke of Saxony (1144), Ramon Berangar of Provence (1150), Ramon Berengar IV of Aragon (1157), Welf VI, marquis of Tuscany and prince of Sardinia (1152) (this list from A. Wagner: Heralds and Heraldry in the Middle Ages, 1956, pp.14-15.)
There is, however, a written testimony on Geoffroy;'s arms, although it is not contemporary. The monk Jean de Marmoutier, in his chronicle Historia Gaufredi ducis Normannorum et comitis Andegavorum (published in 1913) describes the ceremony during which Geoffroy was knighted by his father-in-law Henry I of England, upon the marriage with Henry's daughter Matilda (1102-69), in 1127. He mentions that Henry placed a shield about Geoffroy's neck: "clipeus, leunculos aureos ymaginarios habens, collo ejus suspenditur." But this chronicle was compiled around 1170-75, and it is not sure that Geoffroy used those armorial bearings.
Although the Le Mans enamel is not the oldest representation of a coat of arms, and it is not clear if it is the representation of the oldest coat of arms, nevertheless, it is clearly the oldest color representation of a coat of arms. In fact, until stained-glass windows, illuminated manuscripts and mural paintings in the mid-13th century, enamels are essentially our only source of color depictions of armory. (Rolls of arms, which blazon colors, do not appear until the mid-13th century either.)
The color of the lions on Geoffroy's shield is rather dark now, because they were made with an émail brun (dark brown enamel made from baked linseed oil) and the lines depicting the hair of the lions were enhanced with gold now mostly gone. The color of the shield, however, is clearly blue. The lining of his mantle, interestingly, is heraldic vair. Notice that the armorial elements are repeated on the conical helmet he wears.
The number of lions is in dispute. Anthony Wagner counts six, but Pastoureau and Neubecker count eight; Pastoureau thinks that the shield should be read as a semy.
By his marriage with Matilda, Geoffroy had:
King Henry II of England (1133-1189), who had:

Henry (1155-83)
Richard Lionheart (1157-99)
Geoffroy, duke of Brittany (1158-86)
John Lackland (1167-1216)
(illegitimate) William Longespee, earl of Salisbury (d. 1226)
(illegitimate) Geoffrey bishop of Lincoln and archbishop of York (d. 1212)

Geoffroy VI comte d'Anjou et de Nantes (1134-58)
Guillaume (William Fitz Empress) comte de Poitou (1135-64)
Of Geoffroy's sons, William bore a lion, while Henry II is said in literary sources to have used gules a lion or. Of Henry II's sons, Richard was the first to use England's three lions passant guardant (although an early seal of his bears a single lion) while John's seal as lord of Ireland in 1177 shows two lions passant guardant. William Longespee bore azure six lions or. (See H. S. London: Royal Beasts; 1956 for more on the early history of the English royal arms.)
References
Pastoureau, Michel: 'The Use of Heraldry in Limousin Enamels,' in John P. O'Neill et al. (Eds), Enamels of Limoges, 1100-1350. New York, 1996: The Metropolitan Museum of Art.