Heraldry in Canada
See also:
Heraldry Society of Canada which also has a number of links.
HeraldicAmerica, Site de l'héraldique nord-américaine / A Site About North American Heraldry, by Daniel Cogné and John J. Kennedy (on North American heraldry, in French and English)
Coat of Arms of Canada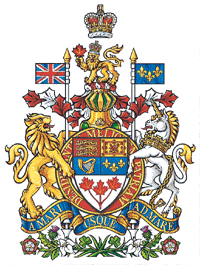 In 1987, a ribbon of the Order of Canada was added, bearing the motto "They desire a better country".
Arms of the Provinces
Miscellaneous
a page on heraldry from the Governor-General's Web site, with an explanation of his arms and information on how to apply for arms.
A badge granted by the Chief Herald of Canada in 1994
Other Resources
The Armorial Heritage Foundation.
---
National Heraldry Page | Search Heraldica | Heraldic Glossary | Contact
---
François Velde