Channel Islands
The Channel Islands (Called in French the Anglo-Norman Islands) are a group of islands off the coast of Normandy. The main islands are Jersey (with the islands of les Minquiers and les Écrehous) and Guernsey whose bailiwick comprises the islands of Guernsey, Alderney (Aurigny in French), and Sark, and the dependencies of Herm and Jethou. Other islands are Petit Burhou, Ortach, Brechou and Lihou.
The Status of the Channel Islands
The Channel Islands are not part of the United Kingdom, except for defense and foreign affairs. They are dependencies of the Crown and ruled by the Queen of Great Britain and Northern Ireland directly (note however that Sark is held by J. M. Beaumont, 22nd lord of Sark). They do not send representatives to Parliament in London, but have their own Parliaments in Jersey, Guernsey and Sark. The islands are the only remain of the duchy of Normandy still in the possession of the English crown.

It is often said that the Queen rules the islands as duke of Normandy, but that is incorrect. See a more detailed discussion.

There is more information on the Constitution of Guernsey.
Flags of the Channel Islands
Jersey and Guernsey each have their flags.

Guernsey's flag can be blazoned as argent on a cross gules a cross potent or. The cross potent was added in 1985.

Jersey's flag can be blazoned as Argent a saltire gules and in chief an escutcheon crowned or bearing ???.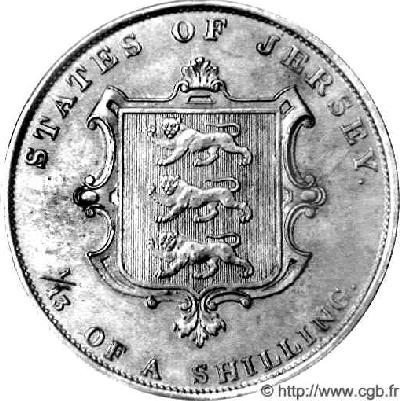 Arms of the states of Jersey, from a 1/3 shilling coin of 1851. Courtesy Compagnie Générale de Bourse (Monnaies V, 1922).
---
National Heraldry Page | Search Heraldica | Heraldic Glossary | Contact
---
François Velde