Galicia
Adapted from comments by: Alex Allister Shvartsman
The term Galicia was pressed into service by the Austrians to denote the lands taken from Poland during the 3 partitions 1775, 93 and 95. The Poles call this area Malopolska or Little Poland (actually it originally stood for Junior Poland). The Eastern part was known as the Rus' or Ruthenian Palatinate.
The name Galicia was derived from Rusyn/Ukrainian name Halychina. This is the area that is roughly the Eastern Malopolska that was a Rus' principality in roughly 1200-1400 AD (Halychina-Wolyn'). The name of the principality is in turn derived from the name of its capital city -- Halych.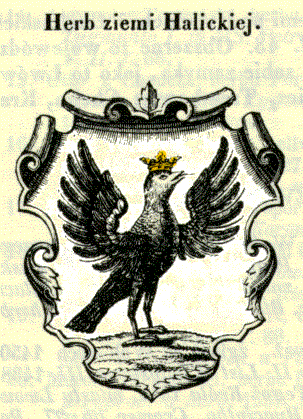 The coat of arms of Halych and of Halychina is: Argent, a bird sable crowned and taloned or. The name of the particular bird in the local tongue is "halka". It might be the case that the arms are canting, but, again, this suggests the local Slavic derivation of the name.
Halychina also has a different coat of arms that are the arms of its second (historically) capital, Lwow/Lviv/Leopolis/Lemberg: Azure, a lion rampant or.
The Ruthenian Palatinate of Poland included the Galician land from roughly 1400(??) to the second partition of Poland in 1793 when the area was annexed to Austria-Hungary. Note that the colours of the contemporary Ukrainian flag, per fess azure and or, come from the arms of Ruthenia. These come from a republication in ca. 1850 of the ca. 1790 work by Kasper Niesecki, Corona Polska (if memory serves me right).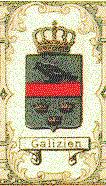 The Austrian arms for Galicia and Lodomeria were: Azure, a fillet in chief (or a bar enhanced) gules between a crow sable in chief and three ancient crowns in base, according to Woodward's Treatise. They were probably created by the Austrians after the partition of Poland in 1793 (compare the arms invented for Bosnia). The name "crow" corresponds to the bird named "halka" in Ruthenian and "kawka" in Polish. The crow is Galicia and the three crowns are for Lodomeria. The Duchy of Galicia & Lodomeria (Rus Halicko-Wolynska or Rus Halicko-Wlodzimierska) came from the union of Duchy of Galicia and Duchy of Volynia (Lodomeria) - which was called Rus Halicko-Wolynska or Rus Halicko-Wlodzimierska . Lodomeria is a latin for of Wlodzimierz (Wlodzimieria) the capital of Rus Wolynska.
---
National Heraldry Page | Search Heraldica | Heraldic Glossary | Contact
---
François Velde

Last modified: Jun 23, 2003