Flag and State Arms of Greece
Arms

Arms: Azure a cross argent. The shield surrounded by laurel branches proper. These arms were adopted June 7, 1975, replacing the phoenix of the colonels. The monarchy used similar arms.
Flag
Information provided by Yannis Natsinas.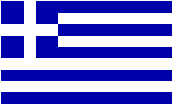 The flag above was adopted in 1822. Originally reserved for the war fleet, it was approved in 1828 for use by all Greek ships. It remained the sea flag, but has been adopted in 1978 as the sole flag of Greece.
The flag below, created in 1822, was the land flag until 1969. When Greece was a kingdom, in 1864 - 1924, 1935 - 41, and 1944 - 1969, there was a gold crown in the center of the cross.
Abolished by the Colonels (who took power in a coup in 1967), it was adopted as sole flag of Greece in 1975, and replaced by the above in 1978. At present, it only survives as war flag, used by regiments (with the addition of a figure of St George slaying the dragon in the center of the cross.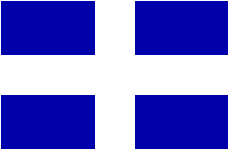 ---
National Heraldry Page | Search Heraldica | Heraldic Glossary | Contact
---
François Velde