A Heraldic Tour of Italy (I)
Florence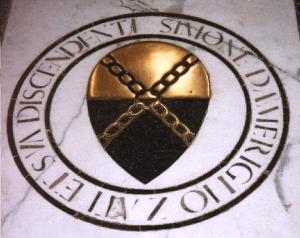 Arms of Simone d'Amerigho Zati: Per pale or and sable, four chains in saltire linked by an annulet, all counterchanged (Santa Croce, Florence). Note the refined combination of black marble and brass to represent Or and Sable.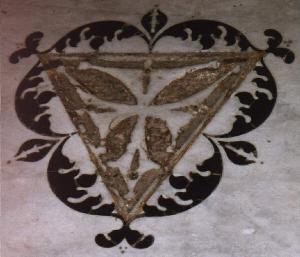 Curious triangular shield, dated 1453. Santa Croce, Florence.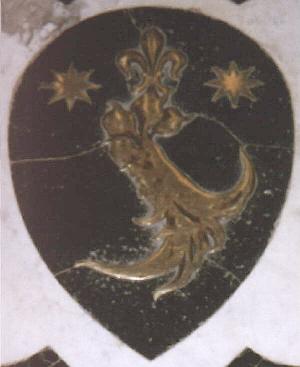 Tomb of Antonio de Salutati: Azure a lion's paw holding a fleur-de-lys in chief between two stars of 8 points all or (Santa Croce, Florence).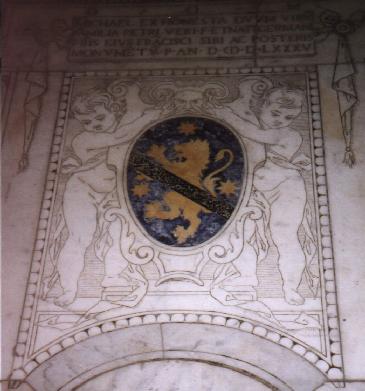 Another tomb in Santa Croce, Florence, dated 1685. This Baroque shield is shown with two putti as supporters: they are engraved in the surrounding marble.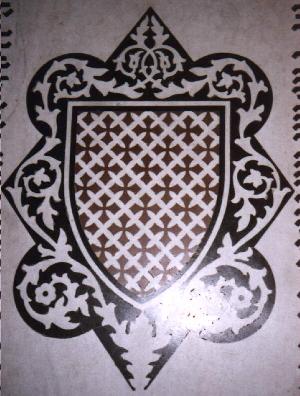 Tomb of the Cavalcanti family, dated 1371: Argent a semy of crosslets bottony gules (Santa Croce, Florence). Note the remarkable pattern.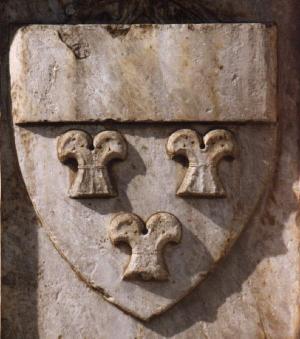 Arms of the Frescobaldi (Gules three rooks argent and a chief or) on the facade of Santa Maria Novella, Florence. I had the occasion to see a Medieval rook chess-piece in ivory, which looked exactly like this charge.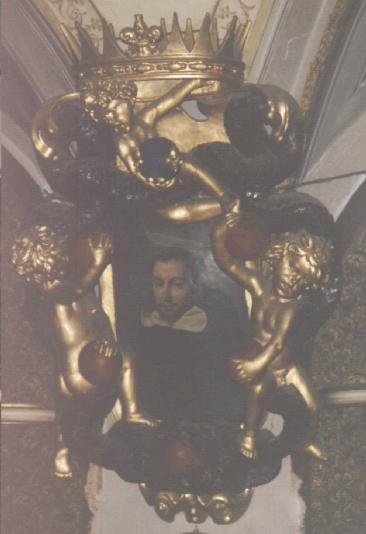 A splendid rendition of the Medici arms as a portrait frame. Unfortunately, the image is dark, but one can make out that three gilded putti are passing each other 5 red balls and one blue ball, thus evoking the Medici arms. Pharmacy of Santa Maria Novella, Florence.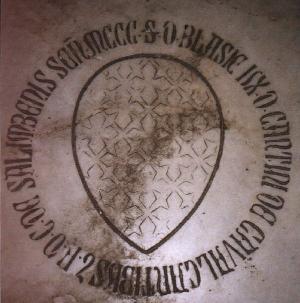 The Cavalcanti arms, in a more ancient rendition (1310; Santa Maria Novella, Florence).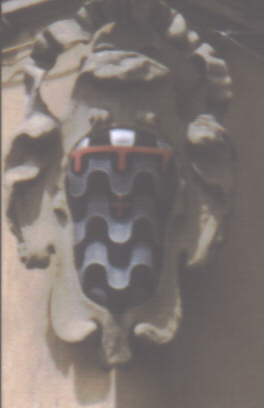 The Pitti arms (barry nebuly argent and sable, a crosslet and in chief a label gules), on the facade of a building right across the street from the famous Palazzo Pitti.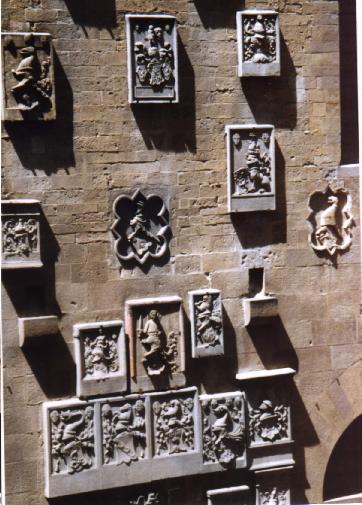 Interior courtyard of the Bargello, Florence. This illustrates a widespread practice in Tuscany: governors, captains of the people and other officials added their arms to the outside and/or inside walls of the official building in which they were housed during their tenure. As a result, many palazzi communali offer splendid displays of (mainly 15th and early 16th c.) Italian heraldry.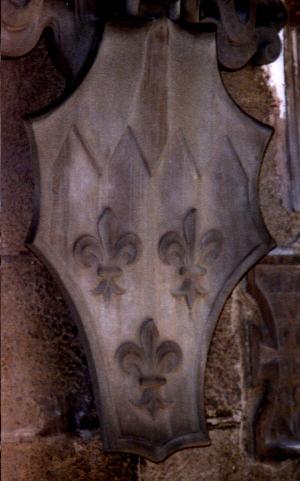 The typical testo di cavallo shield (horse-head). Possibly the arms of Dinegro: Argent three fleurs-de-lys azure and a chief emanché gules. Bargello, Florence.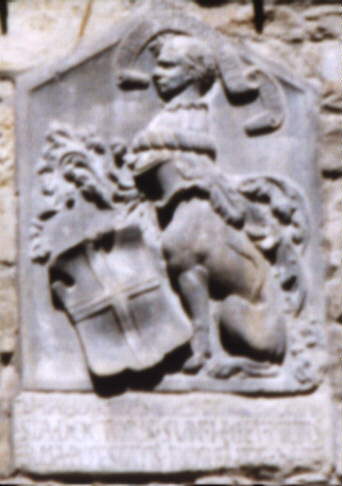 A very common combination of a single supporter wearing the helm with a crest on top. Note the targe or jousting shield, held at an angle. Italian achievements of the 15th c. have a strong German flavor.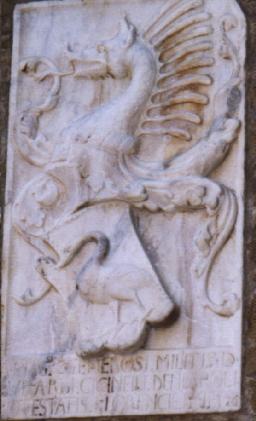 Arms of Budardo Cicinello di Napoli: Gules a swan argent and a bordure indented or. Bargello, Florence.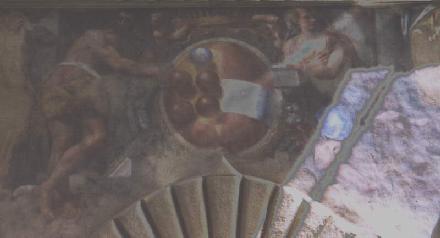 An interesting conceit: the impaled arms of Medici and Austria have as supporters their owners: Ferdinando of Medici and his wife Maria-Maddalena of Austria. On a graffiti facade, via de Benci, Florence.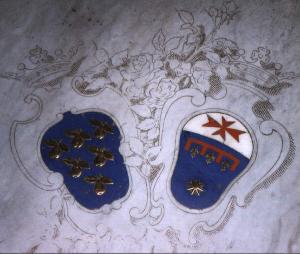 Beautiful inlaid marble work of the 18th c., in the Peruzzi chapel adjacent to Santa Croce. Note the canting Peruzzi arms (Azure six pears or). I have not identified the wife's arms.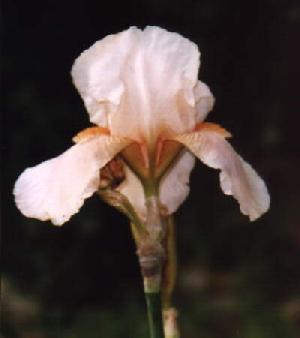 To me, it's always been obvious that the fleur-de-lys is really an iris.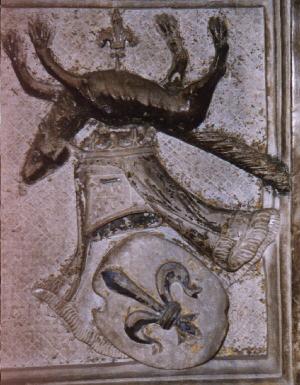 Curious crest! The arms are Or a fleur-de-lys azure (the paint is still visible). Museo del Opera del Duomo, Florence (these arms are actually sculpted on the side panel of a Roman sarcophagus).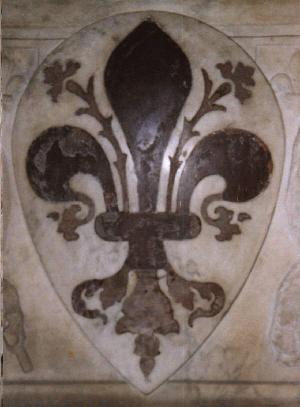 The Florentine fleur-de-lys (Museo del Opera del Duomo, Florence).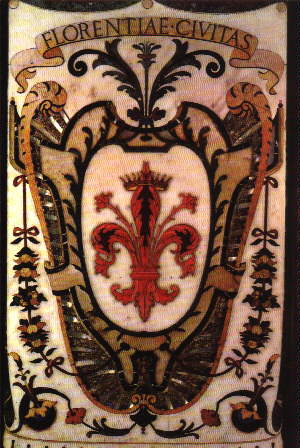 Arms of Florence, from the Capella Medicea (burial place of the grand-dukes), S. Lorenzo, Florence.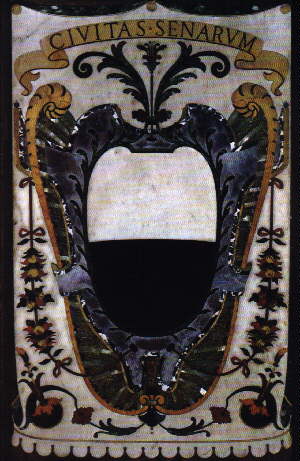 Arms of Siena, same location.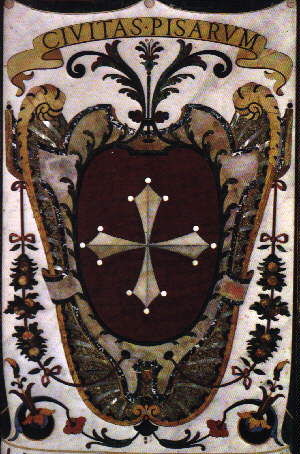 Arms of Pisa, same location. All three works are in pietre dure, i.e., marble mosaic.
---
Venice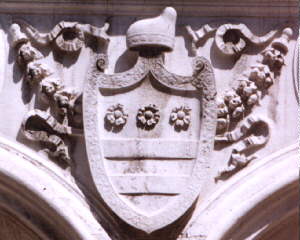 Arms of Donato (Argent two bars and in chief three roses gules), surmounted by the doge's crown. Note the typical Venitian shield. From the courtyard of the Palazzo Ducale, Venice.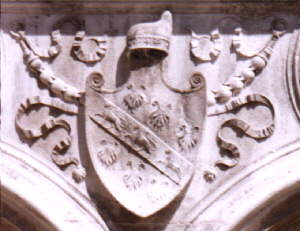 Arms of Barbarigo (Argent on a bend azure between six beards sable three lions passant or). The beards are canting, obviously. From the courtyard of the Palazzo Ducale, Venice.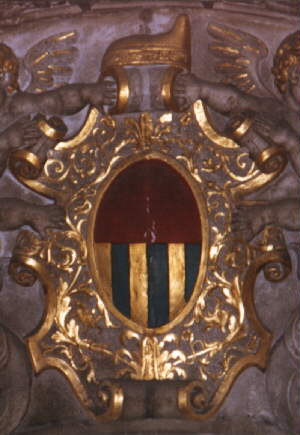 Arms of Priuli (pally of six or and azure and a chief gules), from the Palazzo Ducale, Venice. As is often the case in Italian heraldry, the chief is oversized.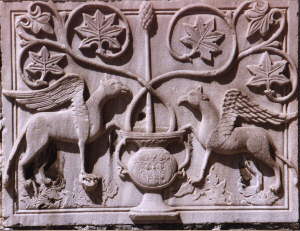 A relief from the southern wall of San Marco, Venice. Probably 12th c. Byzantine. A nice illustration of the old Middle Eastern theme of the tree of life with two animals affrontes (here, griffins). Such motifs were already common in pre-heraldic Europe because of the Crusades.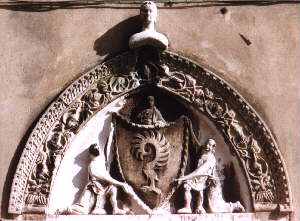 The very striking arms of the Malipiero family, from a Gothic portal near the San Tome vaporetto station. The blazon in Freschot's Nobiltà Veneta (1680) is d'argento con un artiglio e ala d'aquila negra, while in Ginnani's Arte del Blasone (1756) it is: d'argento un mezzo volo destro spiegato di nero e sostenuto da un'artiglio del medesimo. Rietstap calls the whole charge a main d'aigle (literally eagle-hand), and Woodward a winged hand (he claims that it was originally an eagle's thigh with tufts attached, which later evolved into a wing). It is found in Iberian, German and Italian heraldry (over 50 examples in Rietstap, although some represent a hand with a wing, which is not the same thing as what we see here; perhaps Rietstap is confusing different charges).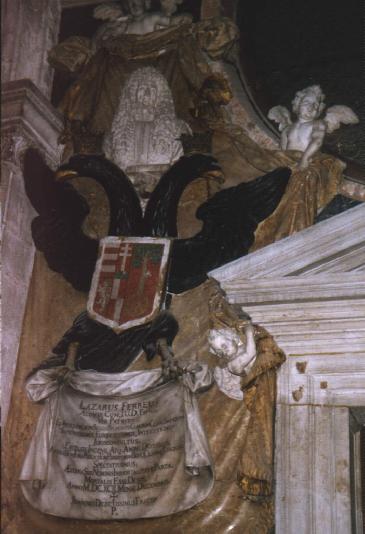 A grandiose Baroque tomb in Venice (San Marco?). The deceased is Lazaro Ferro (died 1692), and the arms are: Argent a double-headed eagle displayed sable, armed, beaked and each head crowned or; on its breast an escutcheon: per pale, I. quarterly, 1. barry argent and gules, 2. gules a patriarchal cross argent on a mount vert, 3. gules a lion argent crowned or, and 4. quarterly argent and gules; II. Gules on a wheel or a tree vert climbing thereon at dexter a woodpecker proper. The Imperial eagle and the quarters of Hungary and Bohemia were a concession of the emperor Frederic III (1440-93).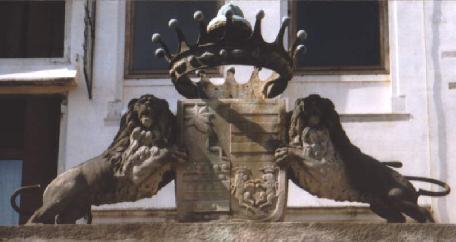 Arms of counts Michieli: Quarterly 1. Azure a comet in bend or, 2. barry of six azure and argent, 3. barry of six azure and argent with 12 bezants placed 6, 4, 2 and 9 hurts placed 5, 3 and 1, 4. azure two lions affrontés crowned or "jouant de la patte" (according to Riestap!). I surmise that the dogal crown set within the comital crown is an allusion to the fact that the family counted doges among its members. Stylistically, I'd date it to the 18th c. (Str. Nuova, Venice).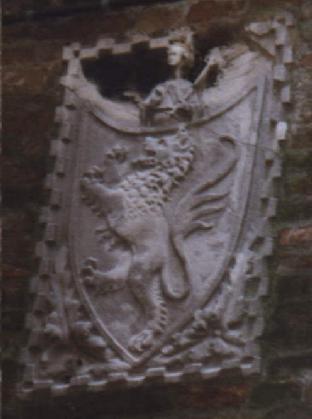 A nice 15th c. shield, over a side door of the Michieli palace. D. Casimiro Freschot, in his Nobilta Veneta (1680, p. 371; reprint Arnaldo Forni) mentions that the crest of the Michieli is the archangel Michael holding a sword, but that "in un marmo antico sù la porta di un palazzo di questa Casa, l'angelo è coronato, e in vece di spada tiene un scettro sormontato con un giglio, che può esser una concessione di Fancia à qualche ambasciatore" (on an ancient marble over the door of a palace of this house the angel is crowned, and instead of a sword he holds a scepter surmounted bya fleur-de-lys, which may be a concession of France to some ambassador).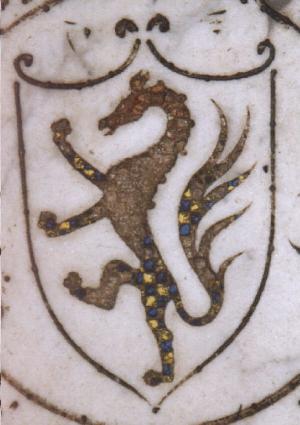 Very curious inlaid marble shield in San Zaccaria, Venice. Note that the shape of the shield is distinctly Venitian. I'm not sure if the charge is a horse or a lion, and it is definitely chequy or and azure. Probably Medieval.