See also the page on the succession laws in Luxembourg.
Heraldry in Luxembourg
The arms of Luxembourg date to the 13th century. They are blazoned as: barry of 10 argent and azure a lion with forked tail gules, armed, langued and crowned or.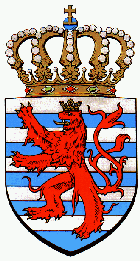 The complete arms show the same shield with two lions crowned or as supporters, within a pavilion gules lined ermine and a sovereign crown. These pictures come from the Luxembourg Home Page.

See a mor edetailed and informative page on Ralf Hartemink's International Civic Arms site.
---
National Heraldry Page | Search Heraldica | Heraldic Glossary | Contact
---
François Velde

Last modified: Jun 23, 2003