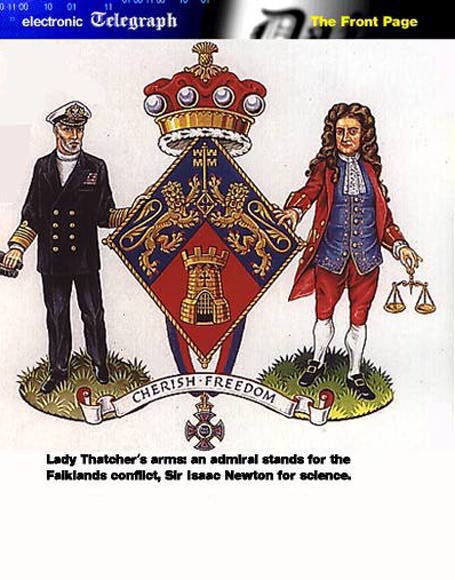 His and Her coats of arms for a baronet and his Lady
By Robert Hardman
SIR Denis and Lady Thatcher have unveiled a rare heraldic achievement, a set of "His 'n' Hers" coats of arms for a baronet husband and a baroness wife. As in life, so in heraldry. While Lady Thatcher's arms stand out as a bold testament to a great career and carry the command "Cherish Freedom", Sir Denis has opted for an understated emblem which reflects his ancestors' roots. Famed for his public silence, he decided not to have a motto. The Falklands conflict and a love of science are the dominant features of Lady Thatcher's arms. Spurning the usual stags and griffins, Lady Thatcher has selected as supporters an admiral to represent the battle in the South Atlantic and Sir Isaac Newton in recognition of her earlier career as a scientist.
The former Prime Minister's life at Westminster is depicted by a tower and portcullis, while a double key - between the two lions of England - represents the office of Prime Minister and First Lord of the Treasury. At the top is the coronet of a baron or baroness and, hanging below, is the Order of Merit which Lady Thatcher received in 1990. Both coats of arms were designed by Sir Colin Cole, former Garter King of Arms, in 1992. "Lady Thatcher had a clear, general idea of the sort of things she wanted to 1. She chose the motto because it was short and appropriate," said Sir Colin. Sir Denis wanted to celebrate his family history rather than his own achievements. Hence, there is the demi-Lion rampant holding a set of thatcher's shears and two golden chevrons depicting roofs. A circlet of New Zealand fern is in honour of his grandfather who settled there around 1880. Obtaining a coat of arms is a long process which costs L2,200 for an individual and L7,550 for a company.
Despite the advent of the classless society, the College of Arms reports brisk business. Around 200 coats of arms are drawn up each year by the college's 13 heralds who boast luxurious titles like Rouge Dragon Pursuivant and Bluemantle. Lady Thatcher would approve of the college's anti-inflationary wages scheme. "A herald gets L17.80 per annum from the Queen," said Chester Herald, Mr Hubert Chesshyre. "We did get a 100 per cent pay rise in 1617 but they reduced it again in 1831. We get part of the client's fee but it's not a job you do for the money."
The Electronic Telegraph is a Registered Service Mark of The Telegraph plc