Tressure and Orle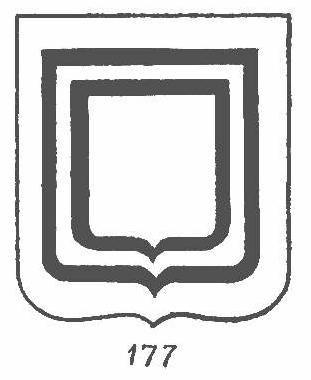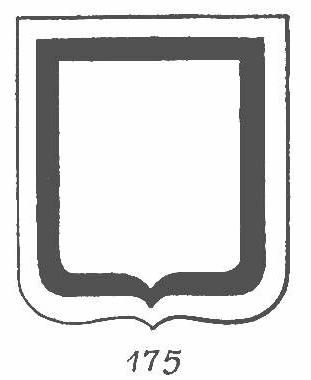 (Double) tressure on the left, orle on the right
There is some confusion among British writers as to the nature of a tressure. I am inclined to see it as an orle, or a diminutive of an orle (an orle is like a bordure but detached from the edges of the shield). This is Woodward's opinion: "a plain tressure is a diminutive of the orle, and is depicted half its thickness". Whether the tressure is an orle, a diminutive of the orle, or a diminutive of the bordure is a just a matter of classification.
Sometimes, the term tressure is used to mean a double orle, or an orle voided in the middle (thus Palliot, a French 17th c. heraldist, who also calls it essonier; Fox-Davies does as well). Finally, especially in Scotland, a tressure is often understood to be a double orle flory counterflory. This seems to be wholly a consequence of the importance in Scots heraldry of the Royal Tressure. It seems that most writers avoid ambiguity and understand the tressure to be single and unmodified, unless specified otherwise; in other words, the tressure, on its own, is the same as an orle.
The orle was initially blazoned as a "false escutcheon" or a voided escutcheon in early blazon. It is not an uncommon ordinary, but there is usually only one. It is often modified (engrailed, indented, etc) and sometimes charged. Here are some examples:
John Balliol, lord of Galloway, king of Scotland (1259-1314): Gules an orle argent. Arms adopted by Balliol College, Oxford. The coat was variously differenced: Azure crusily and an orle or, Gules an orle ermine, Or an orle vair and a label gules, Or an orle azure a label gules. (Foster)
Walter de Lindsay (roll H. III): Gules an orle vair; also differenced as Gules crusily or and an orle vair. (Foster)
Roger Bertram (roll Ed. II): or an orle azure; differenced as Gules crusily and an orle or. (Foster)
John de Landles (roll Ed. III): Gules an orle or. (Foster) But John de Laundeles (roll Ed. III): Azure an orle or. (Foster)
Landel or Landale of that Ilk (Berwickshire): Or an orle azure.
Cornu (Picardie, France): Gules an orle argent (Rietstap)
town of Richmond, co. York: Gules on an orle argent a bend ermine.
Lend or Landel (Cowl, Scotland): Or an orle indented on the inner edge azure. (Burke)
Rutland (co. Surrey): Gules an orle engrailed on the inner side or, within a bordure engrailed of the last.
Knox, earl of Ranfurly (Ireland): Gules a falcon volant or within an orle wavy argent.
Chadwick: Or, on an orle gules, the outer edge engrailed, eight martlets argent, all within an orle of eight crosslets sable.
Norie (Scotland): Per pale argent and sable an orle engrailed on both edges and charged with four quatrefoils, within a bordure, all counterchanged. (Burke, from Pont's mansucript)
John Bridges (bishop of Oxford, 1618): Three owls within a tressure flory counterflory (Parker)
Considine: Argent an orle gules flory counter-flory on the outer edge only vert; in the center a dagger in pale azure, the hilt or.
Altieri (Rome; arms of Clement X, pope 1670-76): Azure six mullets 3, 2 and 1 within an orle indented on the outer edge argent. Arms taken up by the Albertoni-Paluzzi family. (Guelfi Camajani). This is sometimes blazoned as a bordure indented argent and azure (Galbreath, Rietstap).
Benewitz (Bavaria): Or a double-headed eagle displayed sable within a circular orle nebuly azure. (Woodward)
More than one orle are found, from 2 to 4:
Burdon: Gules two concentric orles argent.
Bagway: Argent two concentric orles gules. Elsewhere: Argent three escutcheons voided gules and Argent two orles in fesse gules.
Sir John Chidiok (on a roll temp. Ed. II): Gules an escutcheon argent within a double tressure of the last. (Foster)
Landells or Landles: Azure three concentric orles or.
Baignaux (Brittany): Or four concentric orles sable. (Rietstap)
Two orles, especially if they are flory or flory-counterflory, have come to be called either a tressure or a double tressure. But in English blazon (as in French blazon) one finds single tressures as well:
Heraldry Society (England): Quarterly gules and azure a lion's face affronty crowned with an ancient crown, within a [single] tressure flory, all Or.
Andrie (Ile-de-France): Argent three eagles sable within a double tressure gules. (Rietstap)


Tromenec (Brittany): Or a double tressure flory-counterflory azure (Woodward; Rietstap blazons it or a tressure azure).
D'Escornaix (alias van Schorisse, Belgium): Or a double tressure flory-counterflory over all a chevron gules. (Woodward, Rietstap)
Rocquenghien (Cambrai): Or a double tressure flory-counterflory over all a cross gules (Woodward; Rietstap does not specify flory-counterflory).
Bossut (Liege): Or a double tressure flory-counterflory over all a saltire gules. (Woodward, Rietstap). But note Bossu d'Escry: Or a on a [single] tressure azure a saltire gules, over all on an escutcheon gules a bend or. (Encyclopédie)


Allois (Belgium): Or a double tressure flory-counterflory over all a chevron azure. (Woodward, Rietstap)
The similarities between these last four coats, and their geographical proximity, is very striking.

Aside from these examples, the tressure (double, flory-counterflory) is "almost peculiar to Scotland" in Woodward's terms. So much so that it is now seen as a mark of kinship with the Scottish royal family or an augmentation of honour. No one knows where the royal tressure originally comes from, but it appears early on, on seals of Alexander III (1249-86).

The Royal Tressure as it is called has now become the prerogative of the royal family and families that are descended from it in female line. Yet it is also used as an augmentation of honour. Woodward states: "As early as the middle of the fourteenth century we find several families of mark bearing the tressure without having any connection with the Royal House..." (Flemings of Biggar, William Livingston, house of Seton) "James V in 1542 granted a warrant to Lyon to surround the arms of John Scot, of Thirlstane, with the royal Tressure, in respect of his ready services at Soutra Edge with three score and ten lances on horseback, when other nobles refused to follow their sovereign." It has been at least twice granted as an augmentation to the arms of foreigners: James V to Nicolas Canivet of Dieppe in 1529, and James VI to Sir Jacob van Eiden, a Dutchman. Innes of Learney also cites Dundas of Fingask (1769) and Wingate (1930) as recipients of the tressure for distinguished services.

The word tressure (=braid) seems to come from tailoring, like orle (=hem).