The Nine Worthies
See an interesting presentation of the theme (in French) by the Institut de France.
Arms of the Nine Worthies
Sources: Hans Burgkmayr (1473-1531), a prominent engraver from Augsburg, who made a suite of Nine Worthies engravings in 1516 (HB). Barthélémy de Chasseneuz: book, 1586, Frankfurt (BC). Jerome de Bara, 1581 (JB). A 15th c. tapestry in Basel (B15). The tapestry suite at the Cloisters Museum, French ca. 1400 (NYC).
Hector


Gules two lions or affrontés (BC)
Or a lion gules armed and tongued argent sejant on a throne proper maintaining an halbard argent shafted azure (NYC)
Sable semy of trefoils argent, on a bend or three lions' paws sable (HB)

Alexander the Great


Azure a king in his majesty seated on a throne all or (BC)
Or a lion gules armed and langued azure (JB)
Gules two lions or confronting (BC)
Sable a griffon or (HB)

Caesar
There is little variation in his arms, which were logically those of the German Holy Roman Empire, understood to be the continuation of the Roman Empire.

Or a double-headed eagle displayed sable

David
Tradition was firmly established for those arms, derived from the fact that David was the psalmist and played on the harp for Saul.

Azure a harp or (HB)
Gules a harp or (BC)

Joshua


Azure three bull's heads affronty (HB)
Or three parrots vert (BC)

Judas Macchabeus


Argent a dragon gules (BC)
sable a lion or wearing a Jew's hat (HB, B15)

Charlemagne
The arms of Charlemagne go back to the 13th century, in Adenet le Roi's poem Enfances d'Ogier.

Per pale the Holy Roman Empire and France

Arthur
Little variations in those arms, except on the tincture (in some traditions, he is given 11 crowns rather than 3).

Gules three crowns or (HB, B15)
Azure three crowns or (BC, NYC)

Godfrey of Bouillon
His arms are usually those of Jerusalem, but they are sometimes impaled with either his family arms (Flanders) or the arms of Bouillon.

Argent a cross potent between four crosslets or (Jerusalem) (BC)
Jerusalem impaling sable a lion or (Flanders) (HB)
Jerusalem impaling gules a fess argent (Bouillon) (B15)

Portrait of Charlemagne by Albrecht Dürer.
The Nine Worthies, Female Version
Under construction. Out of love of symmetry, the Middle Ages also came up with the Nine Worthy Women (les neuf Preuses). Their list was much less standard, however, and not always structured in pagan/Jewish/Christian.
One list which does follow that pattern is the woodcut series by Burgkmair, a pendant to the one mentioned above:
Lucretia
Wife of Brutus, her suicide after being raped by Tarquinius prompted the overthrow of the Roman monarchy in 510 BC.

The arms are hard to read in Burgkmair's engraving.

Veturia
Mother of Coriolanus, she persuaded her son to stop fighting with Rome's enemies.

Gules the letters SPQR in bend sinister between two bendlets sinister argent.

Virginia
Her death in 449 BC at the hands of her father to avoid fallin in the hands of a lusting decemvir prompted a popular revolt and the retreat to the Aventine.

per bend sinister Azure a dove (?) essorant argent, and Gules.

Esther
from the Book of Esther, saved the Jewish people in exile from a plot to destroy them.
Judith
famous heroin who killed the Assyrian general Holophernes after seducing him.

Gules on a bend sinister argent a ? sable.

Jahel
heroin mentioned in Judges 4:17-22 as having killed the chief of the Canaanites after he took refuge in her tent.

Per chevron argent and gules three Hebrew letters counterchanged (this is uncertain).

St Helena
mother of Constantine the Great, according to legend found the True Cross in Jerusalem.

Per pale, gules on the breast of a double-headed eagle sable an escutcheon gules bearing a cross between four B's or, and Gules three crowns or.

St Brigita of Sweden
(1302-73)

Per pale, 1 per bend gules and azure a lion argent, and 2 Azure three crowns or.

St Elisabeth of Hungary
(1207-31)

per pale Azure a lion barry argent and gules, and Barry of eight gules and argent.
Other lists circulated. Here is one from the late 14th c., in the novel written by Thomas, marquis of Saluzzo (Saluces): le chevalier errant (Bibliothèque nationale, Paris, mss. Fr. 12559, fol. 125v; manuscript dated 1403-04):
Deiphille: argent a griffon vert
Iynoppe: gules three busts crowned or
Hippolyte: argent a lion per pale azure and gules holding an escutcheon bearing gules three busts or
Menalyppe: sable a swan argent holding an escutcheon bearing gules three busts or
Semiramis: Azure three thrones or
Lampetho: per pale gules three busts or and barry nebuly azure and or
Thamarys: gules three lions passant guardant or
Theuca: argent an eagle sable bendways
Penthésilée: azure on a bend gules three busts crowned or between six locks/bells
The novel was composed by a Piedmontese nobleman who left one of his castles, Manta, to an illegitimate son: one of the rooms of the castle contains frescoes depicting the worthies (both male and female) with their arms, as in the illuminations of his father's manuscript.

In the 15th c. Triomphe des Neuf Preux, one finds: Deborah, Judith, Esther, Susanna, Lucretia, Boadicia (Boudicca, who led a Celtic rebellion against the Romans c. 60 AD), Mariamne, Saint Clotilde (who saved Paris from Attila's invasion), Andegona (Antigone?). Other lists include the names of Semiramis (queen of Babylon), Tamyris (or Tammaris, queen of Egypt), Deiphile (mother of Diomedes), Creuse, Melanippa (an Amazon), Lampeto (queen of the Amazons), Orithya (Amazon), Penthesilea (queen of the Amazons killed by Achilles), Hippolyta (queen of the Amazons, killed by Hercules), Tanaquil (ambitious wife of Tarquinius the Elder).

These statues of the female worthies with their coats of arms are in the castle of Pierrefonds, near Paris; they date from the mid-19th century.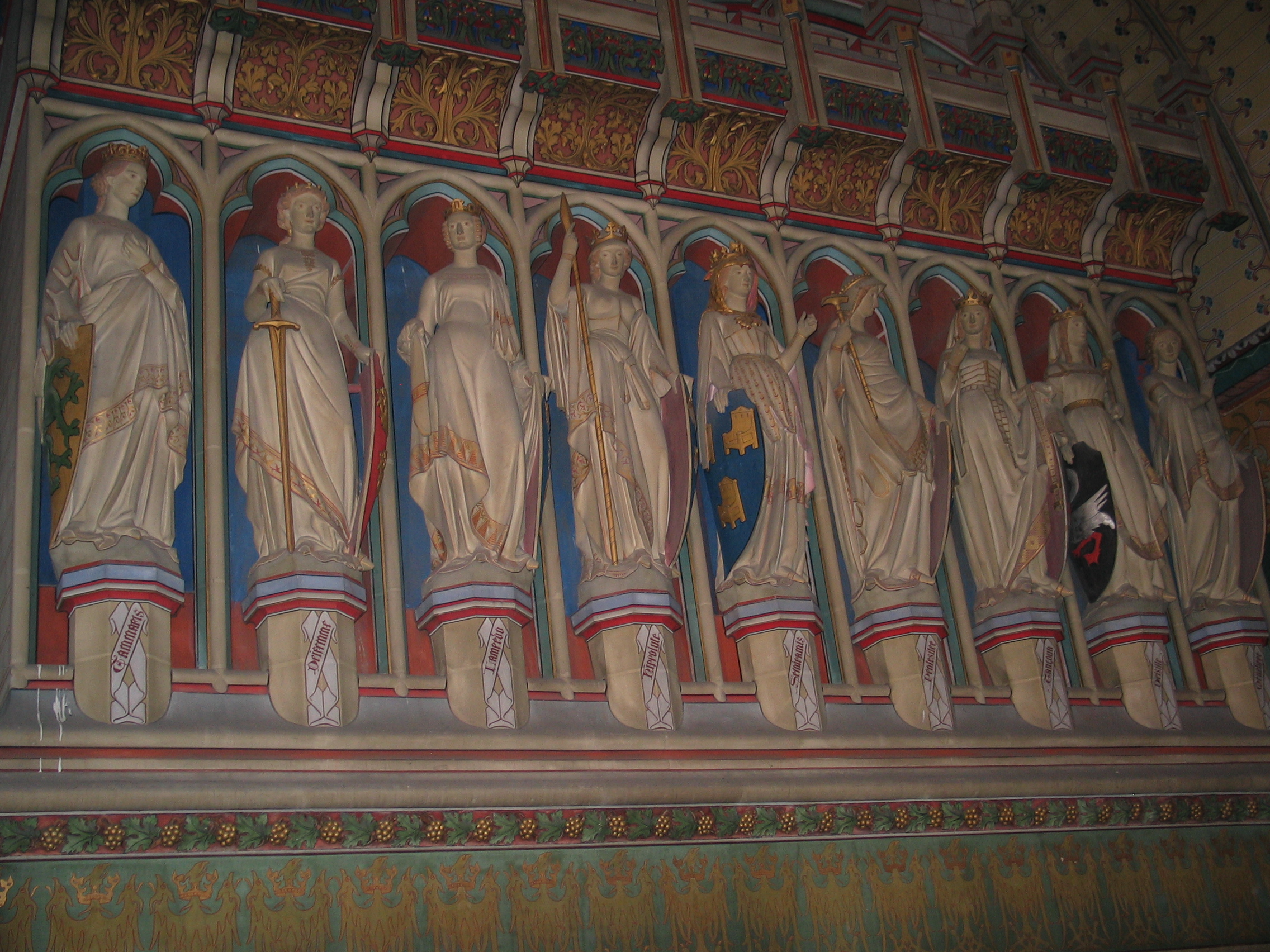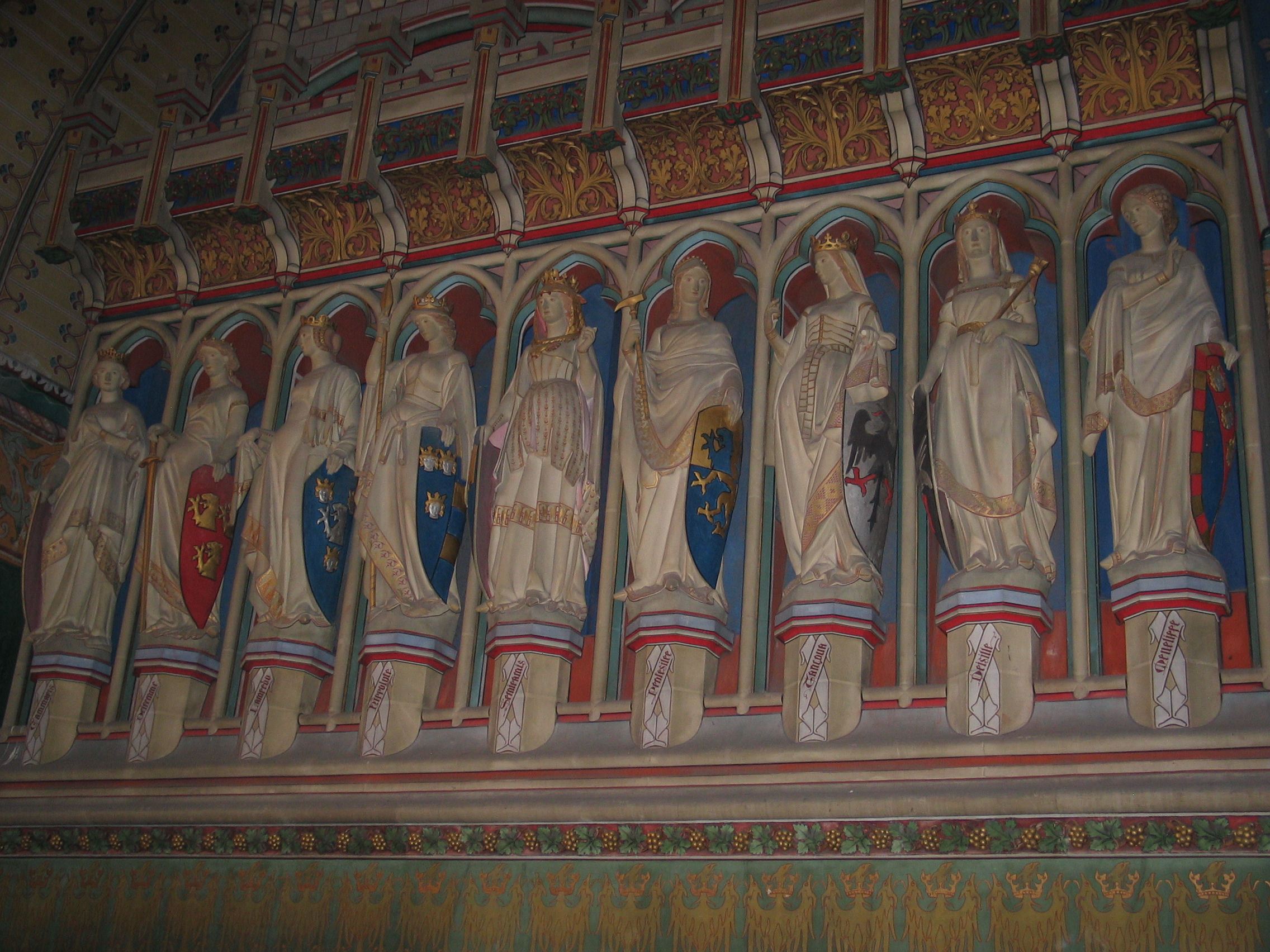 ---

Heraldry Topics | Search Heraldica | Heraldic Glossary | Contact
---
François Velde