Arms of the Austrian-Hungarian Monarchy
The Imperial Arms
Small Imperial Arms: [Or,] a double-headed eagle sable, armed and crowned or, holding a scepter and sword in dexter claw and an orb in sinister claw, all of the second, beneath the Austrian imperial crown stringed azure; on its breast an escutcheon surrounded by the Collar of the Golden Fleece, bearing tierced per pale: Or, a lion gules crowned azure (Habsburg), Gules a fess argent (Austria), Or on a bend gules three allerions argent (Lorraine).
The Great Imperial Arms were formed of the quarters of the Crown Lands, arranged in various ways at various times. See a splendid black-and-white but large representation.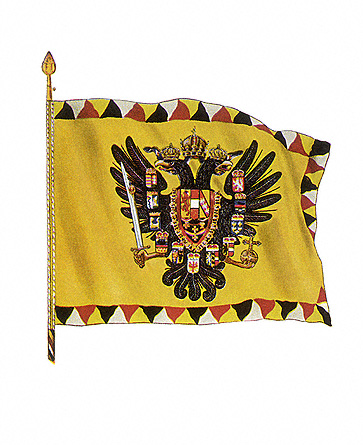 Austrian flag (from Lycos Image Gallery)
The Titles of the Habsburg Emperors
Here are the titles of Ferdinand III as enumerated in the Treaty of Westphalia of 1648:
Most Serene and Puissant Prince and Lord, Ferdinand the Third, elected Roman Emperor, always August, King of Germany, Hungary, Bohemia, Dalmatia, Croatia, Slavonia, Arch-Duke of Austria, Duke of Burgundy, Brabant, Styria, Carinthia, Carniola, Marquiss of Moravia, Duke of Luxemburg, of the Higher and Lower Silesia, of Wirtemburg and Teck, Prince of Suabia, Count of Hapsburg, Tirol, Kyburg and Goritia, Marquiss of the Sacred Roman Empire, Burgovia, the Higher and Lower Lusace, Lord of the Marquisate of Slavonia, of Port Naon and Salines.
The Austrian Crown Lands
See a large color illustration of many of the following coats.
Archduchy of Lower Austria: Azure, five eaglets or.
Archduchy of Upper Austria: per pale Sable an eagle or, and pally of 4 argent and gules.
Duchy of Salzburg:per pale, Or a lion sable, and Gules a fess argent.
Duchy of Steiermark: Vert a panther argent, horned and fire issuing from the mouth gules.
Duchy ofKärnten: per pale, Or three lions sable, and Gules a fess argent.
Duchy of Krain: Argent, an eagle azure, crowned and armed gules, on its breast a crescent chequy or and gules.
City of Trieste: per fess, or a crowned double-headed eagle sable, and Gules, on a fess argent the spear of St. Sergius issuant from base or.
County of Görz and Gradisca: per pale, 1) per bend bendy sinister of 6 argent and gules, and azure a crowned lion or; 2) per fess or and azure, a cross moline argent.
Margraviate of Istria: Azure a goat or armed gules.
County of Tirol: Argent, an eagle gules, armed and crowned or, on its breast a Klee-stengel of the last.
Voralberg: Quarterly of 7 in three rows of 3, 2 and 2: 1) on a field of pannes a pale ermine (Bregenz); 2) azure, a triple mount beneath a sun or )county of Sonnenberg); 2) argent, a church argent roofed gules, in sinister a shield argent bearing a gonfanon sable (Feldkirch); 4) Argent a unicorn sable (Bludenz); 5) Azure a ibex or armed sable (Hohenems); 6) Gules, on a fess argent a pear-tree vert fructed or (Dornbirn); 7) Argent, an eradicated, fructed pine-tree vert (Bregenzerwald); Ente in point Argent, two keys per saltire sable (Montafon). En surtout Argent a gonfanon gules (Feldkirch).
Kingdom of Bohemia: Gules, a lion tail forked argent, crowned and armed or.
Margraviate of Moravia: Azure, a crowned eagle chequy or and gules.
Duchy of Silesia: or, an eagle displayed sable crowned of the first (armed and membered gules), on its breast a crescent trefoiled and a crosslet argent (alternatively, a crosslet on a Klee-stengel argent).
Kingdom of Galicia: Azure, a bar gules between a crow sable in chief standing on the bar, and three crowns or in base.
Duchy of Bukovina: iper pale azure and gules, a bull's head caboshed sable, horned argent, between three mullets or.
Kingdom of Dalmatia: Azure, three leopard's heads caboshed crowned or.
The Hungarian Crown Lands
These quarters are described in full under Hungary.
Source
Meyers Grosses Konversations-Lexicon, 6th Ed. (1908).
---
National Heraldry Page | Search Heraldica | Heraldic Glossary | Contact
---
François Velde

Last modified: Nov 17, 1999